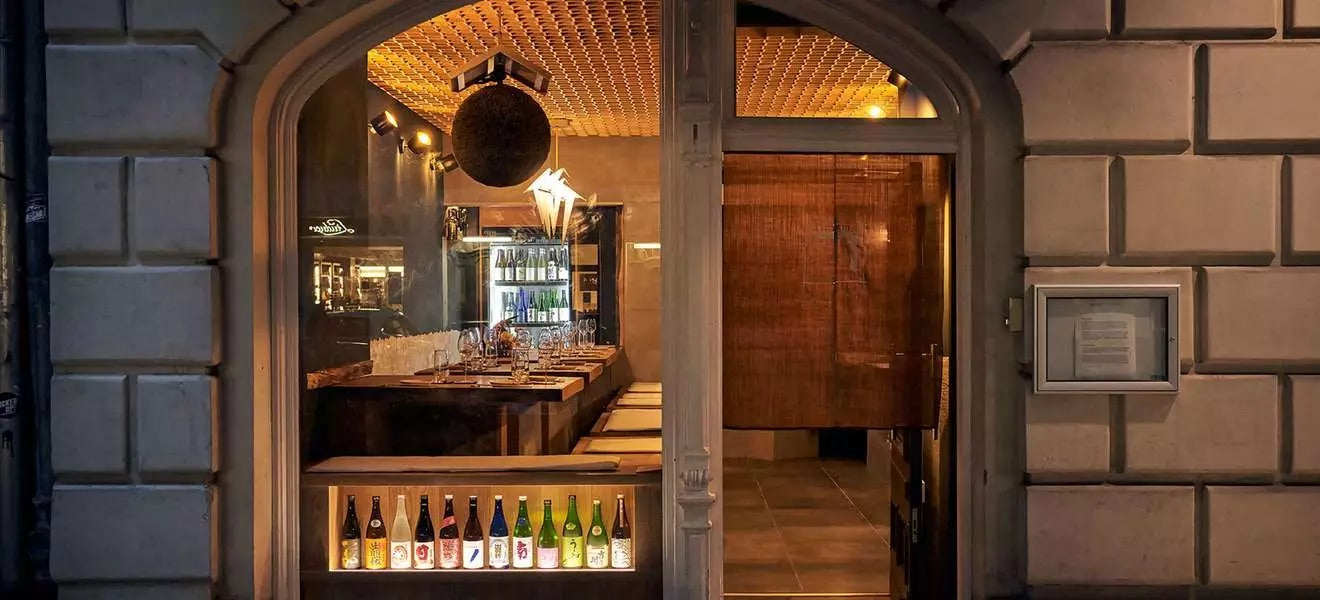 Sake Destinations – A New Sake Bar in Berlin NOMU
Basically you're stuck – we get it! Travel sucks right now globally, and there are so many awesome destinations to go and visit. Damn you COVID! Well, when the smoke clears, our friends in Berlin just opened a cool sake bar that is pretty small, but that doesn't mean a thing according to owner Sarah Lynne Stein, who said, "With just 15 seats a night max, we are going through 80 bottles a month (wow!!!)." That's amazing! And I am sure things will only get better.
We enjoy mentioning Sarah's project because as she so eloquently stated, "Your store and amazing staff was the reason why we fell in love with sake more than a decade ago. It feels like a full-circle moment and I'm honored."
Keep kicking butt Sarah and have fun, because that's the ultimate point of sake. Herewith is their Press Release info for Nomu:
NOMU Sake Bar, Berlin
Born from a deep-rooted love for the rich culinary traditions of Japan, NOMU Sake Bar is the latest establishment to help push Berlin on the global gastronomy stage. Focused on a slow and mindful approach to hospitality and traditional fare, visitors are welcomed to a space that marries past and present, serving as a launchpad to explore the history and culture of Japan through food, with the main focus on sake.
Designed to resemble the intimate izakayas that grace Japan's urban centers, the bar also pays homage to the traditional elements of sake breweries. A hand-crafted sugidama made from cedar hangs in the window, a dramatic installation of over 1,100 masu—traditional square cups dating back to feudal Japan—is suspended over the main dining room, instantly capturing the eye of those who enter the space. The furnishings throughout are handmade from oak and cedar. The entire interior evokes a meditative calm, a nod to intentional and deliberate appreciation of the dining experience.
Many of the guests who enter NOMU only know of the hot sakes that grace the menu of ramen restaurants and kaiten sushi restaurants; authentic Japanese cuisine is a rarity. Their idea of sake is that it is like German schnapps - something that you take a quick shot of at the end of dinner. The guests are quickly taken by surprise when they find that the entire food menu is paired with a sake, to be sipped and enjoyed in a wine glass. The wine glasses help bring out the fruity and floral aromas and flavors of the sakes but also serves as something familiar and comforting to guests. Each sake brought a twist and turn into their experience: from sparkling nama sake, to fruity juicy Ginjos, 10 year old koshu and ending with an extra milky sour nigorizake; everyone was delightfully surprised in the diversity and expansive flavors.
Berliners are opening their hearts and minds to Japanese sake. Some even trekking across the city just buy bottles to enjoy at home. Many guests are thirsty to learn more, asking the staff to tell them about rice polishing ratios, the various sake categories and the fermentation process. With such wonderful feedback since being open for a short two months, we feel there's a sake boom that's going to happen here.
Address: Ludwigkirchstraße 3, 10719 Berlin, Germany
Phone: +49 171 9465180