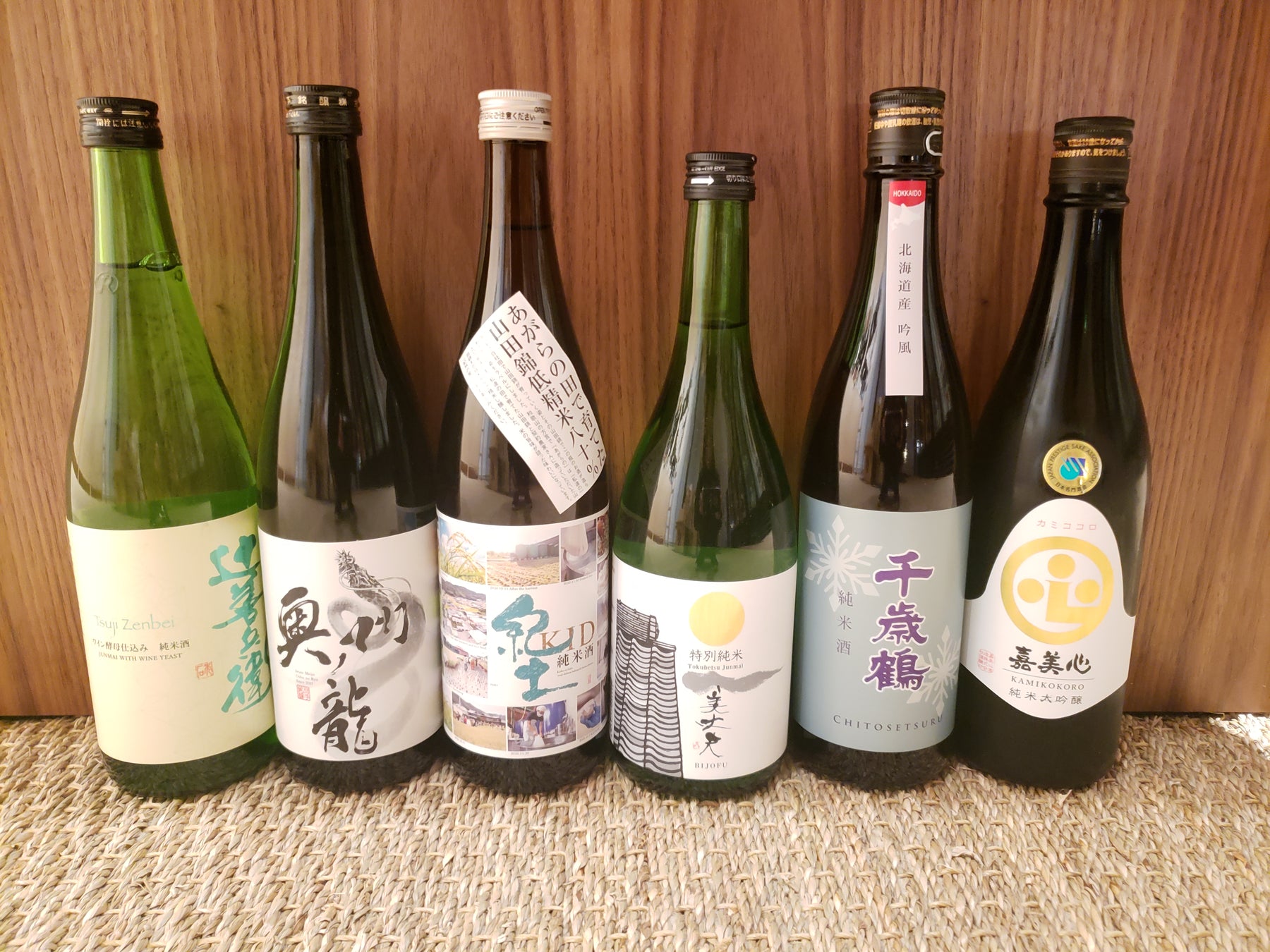 New Store Arrivals – Tsuji Zenbei, Iwate Meijo, Kid 80, Bijofu, Chitose Tsuru & Kamikokoro
Tsuji Zenbei "Wine Yeast"
From Tochigi Prefecture. Junmai. SMV: +2.7 Acidity: N/A
The nose on this sake that is made using a wine yeast is a fascinating collection of pear, lemon peel, green apple, lime, guava, and steamed rice aromas. So here it is – a great "crossover" sake that pushes the wine and sake paradigm. Why try a sake that has lots of wine characteristics? Why not? Because you are tasting a rice glucose rather than a wine fructose, and that's awesome when you think about the actual making of the product. From the first lively and bright sip you can tell that this brew drinks very wine-like with a pronounced and charming acidity play. Crisp, light, dry, with a little tingle there is a tannin-like dryness that plays upfront with a quick finish. We call this a "freestyle" Junmai that is elegant and tantalizing with pear, green apple, blood orange, ice tea, grapefruit, and lime juice flavors that bounce on the low ABV of 13.6%. We recommend chilled and in a white glass for the total wine-like effect. WORD: Crisp WINE: Crisp Reds/Zesty Whites BEER: Crisp Ales FOODS: Wine fare. 
Iwate Meijo "Midnight Dragon"
From Iwate Prefecture. Junmai Daiginjo. SMV: -1 Acidity: 1.3
The nose on this stalwart Daiginjo is a grand collection of pear, grape, melon, cream, rock sugar, apple pie, and fig aromas. Smooth, round, velvety, lush, and full-bodied this brew drinks royally with a dry finish. The Midnight Dragon is a rich umami driven creamy Daiginjo that is built to pair with fine cuisine and is extremely drinkable by itself with round, fleshy, goodness and a short ending. Look for fig, raisin, apple pie, pear compote, banana bread, melon, powdered sugar, almond, grapefruit and strawberries and cream flavors with a hint of cocoa, black berry, and brown sugar tones that glide on a full-bodied flow. A very refreshing brew that is layered, rich and elegant. WORD: Smooth WINE: Round Reds/Creamy Whites BEER: Creamy Ales FOODS: Sushi, sashimi, Champagne fare, complex shellfish dishes, meats, and fowl.

Heiwa Shuzo KID "Agara no Tade Sodateta 80"
From Wakayama Prefecture. Junmai. SMV: N/A Acidity:N/A
The nose on this special and very "locals only" Junmai is a cool collection of apple, vanilla, raisin, seawater, cooked pear, grapefruit, and lemon aromas. So how would you like to taste a sake that is as local as the rice field beside the brewery? This brew is made with local "Agara" or "Our" Yamadanishiki that is milled to 80% and you can see how the rice grew and was brewed that year right on the label itself. It's the brewery's pride, and it's intended for locals only and lovers of "KID" sake. Talk about an elegant low polished brew! Smooth, round, silky, slippery, and very intriguing you can almost feel the flavor. Look for tangerine, stone fruit, chocolate, blackberry, dashi, sweet potato, and salinity elements on fluid that drinks more ricey than fruity. A great sake to taste the soul of a brewery! WORD: 80% WINE: Deep Reds/Zesty Whites BEER: Crisp Ales FOODS: Yakitori, Izakaya fare, carpaccio, fried fare.

Bijofu "The Gentleman"
From Kochi Prefecture. Tokubetsu Junmai. SMV: +4 Acidity: 1.4
The nose on this Tokubetsu "Special" Junmai is a very cool collection of pear, grapefruit, lemon, peach, mango, lychee, and apple skin aromas. Smooth, clean, juicy, and almost water-like this is one of those sakes that drinks almost wet dry. And best of all it's that glorious word "drinkable." It's not fair really, because some brews are just so tasty that no matter the price it's just delicious and there's nothing you can do about it. (Except drink it!). Slippery with a medium body there is a very subtle acidity play that you barely notice because you're so taken with the flavor. Look for an array of subtleties like asian pear, papaya, grapefruit, pineapple, lemon curd, peach, and sweet rice flavors with a touch of shibumi. WORD: Drinkable WINE: Clean Reds/Easy Whites BEER: Light Ales FOODS: Sushi, sashimi, shellfish, oysters, grilled fish and fowl.
 
Chitose Tsuru "Ginpu"
From Hokkaido Prefecture. Junmai. SMV: -3 Acidity: 1.5
The nose on this slick Junmai is a gentle collection of cream, powdered sugar, snowmelt, sourdough, sesame seeds, sugar cookie, and rice cracker aromas. Yay! We finally have the brewing rice varietal called Ginpu back in the house. Grown mainly in Hokkaido, because it's a short stalked varietal (think lots of wind), this rice produces light and dry brews that are very easy to drink. Smooth, light, clean, and with a little tingle this sake is slippery and very inviting. Semi-dry with quick finish "Kire" look for melon, sweet milk, pear, pomelo, milk bread, persimmon, mint, and mineral flavors that are very well balanced and totally coiffable. With a touch of astringency this brew speaks to wine lovers and everyday sake enthusiasts. WORD: Ginpu WINE: Light Reds/Minerally Whites BEER: Light Ales FOODS: Seafood chowder, grilled chicken, oysters, French fries, and poached salmon.
 
Kamikokoro "Heart of God"
From Okayama Prefecture. Junmai Daiginjo. SMV: -3 Acidity: 1.4
The nose on this lively JDG is a great collection of powdered sugar, papaya, pineapple, peach, tangerine, and sweet rice aromas. Zesty, tingly, spritzy, juicy, lush, and bright this sake drinks refreshing and balanced. Yes! So much feeling and flavor in each sip you forget that you're drinking rice and water. Look for melon, mango, rock sugar, watermelon, pear, white peach, strawberry, and sugar apple flavors with lots of expressive minerality and umami licks. Pay close attention to the chain link of mineral tones that have a lot of snowmelt-like qualities and expand as the fluid warms with a quick and flinty finish. Cool sake that drinks cooler when chilled. WORD: Crisp WINE: Zesty Reds/Flinty Whites BEER: Crisp Ales FOODS: Lobster, crab, cocktail shrimp, fatty fish, uni, oysters, and king crab.