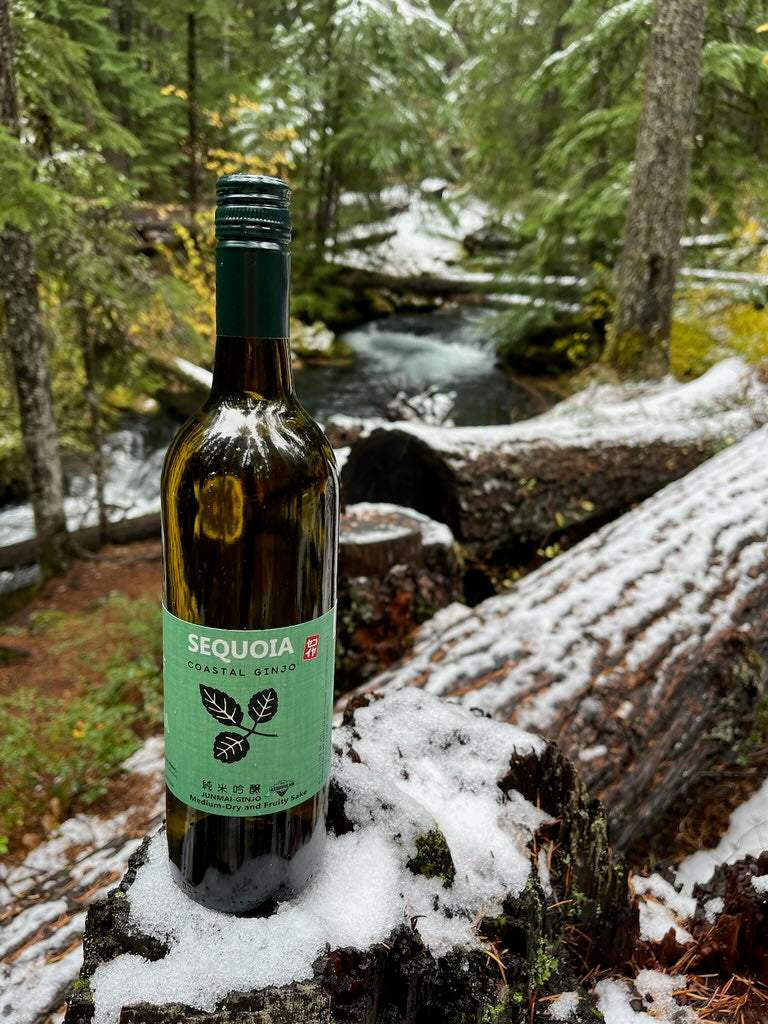 True Partners – Sequoia Sake and Arrowhead Water
Are you ready for a cool sake story? As the international sake scene continues its remarkable ascent to the highest of new highs, we are also seeing locally made craft sake make huge strides with amazing new avenues and expressions, and it's pretty darn awesome. 

San Francisco is home to one of these new and really stunning stories, which revolves around a partnership of sorts. Take a small local sake brewery, and take a massive national water company and what do you get? Sake with a soul. 

Watch a superb and incredibly produced high def video about this unique partnership that is both very huge and very small, and we at True Sake are so proud to play a small part in this modern sake story. There is a QR Code on each bottle to watch this amazing video.
Concept
Arrowhead partnered with Sequoia, to create sake featuring Arrowhead 100% Mountain Spring Water from Sopiago Springs, CA, to showcase the water's purity and flavor. They have been filming the brewing process and will be submitting the short film to the Sundance Film Festival. It focuses on the unique history of Arrowhead Water and Sequoia and how their uncommon heritage is now fueling the next generation of pioneers and innovators in the West.
Jake of Sequoia Sake's perspective
Using natural spring water from Arrowhead was the first time we have created a sake this way. Up to this point, we used twice filtered water, so we were trying something different.  We had no idea how much it would impact the flavor profile. All the other ingredients and formulas were the same as our Coastal Ginjo. Yet when tasted side by side you can taste just how much water impacts the sake. I doubt we would have ever considered making sake with Arrowhead water if it wasn't for KC Blinn. KC was the person from Arrowhead who approached us. He expressed his passion and was totally authentic with his intent that he motivated us to produce this awesome sake. 
How can you play your role in this small sake story? Well for one you can purchase this special and limited sake at True Sake or at the Sequoia Sake website. Secondly, you can respond to the video, which will motivate Arrowhead to continue with local projects like this one. And lastly, you can enjoy this Coastal Ginjo chilled in a white wine glass, and imagine 200 of those large five gallon water jugs at the Sequoia Brewery as these local ingredients fermented into a piece of sake history. Only 600 750ml bottles were produced in the first effort of this partnership, and there are only 200 left. You NEED to be part of this magic. 
Sequoia Coastal "Arrowhead"
From San Francisco, California. Junmai Ginjo. SMV: N/A Acidity: N/A
The nose on this local craft sake is a super fruity collection of honeydew, orange, mango, peach, cherry, blueberry, and mint aromas. Say hello to an awesome "Sake Project" where a large water company – Arrowhead – donated local Northern California water to Sequoia Sake to make a fantastic Junmai Ginjo that drinks smooth, slippery, clean, and very refreshing. Look for pear, mango, cherry, grape, Fuji apple, cotton candy, persimmon, raisin, and mineral flavors on a fluid that drinks watery and elegant. The great thing about this brew is that the water really speaks on the fleshy and full-bodied sake that is both fruity and dry. Two amazing brands have produced one super sake drinking experience! WORD: Fruity WINE: Lively Reds/Fruity Whites BEER: Fruity Ales FOODS: Sushi, sashimi, crab, lobster, shrimp, uni, oysters, and Yakitori.