New Store Arrivals – Two "Fu-ins" From Ohyama and Umenishiki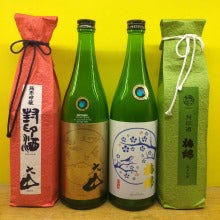 Ohyama "Fu-in" Junmai Ginjo
From Yamagata Prefecture
SMV: +1.5 Acidity: 1.5
$42/720ml
Bright, fruity, and very tasty! A really fun sake that makes a day brighter!
Umenishiki Fuin Junmai Ginjo
From Ehime Prefecture
SMV: 4.8 Acidity: 1.6
$38/720ml
Another sake in the "Fu-in" style which is an effort to make Junmai Ginjo sake drink like Ginjo sake with big aroma and good balance.