True Cup – The Cat Is Out Of The Cup!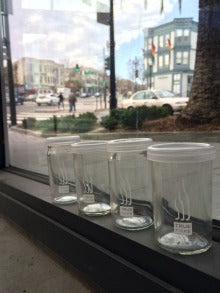 Check Out The True Cup Social Media Scene: Truecup on Facebook, #truecupsf on Instagram and @truecupsf on Twitter!
The best part about opening a sake bar for you and only you is that we get to check off boxes as we go! Define an awesome concept CHECK! Build an awesome business plan and investor prospectus CHECK! Take on some sake savvy investors who see the power of our plan CHECK! Find an amazing location CHECK! Sign a lease for that amazing space CHECK! Get the keys CHECK! Pick an amazing designer CHECK! Design a space that extols all the possibilities of sake in a super slick, cool, and unique capacity CHECK! Get approval from the city CHECK! The checks keep coming and why not? This is a fantastic concept and sake knows no boundaries.
The feedback has been amazing! So many brewers are so excited for us that they are clamoring to get their product into the new bar! Of course they are, because they know that we honor sake and we do sake proud! We are sake! I love saying that! And pretty soon you will be sake too!
As fun as this "CHECK" process has been the best is yet to come! I have been playing with Chef Michael Black and we have been crafting some legendary pairings. Not Kiddin' This is some first-of-its-kind stuff and it has been a blast. As we flesh out the cuisine menu I continue to have a faith and belief that we are doing this so right! When I tell a distributor about the menu they say, "That is such a good idea." Well folks – the idea has come from you! You are the ones that has given the juice to True Sake and we now get to reduce that into a potent and powerful sake drinking experience. Thank you! (And we will continue too look for ways to get your input on this wonderful product that is a very large part yours! – can you say secret tastings and soft openings?)
Keep an eye on our social media for True Cup so you can hear about some pop-up tastings that may occur before the opening! And of course if we do some soft openings we will want you loyal sake folks to be there, and the best way to find out how and when is to keep up with the crazy thing called social media!
Next month check out the Newsletter and truecupsf (instagram) to learn about the contest that will select 6 lucky readers/viewers to join us in a private tasting to finalize the opening menu for True Cup.
And not to toot our own horn, but we made Jetsetter's Top Ten in SF! And for the numerous folks who have asked about being part of this True Cup (and the others yet to come) in terms of investing please direct your questions to Stephen as he is in charge of that "stuff."