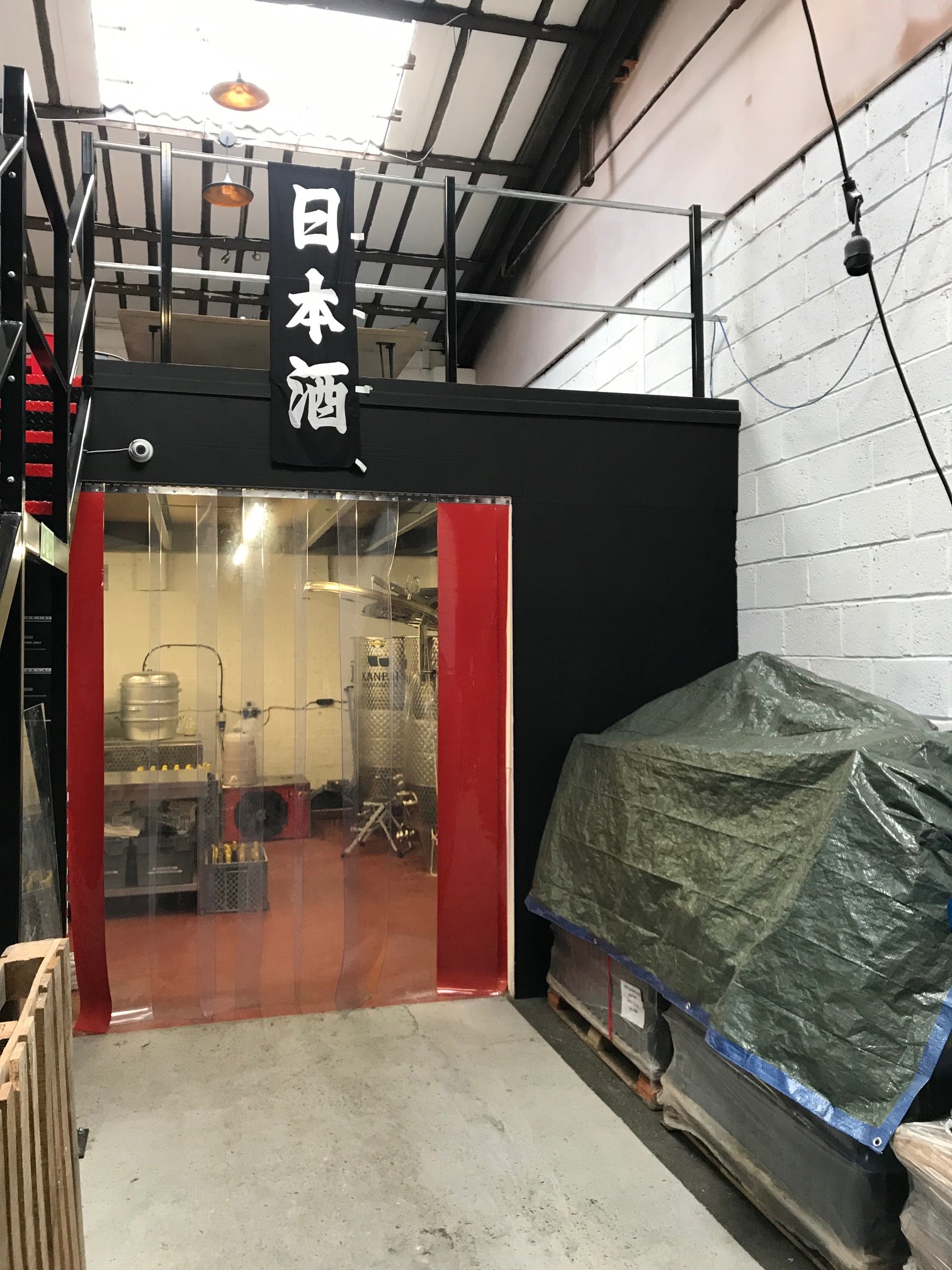 Sake Brewers – Kanpai London Craft Sake
When I was in London this month for the IWC, I had a moment of free time and I bombarded Tom and Lucy at their sake craft brewery in Peckham London. They both were extremely busy and were doing renovations at their compact brewery, but after some serious begging they gladly allowed myself and a fellow Co-Chair from the IWC, Ake Nordgren from Sweden, to pop by for a very quick walk through. And in a word it was quick! But we had a blast.
First of all, you cannot fake passion. Well not in the sake sense! And Kanpai is a very passionate Kura that feels just right making sake their way! And their way means water from London, rice from Japan and the US, 4 different brewing molds, and 17 different yeasts. How international crafty is that!
Tom, who is the head brewer and co-owner with his wife Lucy, had a background in Marketing and is responsible for their products from what's inside the bottle to what is on the outside. They have three flagship products that all have a four letter Japanese names and a cool London look. There is Sumi, which is Tokubetsu Junmai made with Gohyakumangoku and Association #7 yeast. It's a very rich brew that is smooth, dry and savory. Next is Kumo, which is basically Sumi, but in Nigori form. Then there is Fizu, which is a sparkling "hopped" sake that is made with Calrose rice and Association #901 yeast, that drinks crisp and bright.
Kanpai also is developing some more small batch runs that are fantastic, including a Yamadanishiki 40% and 60% and a Calrose 50%. These special "club" runs have all sold out before even being produced. That's cool! But for me the coolest part of our tour was listening to all kinds of firsts for me in the sake making business. When you have a small brewery in London, you tend to make sake your way, using tricks that you develop and tools that are unique to your brewery. I love that. Tom's pressing machine has a volume-reading device on the side of it. That was a first for me. He also told us that instead of continuously cleaning his sake pressing bags, his friends at Nanbu Bijin told him to put them in the freezer after each pressing! And voila you don't need to clean and sterilize them each time.
Water! When I asked about his water Tom smiled and said Thames city water. My hotel room looked out over the River Thames and it didn't look that inviting. He laughed and said that they filter the city water three times, but it still was very hard, and that gives his sake their own style and flavor. This is a potential negative that he has turned into a positive. His fermentation cycles are longer as a result, but the end product is all that counts and he is very pleased with his products. Tom said that harder water gives better flavor, and in brewing speak he has an extremely low water ratio of 1.3, which is very low.
Going forward Tom has pulled in a new marketing/design guru who has produced a new line of labels and "look" for their sake. He showed us a sneak peek, but I promised not to share. Next time. So, if you are ever in London you must go visit Tom and Lucy Wilson at their very cool brewery that has a great tasting bar and event room that are open on Fridays and Saturdays in an extremely hip and cool part of London. (Unit 2A-2 Copeland Park, 133 Copeland Road, London, SE15 3SN)
I brought home a bottle of Sumi and Kumo and will keep you posted about whom I share these bottles with. I think I know a local craft sake brewer or two!