Top Ten List – Top TEN "Drought Buster" Dry Sakes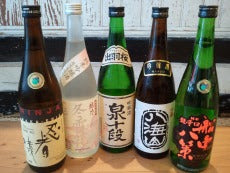 Yes! It's true. California is in a terrible drought! It's dry here, very dry! They are even starting to bring out the water police, as well as phone-in "tip" lines where you can nark on a neighbor. That's cold! And dry! Speaking of cold and dry there are a ton of sakes that drink great both cold and dry! Herewith are ten brews for you to get your dry on! In no particular order these sakes represent that whole category of what many customers ask for when they come in the store and issue the "I only like dry sake" declaration. They are dry on certain levels even though there are fruit tones in some or rice tones in others. Dry is the word and dry is the feeling and most of these brews will satisfy your personal mouth drought for sake:
1. Dewazakura Izumi Judan
720ml $35; SMV: +12; Acidity: 1.4
This baby is laser dry for a Ginjo. It's so dry that the brewers describe it as a "martini-like" sake that speaks to those who like sakes that cut like a knife.
2. Kariho Namahage
720ml/1.8L $27/$57; SMV: +17; Acidity: 1.7
Say hello to the driest sake in the store! This baby is like the Sahara, but that doesn't mean it is void of really wonderful flavors. Think about a dry that feels great in the palate.
3. Tedorigawa Kinka
720ml $38; SMV: +6; Acidity: 1.3
How can a nama Daiginjo drink dry? Well this is one of those fruit forward dries that is flavorful and fun, especially as it is unpasteurized, and has an overall dry quality for a Daiginjo.
4. Koshi no Tousetsuka
720ml/1.8L $38/$71; SMV: +6; Acidity: N/A
This is one of my favorite recommending Dry sakes as it drinks very neutral and clean. It has the dry flavor of rice and is gentle and well balanced. This is a dry Junmai Ginjo that drinks almost like a Junmai.
5. Dewazakura "Mountain Cherry"
720ml $71; SMV: +6; Acidity: 1.2
Okay, so here we go! A very very very flavorful Daiginjo that drinks fruity and bright, but still has a pretty high SMV at +6. How does that work? Well take a chance and try this "dry" for yourself.
6. Hakkaisan Ginjo
720ml $36; SMV: +6; Acidity: 1.2
One of the most famous dry Ginjos in the sake universe. This guy is the superstar of Niigata Prefecture, which is known for clean, light and dry sakes that drink super smooth and guess what? Dry!
7. Senchu Hassaku Junmai
720ml/1.8L $45/$66; SMV: +8; Acidity: 1.4
Okay! Some dry sakes lose body in the "process" of being a dry sake! Not this cool cat, which drinks smooth and fat and dry! Yup, lots of dryness that is like dry round soft water. Can you beat that?
8. Jozen Aqua Junmai
300ml/720ml $12/$29; SMV: +7; Acidity: 1.6
Think dry and ricey! Isn't that the point of some sakes? To drink like rice and not fruit. This Junmai from a brewery that is known for dry and clean Ginjos is no exception to that realm. Dry and compact and drinkable.
9. Wakaebisu Ninja Junmai
720ml $29; SMV: +8; Acidity: 1.7
Is there a sake that you can really drink a lot of out there? Indeed, and it has "Ninja" written all over it. Another of the dry and neutral sakes, which dances in the world of rice flavors and dryness!
10. Koshi no Konbai Chotokusen
500ml $86; SMV: +6; Acidity: 1.3
This dry list needed a couple of Daiginjos for folks who like their super premium sakes to drink dry. Lo and behold another light, dry and clean Niigata sake that speaks the flavorful and dry word called complexity.