Sake Season – We Hang Those Turkeys For a Reason!
One of the advantages of visiting True Sake when I am in the store is that you get to see a large turkey! Another advantage this time of the year is that you get to see a "rafter" of turkeys hanging around the necks of bottles of sakes that would do great with your Thanksgiving bird! Did you know a large group of turkeys is called a "rafter?"
Bet not! Many wrongly call a group of turkeys a "gobble." It's not a gobble! Gobble is what you do on our most favorite Thursday of the year!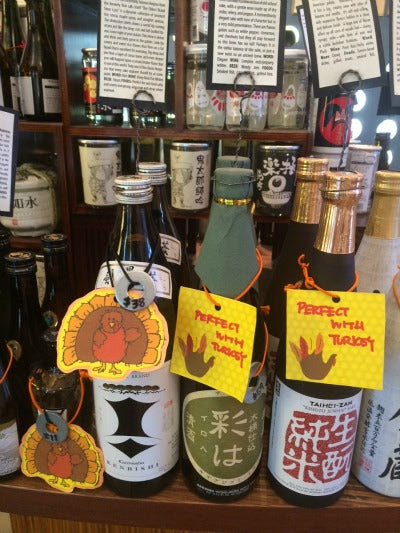 If you get a chance peek into the store and look for those little turkey cutouts, because for the past ten years we have been preaching that bird is the word when it comes to sake and turkey! Do they go together? Yes! Extremely well. And how exciting is it to pair a starch beverage with fowl rather than a juice? Take that, wine! Pairings are about harmony and I will argue until the turkeys go to roost that sake works far better with all the colors of the meat in a turkey then red or white wines. (Which one do you use again?) (See! There is no confusion when you pair with sake!)
In a sense, our very own "Pilgrims" were explorers of sorts! So why not honor them on this day that actually honors them and their propensity to explore by doing your own exploration? Take a chance. Look to a new and free world to make your own mark. Break free of tyrannical wine pairings! Express yourself and find new meaning on this day of giving thanks. Follow the turkeys! Let them guide you to a fun and different Thanksgiving.