Sake Story – The Making of Sake Day!
On one of my first trips to Japan 15 years ago I was speaking to a sake maker from Osaka, who referred to a "Nihonshu no hi" and it peaked my curiosity. What is Nihonshu no hi I asked? Well, he explained, it's the "day of sake" in Japan. The day of what? He laughed and said it's the day of sake, when many sake makers celebrate the upcoming sake-brewing season. "Oh! I like the sound of that," I said as visions of sugar plums danced through my head.
When I returned to the US, I had a far better understanding about Nihonshu no hi, and why the brewers see this as an important day. Basically, and in a word, this is the day that many breweries declare "We are open for the business of making sake for this season." This declaration almost always occurs on October 1st!
For a large portion of sake brewers October 1st is a wonderful day, because their brewery comes to life. It's the day when they decide that we will make this amount of sake this season. It's the day they will make their final brewing production card or line up. It's the day when they will add up how much rice that they purchased for brewing and will divvy it up into a production plan for the amount of shikomis or tanks of sake that will be made that season. It's really like the first day of school! And it's exciting and special and a day to rejoice! It's a day for the sake passionate.
And that is how Sake Day came to being. I thought, wouldn't it be cool to host a sake related party that honored the day that honored sake? But, it couldn't be just any party. It had to be a smart party that honored all of the aspects of sake, and that is where my "thinking while drinking" tag line came into being. I wanted folks to learn sake on this day. I wanted Sake Day to be for the consumers what it was like for the brewers – a day to declare that they understood sake as much as it was a day that sake begins to get made. I wanted to create smarter sake drinkers. So this day of honoring sake actually became a sake test of sorts hidden within a tasting that celebrated sake. I used to call it trickeration (Thank you Don King)!
So before "International Sake Day" or the very popular social media "World Sake Day" there was some dude in San Francisco who started a sake party to celebrate Nihonshu no hi or the day of sake. And he called it Sake Day!
The first Sake Day was held in a classroom at Ft. Mason, and it literally was like a sake class with a lecture – Ha! – and several tasting tables that highlighted certain aspects of sake. If I recall the headcount – a sellout!- was roughly 50 adventurous and "smart" people. It was quite an experience for me as it was a beginning! (An effort that started from scratch.) But I knew that I wanted to do it again, so I had folks autograph a large foam-board sign for them to take a little ownership of the event. They became the first sake generation of Nihonshu no hi sake lovers.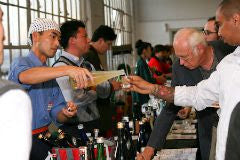 So the event then unfolded and grew! Sake Day had a great ring to it, and year two was a far larger affair. We took over the "Fire House" at Ft. Mason and did a very large sit down sake tasting and pairing coupled with roughly 9 different "Sake Challenge" stations. I really went crazy and came up with the idea of challenging the sake explorers by creating an environment where tasting and explaining ruled the evening. Mari Takahshi did the food component and we paired a 5-course meal for 80 lucky people. This event also had entertainment in the form of sumo videos and a real life demonstration of Jiu-jitsu. And yes people signed a brand new board!
This was truly the first Nihonshu no hi celebration outside of Japan. Not even New York had an event, but I guess that is appropriate that the first sake store outside of Japan also hosted the first Sake Day event. Ticket sales for Sake Day 3 were so robust that we had to change the format. We could no longer offer a sit-down event, and we had to take on a far larger event space. The next Sake Day was held in the Golden Gate room at Ft. Mason and it was a huge success. This was the first year that we used Wesley and his Berkeley Sushi Band who belted out Okinawian tunes from start to finish. And yes, people signed the board!
As events such as these grow they often take on different shapes. I wanted to take Sake Day on the road, and I was very much about bringing sake and the concept thereof to the mainstream. So Sake Day took a road trip to the JCC – Jewish Community Center- where we had an amazing sake tasting that really brought a whole new customer base to sake. I'm getting my "famous" chefs mixed up for certain events, but over the years we had amazing people such as Mari Takahashi, Jeff Inohira, Nic Bala, Sho Kamio, and Michael Black throw down amazing food pairings that have tested the boundaries of sake. (But I will say this! No matter how big the name of the chef, and no matter how much food we offered – it never was enough and the food complaints were always the number one and probably only complaint that we have received over the years. (Like I always say – it's a freaking sake tasting not a dinner!) Thank you to all of these amazing chefs who did sake proud!
Eventually Sake Day found a comfortable home at the JCCCNC – Japanese Cultural and Community Center of Northern California – in Japan Town and I felt so very proud that I could use the Sake Day vehicle for the betterment of the JCCCNC and Japan Town itself. This is a great source of pride for me, and I have broken a lot of sweat and aged myself a great deal in the process of hosting the best Sake Day's for their benefit. It has been quite a ride, and the JCCCNC have been amazing partners. Sake Day morphed yet again into an event that had all kinds of new offerings such as distributors pouring a wide range of sakes for the participants, auctions for cool sake centric things, and raffles and give-aways. Ask Lyentte how much she likes getting on stage to speak or reach into a bucket to pull out winning tickets? And for that fact ask Lori from the JCCCNC how much she likes to get up to give a speech or toast. Not that much!
Ahhhh! The speeches! I was never one for keeping people from tasting special sakes, so when we had to talk into a mic it was usually very quickly and usually very short. But one year we had a special un-announced guest from the city! One of the Board of Supervisors paid a visit to give a little speech, as only politicians can. I was unimpressed and was heard muttering things like "I hate crap like this." And "Why make sake political?" But when Ross Mirkarimi took the mic he awarded me a very large plaque for giving back to the Japan Town community. I was pretty embarrassed but accepted the award "on behalf of sake!" And yes, we also have had several Japanese dignitaries including the Consulate General gracing our stage!
Some funny points that you may not know about Sake Day. The band was always drunk. They would play three songs then go tasting for 30 minutes. Ten minutes of singing and playing followed by thirty minutes of partying with sake. It became a running joke and we always were waiting on the band! In all these years we only had to escort out one person, who could not control themselves. That's a pretty good ratio! So thank you smart sake tasters! One year somebody stole our sake ladles that we use in the welcoming sake celebration taru. (I put a curse on you!) And one year we had to cancel Sake Day, because yours truly had to have hernia surgery a week before Sake Day and there was no way that I could drag, pull, and carry all of the coolers, boxes, and sakes. So you will see that our collection of large foam boards is missing a year.
Sake Day is very much part of the mission statement of True Sake – the betterment of sake. We take great pride in this effort and our partners from the JCCCNC and each and every vendor/importer/Distributer/Volunteer makes this event what it is – a very special day known as Sake Day!
If you have never experienced Sake Day and you've been on the fence, perhaps this year is that year! Why not celebrate the tenth anniversary with all of your sake buddies? We will be waiting for you!