"Ask Beau" – "What do you give thanks for?"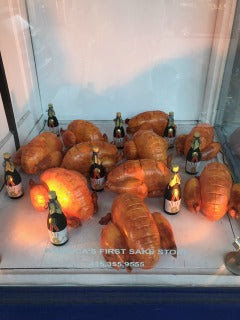 Beyond the obvious of health and happiness for my family I am extremely grateful and "thankful" for my team at True Sake. It has been rough sledding for quite some time now as we try to transition into a bigger operation and it has taken its toll on the team. Long hours and many missing parts to the store are difficult to deal with. And this time of year we also always over achieve with Sake Day, which sets us back and has us continually playing catch up.
People make a difference. In any walk of life it's the people who have the most impact and leave the largest thumbprint. This is even truer in a retail setting. Working against difficult odds our team this year is on pace for yet another record year in sales. How do they do it? I don't know. And I fear asking in case they say, "How do we do it?" But they do "do it"! And I am eternally grateful and thankful. They make this whole damn thing work. And without them True Sake would be a shell of itself.
That said WE are very thankful and very appreciative of you our dear and loyal customer. You are the juice that fuels our engine and we are eternally grateful for you and your support of our True Sake family. So a very large thank you is in order to you and please rest assured that I will be thinking about each and every one of you when I make my toast on Thanksgiving night. Thank you team! And thank you!