Beau-Zone Layer - Fukucho "Moon On The Water"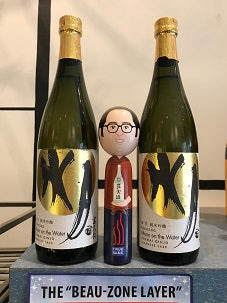 Fukucho "Moon On The Water""
From Hiroshima Prefecture. 
Junmai Ginjo.
 SMV: +3 Acidity: 1.4
Don't tell me that you forgot about this amazing sake made by an amazingly cool female brewer in Hiroshima? Fukucho is not only fun to say – it's fun to drink! When I revisited this sake I had to smack my head because I forgot how sublime it tastes and feels! I wrote "Long Flavor" all over my notes, and for good reason as it drinks full, fat, and velvety. A super smooth fluid that explodes with tropical fruit flavors like fleshy papaya, gooey honeydew, and juicy pear. There is a subtle vein of white grape tones, which helps to pronounce the hidden rice flavors the brings forth a flavor balance that is a celebration in the palate. How can rice and water taste like this? It's crazy! And you'd be crazy not to revisit this killer sake.