Sake Success – Summary of Sake Day 2017
What a blast! If you went you know it and if you didn't make it, it's a "must" next year! In a word Sake Day is awesome. Awesome sake, awesome people, awesome exploration, awesome laughs, and awesome sake enlightenment. This year Sake Day went off without a hitch! It was darn near a perfect event. We had almost 100% participation with all of the sake importers and distributors in the Bay Area, and they came with an amazing collection of sake! I keep getting notes from these special partners that Sake Day was so well run and such a pleasure to attend.
One of the best aspects this year was the fact that so many people had so many different "Favorites." I loved that! Usually there is a trend to one or two importers and folks all rave about those two, but this year we had so many pouring tables that guests were talking about. To name a few:
Floating World sake imports paired their amazing nama sakes with cheese.
Sequoia Sake from SF paired their amazing sake with Dandelion Chocolate.
The owner of Kaetsu Sake brewery from Niigata poured his stellar brews.
The amazing "Tono" who flew in from Tochigi Prefecture to pour his Tonoike Shuzo sakes for the 1st time ever in the US.
Sake Man Blue and Sake Man White (Yes the guys who wear Mexican wrestling masks with sake bottles on them) poured their Kuramoto sake.
Sake Man and Electronic DJ Richie Hawtin poured his ENTER.Sake selections
Sake Day super friend Mr. Takeda poured his Niigata sakes by hand.
The Japanese Consulate General did a sake survey!
And we got the first taste of US made Shimizu sake.
The "Welcome Sake" this year was a big hit, because it was quite complex and quite different for Sake Day. This year the Welcome Sake was donated by Ichishima Sake Brewery from Niigata Prefecture and they provided us a 5 year-aged Ginjo Koshu. This yellow in color sake really took people by surprise, because it was so complex and flavorful but drank so welcoming!
Local chef Greg Dunmore (Nojo) of his new venture "The Japanese Pantry" cooked up some very fun Japanese Street food that had folks talking. Greg told me later that he was surprised that folks immediately attacked his food station. He thought folks would taste for a while then go and eat, but I reminded him that guests sometimes need to lay a foundation before they taste.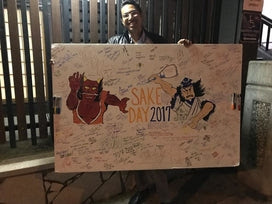 My favorite highlight was pouring the Welcome Sake to guests who are awesome. I don't see some of these repeat offenders for a year, and in some cases that's the only time that I ever see them. I am so grateful for these special folks who come every year, and you are the reason that we try so hard to make the event wonderful each time to impress you. And it gives me such great energy when people come up and introduce themselves and say the kindest things about Sake Day, True Sake, and the True Sake Newsletter. That's the stuff that makes it special from me.
Lastly, and most importantly I want to issue a huge shout out to the True Sake team that worked like crazy getting all of the sake orders in. It's pretty frustrating sitting so close to amazing sake and not being able to partake. Instead they fulfilled a large number of orders, which bettered our 2016 efforts. So thank you JCCCNC folks. Thank you vendors and volunteers. And for me I want to say the largest thanks to my team at True Sake. You are the best in the business! Especially you Mei! I can't thank you enough for all of the effort that you put into this amazing event. (I also give a special shout out to my daughter who worked her first Sake Day in the Ask Beau Section below)
Just heard that we did very well for the donation to the JCCCNC this year. If we did well, that means you did well. So this is a huge thank you to all of the Sake Day attendees for putting $20,000 into the Japanese Cultural and Community Center of Northern California. We could not have done it without you!