Top Ten List – Top 10 St. Patrick's Day Sakes
10. Narutotai "Mizu to Kome" Junmai Genshu
Yup, we get it St. Pats Day is an Irish thing which means Potatoes! But why not go the other white starch? "Rice and Water" is a really interesting Junmai that is as unique as this green loving day! Plus it has a higher alc % and comes in a green bottle.
9. Shirataki "Noujun Uonoma" Junmai
St. Pat's is the day that you don't want to waste a sip right? Well this sake is only milled to 80%, which is sort of different in the industry as more milling means more pristine sake. In other words they are not wasting a sip when polishing this rice, and the result is an amazing velvety and tasty brew that will rock your Shamrocks and pairs well with your cornbeef!
8. Tengumai "Dance of The Demon" Yamahai Junmai
Irish Whiskey is pretty big on SPD! And this gamey and vast sake has a lot of mouth feel and flavors that would speak to big whiskey drinkers. It's as close in flavor that you can get to a peaty shot of the Irish. And then dance like a demon!
7. Wakatake "Demon Slayer" Junmai Daiginjo
Speaking of demons on St. Patrick's Day, you will see a lot of those at your local watering hole that will be inundated with rookies and pseudo saints on the 17th! So slay those demons with this killer and most popular sake that is so easy to imbibe and so much fun to hold in your hand! Green and square it's almost got to be Irish!
6. Kudoki Jozu "The Pick-Up Artist" Junmai Ginjo
If St. Pat's represents one of the largest events to pick-up dates then why not go to battle with a sake that specializes in this skill! Cool green bottle and an even cool flavor, this brew is a valuable wing-woman on this day of connecting!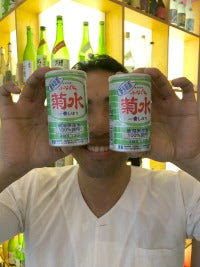 5. Kikusui Funaguchi "Green" Nama Honjozo
The perfect St. Pat's sake that fits in the palm of your hand! This little 18% alcohol brew is like the Incredible Hulk, except it starts green in your hand and huge in flavor, but then you shrink into a mild mannered partier that doesn't freak people out!
4. Kuroushi "Black Bull" Junmai Ginjo
This powerful and bold brew made with a great sake rice called Omachi will give your St. Patrick's Day party the horns that it needs! Large in presence and smooth in the glass it drinks like a good old Irish jig.
3. Minato Tsuchizaki "Harbor" Nama Yamahai Futsushu Genshu
Nothing says St. Paddy's Day like 22% alcohol! This is the monster sake in the store at the moment, and the point of your SPD is to tie one on the head to the Harbor! This table sake that is unpasteurized and undiluted will have you under the table in no time, and that's pretty much the point of this holiday right?
2. Ichinokura "Ace Brewery" Junmai Taru
The logo for this brewery is called "four square" because of the four cedar masu boxes adjoined. Four Square could also be your lucky four leaf clover on St. Pat's Day featuring a sake that was aged in cedar and gives it a whiskey like woody tone. This brew could very well be the luck of the Irish.
1. Born "Dreams Come True" Junmai Daiginjo
The pot of gold at the end of the rainbow is actually a 1,000ml golden bottle of sake that literally translates to "Dreams Come True." Be a smart leprechaun and pony up for this amazing sake that will automatically make you the hit of any St. Patrick's Day Celebration. They will sing songs about you or at the very least give you your own limerick!