"Ask Beau" – "We ask questions too!"
A week ago an industry sake person came in the store and tried to determine how "Organic" our sake selection looked. She was new to the sake industry coming from the wine side and tried to convince me that "Organic" sake was the future. Oh really?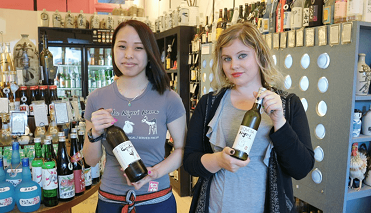 I'm sure that you notice all of the little things about your shopping experience at True Sake. I'm sure that you notice that we always ask you, "Let us know if you have any questions" when you enter the store each and every time. I'm sure you notice that we "read" you as you walk slowly around prepared to offer our service or let you explore for yourself. And I'll bet you notice that we are always ready to grab whatever bottle or bottles that you point out. There is a reason that we do this. And that reason is you.
Having peddled over a million and a half bottles of sake in the last almost 17 years we know but one constant, and that is you. You are the reason that we exist today, and we want to ensure that you will keep supporting us into the next decade. There are a few places that you can go to get sake, so it is up to us to separate ourselves from the rest. And I think that we do. We know our stuff that is for sure. But selling sake requires much more than that. So we enjoy going the extra step. We enjoy adding the extra comment or touch of knowledge, and most importantly of all we thrive on making you happy!
Sake sells itself! The point is to get folks into a bottle of sake, and then let the brew do its thing, which it usually does. For us, the fun comes in the fact that we can ask you questions. "What are you going to do with this Daiginjo?", "Where did you taste that sake?", and "What do you pair that with?". It's like a floodgate. We learn more from you than you do from us! A simple question from us usually turns into something that we didn't know about, and that is awesome. "Why did you pick two 300mls of nama instead of one 720ml bottle?". "I feel the enzymes when bottles are fresher helps my stomach more." Wow!
The point is we never get tired learning about sake. Each customer is another story, another expression, and another player in the performance called the sake market. We use and reuse information to help everybody better understand this amazing and mystical ancient libation. So don't feel weird when we ask, "What are you going to do with that Junmai?" Because in all likelihood your answer will educate us, and that is awesome.