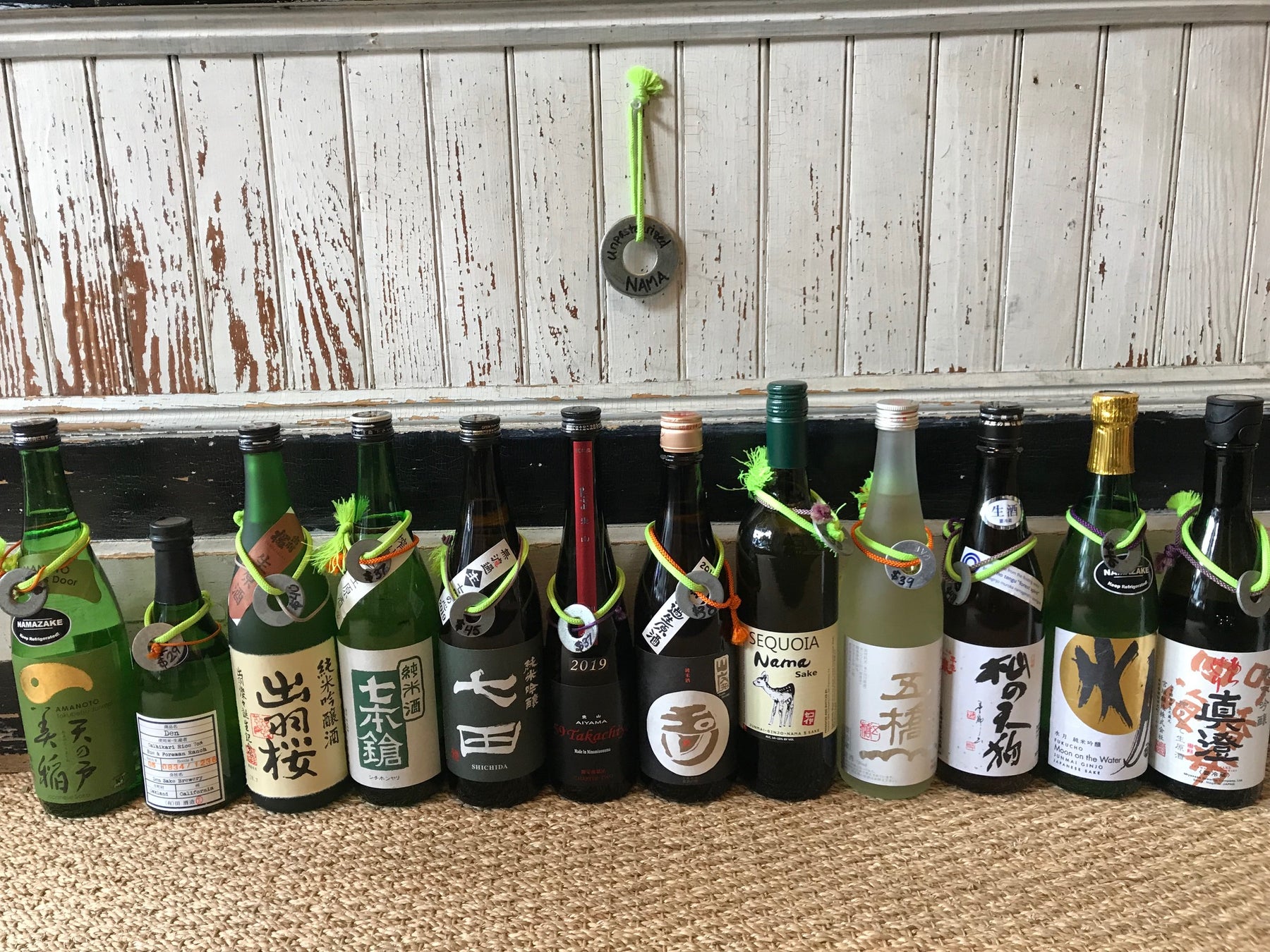 New Store Arrivals - So Many Namas (over 41 and counting)
I did an informal count the other day of unpasteurized sake in the store and I was shocked. Not counting nama-chozo like Eiko Fuji Junmai Ginjo we had 41 namazake on hand. That is insane, and as I stated in our Instagram account (truesake) it represents more nama than most sake shops in Japan. Now I know that it is "Nama Season," but this number is still awesome. It's truly the best time of the year for seasonally fresh released nama sake. Herewith are a few reviews of the many unpasteurized brews in the store now: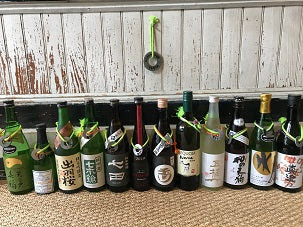 Denshin "Haru" 2019 
From Fukui Prefecture. Junmai Ginjo Nama. SMV: N/A Acidity: N/A
With a nose filled cherry, peach, and melon aromas say hello to a smooth and fun unpasteurized sake in a killer bottle with a special hidden sticker. Clean, bright, and fun, this brew drinks semi-thick, semi-chewy, and semi-dry with a dry finish. Look for hints of citrus, strawberry, melon, and red apple on a smooth and even flow. This is a very flavorful nama that drinks very Ginjo-like and is bright but not too jagged or brash. If you like silky then this sake is for you. WORD: Smooth WINE: Soft reds/smooth whites BEER: Fruity ales FOODS: Shellfish, oysters, sushi, sashimi.
Masumi Arabashiri "First Run" 2019 
From Nagano Prefecture. Junmai Ginjo Nama. SMV: -0.6 Acidity: 1.7
The nose on this very old friend of True Sake is a great collection of cherry, grape, berry, sweet rice, and powder sugar aromas. Since you've had this brew before what's it like this year? The '19 version of Arabashiri is more controlled and smooth than in year's past. It is smooth with round and rolling fruit tones that are juicy and soft, semi-thick, semi-rich and fully tasty. The larger the vessel the more zesty and fresh feeling with honeydew melon, pear, apple, and a hint of grapefruit. A mid-sized glass brings out the best flavor to feeling play, but whatever you drink out of you will taste fresh sake at its best. WORD:Fresh WINE: Brights Reds/Fruity Whites BEER: Crisp Ales FOODS:International spice, sushi, sashimi, American sushi.
Ama No To "Heavens Door" 2019 
From Akita Prefecture. Tokubetsu Junmai Nama. SMV: +4 Acidity: 1.5
The nose on the seasonally released unpasteurized sake is an amazing collection of green apple, rice candy, sweet rice, and Jolly Rancher aromas. Say hello to a very lush sake with a tremendous flavor field that makes each sip a sensation. Lively, fresh, vivid, and fun this brew is fleshy as fleshy sake can be. Tons of green apple flavors with sweet rice teases, and a bright chewy umami quality that sneaks to the sweet side. Green Green Green like the label. Green apple, green pear, green papaya and all in nama green. There is a ton of glucose in this nama that drinks sticky and wicked in the palate with a lovely lychee finish. Long flavor and very tasty. WORD: Green WINE: Sweet Reds/Fat Whites BEER: Fruity Ales FOODS: Salty and savory, fruit salads, cheese plates, bright fare.
Shichida Muroka 2019 
From Saga Prefecture. Junmai Ginjo Muroka Nama. SMV: +0 Acidity: 1.4 
It's Spring Nama Season and the nose on this unpasteurized beauty is a unique collection of grapefruit, peach, lemon peel, and steamed rice aromas. Talk about a big, sweet, and sexy nama! This non-charcoal-filtered (Muroka) sake is not a Nigori, but it drinks similar to one. It is a very full-bodied brew with a "gotcha" first sip. The sweetness is more bright than sweet with a gentle acidity play. Chewy, layered, and really fun in the glass. Look for honeydew melon, ripe pear, and peach compote flavors that drink semi-sweet upfront, but finish balanced and very tasty. WORD: Honey WINE: Chewy Reds/Fat Whites BEER: Sweet Ales FOODS: International Spice from tacos to curry, American sushi, and large pastas.