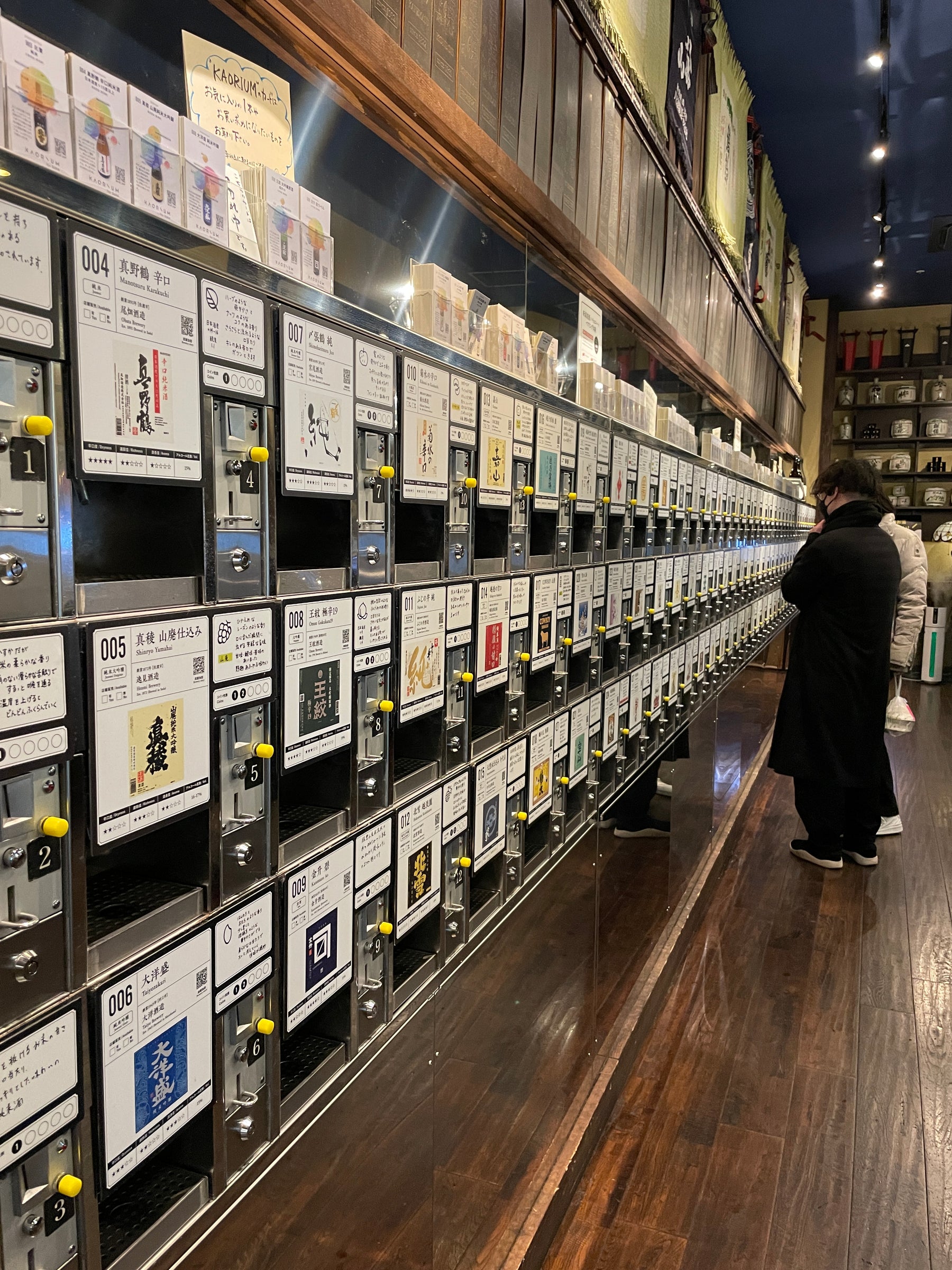 Chris Roams Niigata Day 2!
*All photos by me, Chris Cabrera, unless otherwise noted.
Day 2 in Niigata started off in Nagaoka and we didn't waste any time.
More snow! This photo was taken in the hotel courtyard.
Our first visit was to Hasegawa Shuzo and I was greeted by Kuramoto Yoko Hasegawa, and her daughter General Manager Yuko Hasegawa.
Kuramoto Hasegawa san showing us around her brewery.
I also met their tōji Hiroaki Suzuki who graduated at the top of his class at the Niigata Sake School.
Suzuki tōji in the kōji room. This was my first time ever in a kōji room, as these rooms are usually off limits to outsiders and foreigners. 
Kurabito in action.
Hasegawa Shuzo is actually imported to Texas, but as of now, no distribution in California. We're working on it! The Hasegawa take on the Niigata tanrei karakuchi style is a fun one, and definitely worth trying if you can track it down. You might see their sake on True Sake shelves soon, so stay tuned!
Our next stop was to Fukugao Shuzo in Sanjo. This was one of the highlights of my trip, as I was greeting at the door with so much energy and enthusiasm by Fukugao Director Eri Kobayashi.
I was also greeted at the door by this amazing Giant Baba x Fukugao collaboration. I asked Eri-san why is there a Giant Baba sake, and she told me that Giant Baba is originally from Sanjo, so there's a local hometown pride associated with the co-founder of All Japan Pro Wrestling, and quite arguably, a huge reason why Japanese pro wrestling in the early to mid 90's was so popular, and why modern pro wrestling is the way it is today. 
Giant Series! Giant Baba x Fukugao collaboration.
Eri-san was ready for us with a complete brewery tasting. Check out that snow-covered background out the window! This was such a fun moment.
The Fukugao barrel-aged series. The whisky-barrel aged sake was my favorite of three, but they're all great.
We're working on getting Fukugao on True Sake shelves. It's only a matter of time. Stay tuned!
Me and Fukugao Director Eri Kobayashi.
Our next stop was Shiokawa Sake Brewery, who happens to be a friend of True Sake. Kazuhiro Shiokawa has a unique relationship with the Bay Area. He met up with our fearless leader, Beau Timken, the day after the Tohoku Earthquake in 2011. Shiokawa-san kept his appointment with Beau-san, even though Japan had just gone through a catastrophic event, which was very admirable.
Kauzhiro Shiokawa, talking shop over a nice tonkatsu meal at Katsui Ichi in Nishi Ward.
Shiokawa-san has also been to the East Bay to make sake with Yoshi Sako of Den Sake. Shiokawa-san is also a big fan of the San Francisco restaurant, Nopa. In fact, he even made a sake as an homage to one of his favorite dining experiences at said restaurant. You might have also heard of Cowboy Yamahai, one of his flagship brews that Beau-san might have had a hand in naming.
Another day at the office.
Kurabito working in the kōji room.
Samples straight from the tank.
Sake tasting out of different vessels. The lacquerware on the far right definitely has an impact on how the sake tastes. Very cool.
We proudly carry Cowboy Yamahai, and will start carrying Nopa soon! Shiokawa-san will always be a friend to True Sake, and we cannot wait for him to visit the San Francisco Bay Area again.
Our next and final stop was Imayo Tsukasa of Niigata City. We were greeted at the door by CEO Toru Okada and he walked us through a majority of his sake lineup. I've had 4 out of the 6 sakes from the tasting, as Imayo Tsukasa is available in the Bay Area. These sakes have been poured at the past couple Sake Day events too.
CEO Toru Okada walking us through his sakes.
Kioke tank!
Classic stainless steel tanks.
A walk through their sake museum, highlighting old advertisements and happi coat.
Hot water runs through the pipes inside to pasteurize the entire tank.
Imayo Tsukasa was a quite modern facility, yet still rooted in old school traditions like using kioke tanks. They do sake tours for visitors in multiple languages and are located in Niigata City, which is an easy trek from a JR train station. The Koi Junmai Daiginjo is one of our best sellers, especially during the holidays.
Unfortunately, we had to cancel our last brewery stop of the day at Kanemasu Shuzo due to the heavy snow storm and road closures. However, I was able to bring back some Kanemasu sake to San Francisco. My sincerest apologies to Tsunao Takahashi san. I hope I can visit Kanemasu Shuzo some day.
We did manage to call an audible due to the snow storm and head to Ponshukan inside the Niigata train station, aka Disneyland for sake maniacs. If you're a sake fan, you need to visit Ponshukan. The coin-operated sake tasting apparatus is truly a sight to behold. I could have hung out here for hours if I had the extra time. It's all categorized by region, from Sado Island, to Kaetsu, Chuetsu, and Joetsu. I'd recommend trying the staff picks first and foremost, which are all the way to the far right of the tasting wall. There's also a bottle shop next door, which has every sake under the sun made in Niigata, as well as wine, beer, foodstuffs, souvenirs, etc.
Coin-operated sake tasting. 500 yen gets you five pours.
A taste of a Junmai Ginjo Fukuroshibori from Matsunoi Shuzo in Tōkamachi in Niigata. Excellent stuff.
Which one-cup should I get?
Whew, what a whirlwind of a day. This was my last day in Niigata and I had an absolute blast. I want to thank Masa-san, Abe-san, and Yamashita-san of Jetro Niigata for an organizing an amazing trip. I was able to talk about sake with both Masa-san and Yamashita-san, including what brands are really making waves in Niigata right now. Abe-san was an awesome driver, as he kept us safe and sound while navigating one of Niigata's biggest snow storms in the last ten years. Also, thank you to my translator Momoko Sagawa for helping me convey my elaborate questions correctly to the master brewers and company presidents. Also, thanks for all your translation work at Ponshukan, as well as teaching me about きゅうかんび (休肝日). 
This is my second time in Niigata, and it's a place I love now more than ever. I will always be an ambassador for Niigata sake. 
If you made it this far, thanks for reading! Off to Gunma for Day 3!
Chris