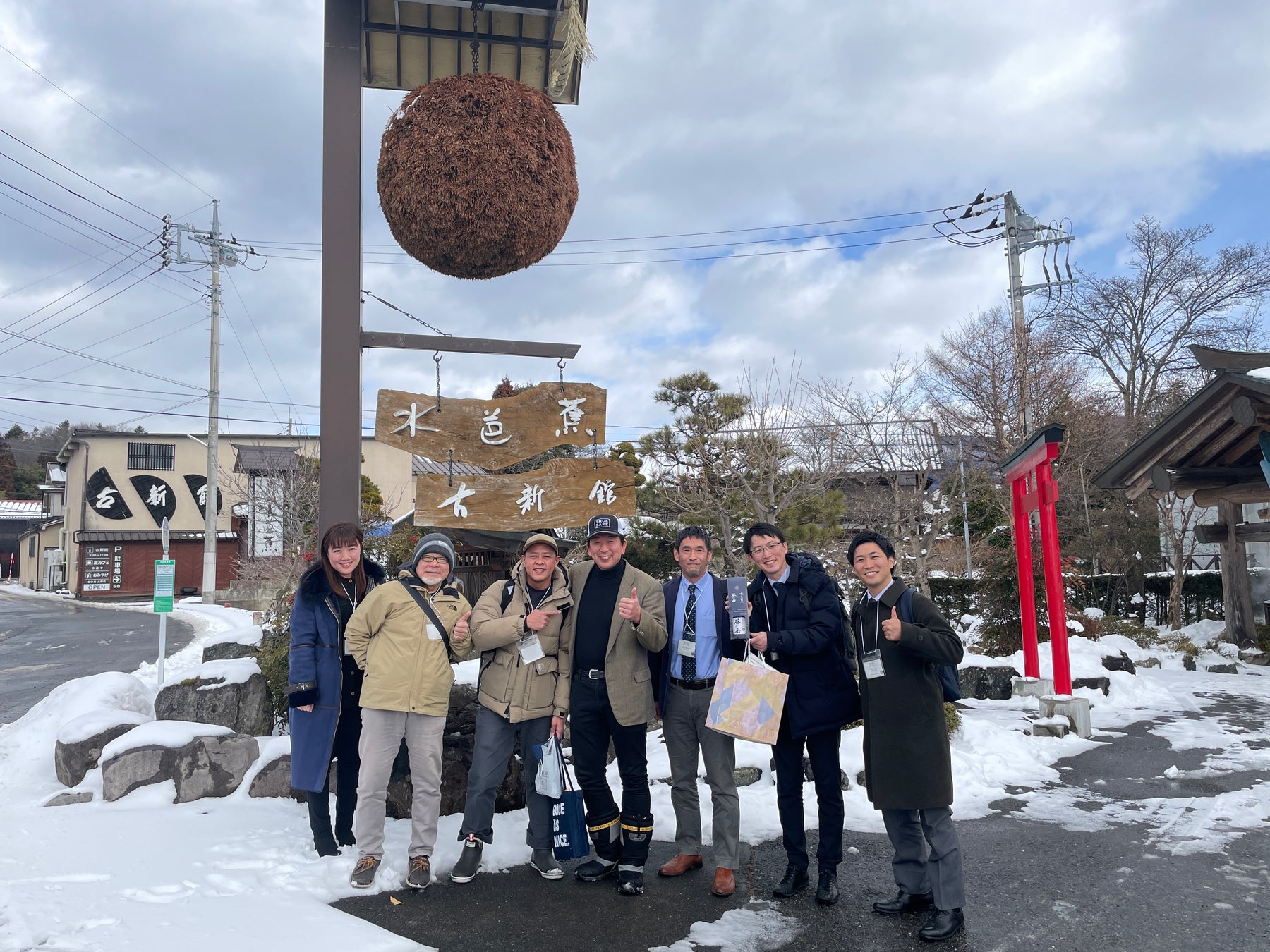 Chris Roams Gunma!
*All photos by me, Chris Cabrera, unless otherwise noted.
First day in Gunma was magical. That may be hyperbole, but quite honestly, before my day started, I was getting a little homesick. But the Jetro Gunma crew really made me feel welcomed, and treated with me so much love and respect. They really rejuvenated me with sake energy and passion. As soon as I got off the Shinkansen at Takasaki Station, I got in a van and we were off to the races!
First stop was the world-renowned Nagai Shuzo in Kawaba, makers of the brand Mizubasho. I was greeted immediately by President, Sake Expert Assessor, NRIB No. 15, Representative Director of the Japan Awasake Association, 6th Generation Noriyoshi Nagai. Wow!  
Nagai-san and his robot(s) in the lobby.
During the tasting, he started to mention how he loves pairing Mizubasho with tacos, as well as oysters. My eyes lit up. Nobody every talks about sake and tacos except me. I wave that flag proudly. So the minute Nagai san brought this up, I knew this visit was going to be great. Side note: I will probably do a Bay Area taco crawl to see which tacos pair the best with Mizubasho, haha.
Nagai-san also talked about sparkling sake and the Japan Awasake Association, as well as aged sake and the Toki Sake Association. Both styles of sake are rapidly growing in Japan, and I'm sure the United States will soon see these trends catch on too.
Nice hat, Nagai-san! That Mizubasho sparkling is fantastic.
Nagai-san let us try his sparkling sake out of many different vessels, and showcased why the vessel matters and what a difference the vessel can make. Also, aged sake (aka koshu) has so much potential to really grow, and capture an audience that is already enamored with Japan's other aged spirit: whisky. Nagai-san is working very hard to promote both of these niche segments of sake.
We also talked about the value of sake, why it's valued correctly in overseas markets, and why it's priced so low in Japan. This was the first time on the trip where we actually talked about global sake economics and sake on a much grander scale. It was conversation I very much enjoyed.
The Nagai Shuzo restaurant and tasting space was stunning.
Koshu affogato with Häagen-Dazs vanilla ice cream made in Gunma.
Huge thank you to everyone at Nagai Shuzo for such a welcoming experience. 
Our second stop on the tour was Tsuchida Shuzo in Kawaba. Tsuchida lives by the motto, "Reclaiming micro-biodiversity for the future of sake." A slogan I can get behind. Kojiro Matsuda is the Managing Director here, and he gave us a very detailed tour of another beautiful state-of-the-art brewery. Tsuchida operates using modern technology, yet still paying homage to the past, which I fully appreciate.
In the Tsuchida Shuzo lobby, signatures of Japanese prime ministers past and present.
Kurabito in action.
Matsuda-san showing me the different types of koji-kin they use.
Tsuchida Shuzo has a laboratory on site, where the meticulously analyze all things sake. Impressive.
Gunma-chan on a bag of Gunma rice.
Kurabito stirring the moromi. Matsuda-san let me stir the moromi for a little bit, which was a first for me. One day I'll put in some actual hours in a brewery.
"Say バター!!" Matsuda-san bringing the good vibes all day.
What an awesome brewery tour and visit. Thank you again Matsuda-san for being so hospitable and welcoming! Photo courtesy of Jetro Gunma.
Our next stop was at a brewery I actually have never heard of till that day, Ootone Shuzo in Numata, makers of the brand Sadaijin. I was greeted at the door by CEO Tsunenori Abe who is very kind and humble. He operates Ootone Shuzo with a very "do-it-yourself" DIY vibe. He only has two machines in the brewery, and one of them is a Yabuta press. Everything else is done by hand, which is pretty awesome and very admirable. 
We kicked off our tour in the lobby, with a display of how sake is made in its various stages.
Cooling the kome-kōji. D-I-Y!
 Abe-san checking the tanks.
Classical music is played to assist with the ferment. I've heard of a kokuto shochu maker doing this too, but this is a first for sake for me. Abe-san's employees want to play jazz sometimes, but today, it was classical.
Abe-san applying the bottle labels by hand. No automation.
The absolutely killer lineup. I didn't take detailed notes this time around, as I should have. But I honestly just got caught up in such a delicious tasting session.
We started talking about aged sakes, and I had mentioned during the initial tasting that I though Abe-san's sakes would do extremely well aged. He then got up and left the room, then came back with this sake that has been aged for (I believe) 20+ years. Holy smokes. This was so special, quite possibly the best thing I drank on this trip. Abe-san is a genius.
Thank you soooooooo much Abe-san for a great brewery tour and tasting session.
I didn't know anything about Sadaijin or Ootone Shuzo before this trip, but I most certainly know now. Don't sleep on this brewery. Ootone Shuzo is the real deal.
Our next stop was a visit to a craftsman/artisan that goes by the name Yoshizawa Wood & Lacquer Works. This was the first visit that wasn't a sake brewery on this trip, which was a nice change of pace. I was greeted by 3rd Generation Ryoichi Yoshizawa and his son Shin Yoshizawa. 
Pictures do not do these vessels justice. 
Sake warming boxes, bamboo tumblers, chopsticks rests, etc. 
Since True Sake moved to a new and bigger space, we potentially have more room for sake cups and vessels too, as we do get inquiries to carry more tokkuri and ochoko from time to time. 
A huge thank you to the Yoshizawa family, as they were very kind and humble, and make such beautiful wares.
Our last official stop was at Harukawa Liquor Store which was a pretty short walk from Takasaki Station. This was my first time having a glass of sake at a liquor store, which is usually called kaku-uchi (角打ち) style, and literally means "corner-mouth." The corner refers to the wooden masu's four corners, and one of those corners is then brought to the mouth. Sounds a little confusing, I'm sure. You can find a more detailed explanation here. Long story short, it's a liquor store that happens to serve alcohol by the glass or a flight.
In front of Harukawa Liquor Store. No bike locks or bike stands in Japan. Love it.
My translator in Gunma, Madoka-san, explaining the local Gunma flight to me.
Harukawa Liquor Store owner and me. Two Laker fans in Takasaki, Gunma. He chatted with me about the Rui Hachimura trade that happened that morning.
I ended up chatting with the owner of this shop for quite awhile. It turns out, a lot of the same trends occur in Japan, as they do in America. Tropes such as: customers only looking for extremely polished sake, customers that do not drink aruten styles, customers that think expensive sake is the best, etc. We talked about Tsuchida and Terada Honke for a bit, and that whole movement of keeping everything all-natural, and as-is, straight from the tank, etc. It was a great conversation between sake retailers that I will never forget.
After Harukawa Liquor Store, we called it a night. We had one more stop the following morning before my flight back to San Francisco, and that final stop was at Imai Daruma NAYA.
On my last day in Gunma, I was joined by Eric Bielsky, who works at Central Market as a buyer in Dallas, Texas, as well as a representative from Jetro Houston. We were greeted by the CEO Hirohisa Imai, who walked us through his awesome daruma-making space. For those that do not know, daruma are talisman that you gift to friends and family. For the daruma recipient, you make a wish and dot the daruma's left eye, your right. If the wish comes true, you then complete the daruma by dotting its right eye, your left. Different colors represent different wishes.
Outside of Imai Daruma NAYA.
Work in progress. Check out the neko darumas!
Imai-san educating the group about darumas.
Work in progress. Do not touch!
Outside, in the daruma drying zone.
Imai-san painting a daruma face from memory in a really short amount of time. 
All legally-licensed darumas. Which one is your favorite?
Work in progress.
Special gift daruma made by Imai-san himself. No wish was made yet, because it actually looks pretty cool without a dotted eye. I'm sure I'll make a wish soon. Just gotta find that white sharpie.
Huge thank you to Imai-san for showing us around his workshop. Also, a huge thank you to the entire Jetro Gunma team for taking such good care of me, and really showing me what Gunma has to offer. I will be the best Gunma ambassador I can be. I will never forget this experience. Truly humbled and grateful for the opportunity.
Thank you for reading my travel log(s)! I'm already daydreaming about my next trip to Japan...
Chris