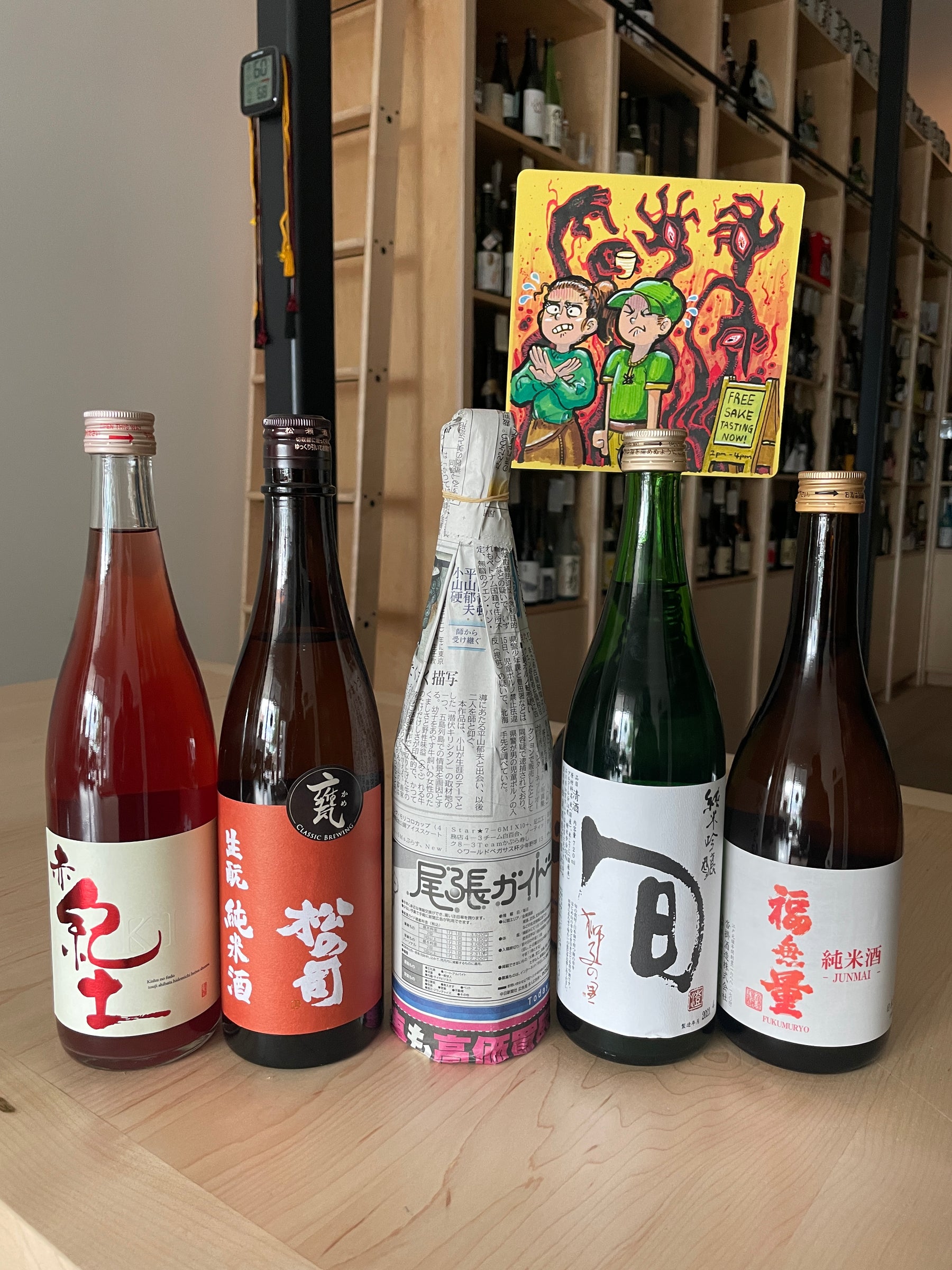 Chris' Sake Corner – ♫♪ Chris' Hit Sake! ♫♪
Greetings Fans and Connoisseurs,

Chris here, back at it with another Chris's Corner. This month, I'll be talking about what the staff here likes to call "Chris's Hit Picks." I am beyond humbled to have some hit picks kicking around the shop. 
There are some sakes I have during these importer/distributor tastings that I personally love, more so than the rest of the staff. I come from a shochu loving background, so sometimes I do tend to like the dryer sakes, the funkier sakes, etc. Plus, when we moved to our much bigger store at 556 Hayes, we actually had the space to carry "Chris's Hit Sakes." As my colleague Chad would say, "HELLYEAHBRUTHERRR."

Some of these sakes get snuck in under the radar, and do not make the newsletter in time. That's OK! I wax poetic about these sakes all day in the shop, and I'll do the same thing in this tiny section of the newsletter. Let's get started!
Heiwa Shuzo Red Rice "Aka KID" - An awesome customer from Los Angeles put me onto this sake. They recently had this at a restaurant and asked me if we carried it. I told them we could get it, but of course, I wanted to try it first. We had the staff tasting almost immediately and it was a huge hit. Made with ancient red rice, Heiwa Shuzo can absolutely do no wrong. They make all styles exceptionally well. I wouldn't expect anything less from the Brewer of the Year 2019 and 2020 back-to-back. Bright and lively, from Wakayama Prefecture. *Thank you, J! See you at Sake Day this year!

Matsunotsukasa Kimoto Junmai "Kame Clay Vessel 2019" - We are humbled and honored to be able to carry a case from the brilliant Matsuse Shuzo from Shiga Prefecture. As we were told, only 7 cases arrived from Japan, and we were lucky enough to snag 1 case. Why is this so special? Aged in a clay vessel since 2019 and released in 2023. I've had older vintages from these guys, and the older it gets, the better. Aging in clay is not common in the sake world, but it is gaining traction with wine, spirits, cocktails, etc. Lemon tart aromas with a full-bodied, silky, rich texture. More lemon tart on the palate as well as cherries and a little spice and nice acidity. In Matsuse Shuzo, I trust. The evil geniuses! The mad scientists!

Gikyo Junmai Ginjo "Chivalry" - Ahhh yes, the first and original "Chris's Hit Sake." One of my personal favorites. Classic melon up front, cereal grain on the mid palate, and a nice dry herbal finish. Plus, I'm a sucker for fun newspaper wrapping. Shout out to Jamie Graves at Skurnik for this one. From Aichi Prefecture, using the best Yamadanishiki rice from Hyogo. That sounds familiar...

Shishi no Sato Junmai Ginjo "Shun" - I'm a big fan of Matsuura Shuzo, makers of Shishi no Sato. I first heard about these guys from Hannah Kirshner's lovely book, "Water, Wood, and Wild Things." The author spent some time making sake at Matsuura Shuzo and she wrote about her journey there. Ever since putting that book down, I wanted to try Shishi no Sato ASAP. This is their first 720ml on our shelves and it's fantastic, especially if you like a dry style. Using Yamadanishiki milled to 55% (it's a thing) you get a nice, lean, restrained, and dry fluid. Great with all kinds of cuisine, the heartier, the better!

Fukumuryo Junmai - Last but not least, is a fantastic "classic Junmai" from Nagano. Rich and bright, and very very very food friendly. Full disclosure, we are actually overstocked on this, but our loss is your gain. If you are looking for a great "old man Junmai" with great cost performance aka コスパ, then look no further. A screaming deal. You might recognize this from previous secret words, and yes, that is the one, because sometimes #roomtemprules. No this is not a secret word sake this month. But you can still get this for secret word prices. Help us help you!

Till next time! Mata ato de!
Chris