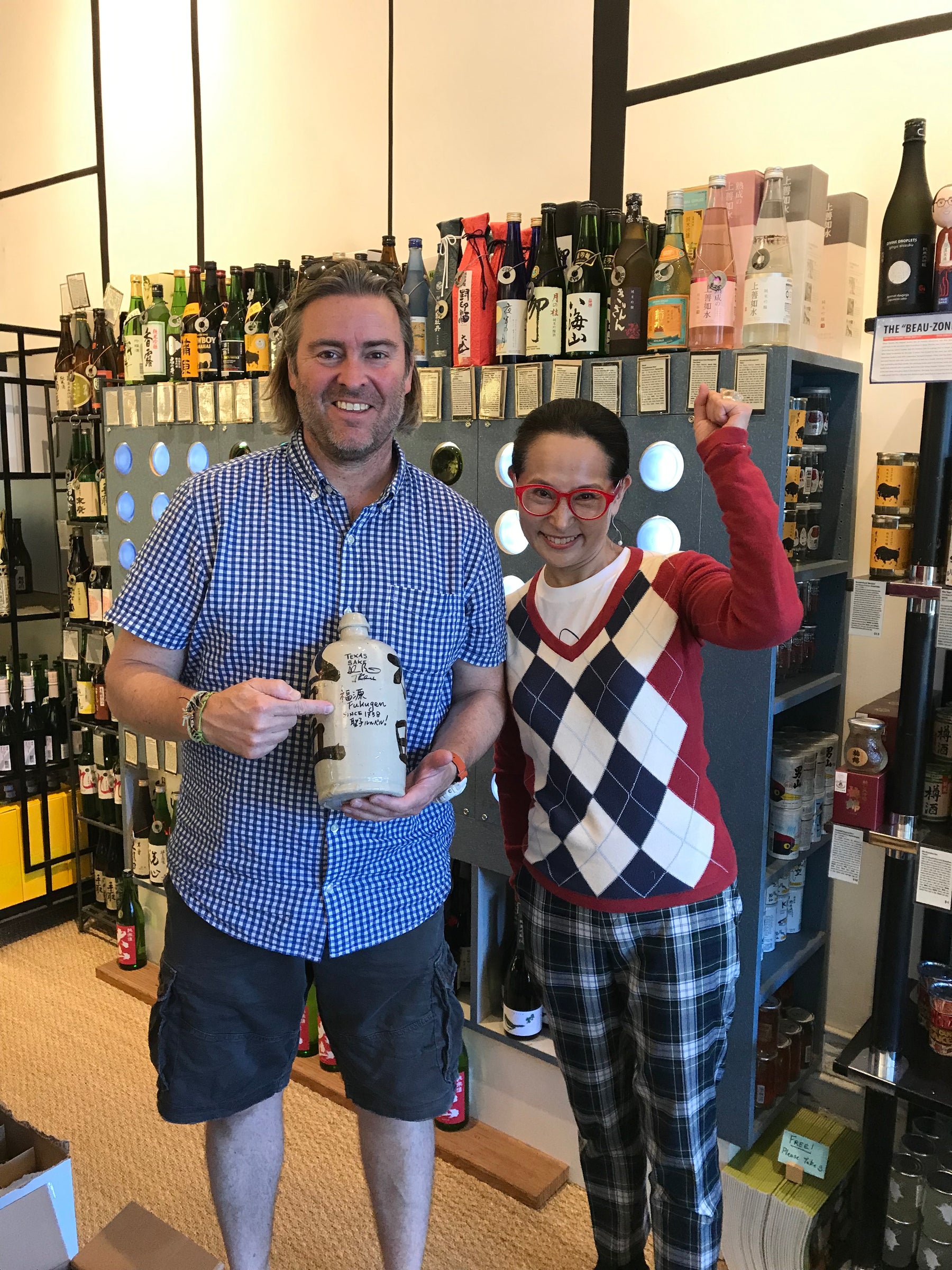 True Sake Selections – Say Hello to Fukumimi from Nagano
I love starting a Newsletter with this sentence – want to hear a story? Want to hear a sake story where you now play a part of sake history? If only the theme of Gilligan's Island could be playing in the background


One of the greatest aspects of sake is that it brings people together, and at times it brings total strangers together. This is one of those stories and it began before Covid. When a very cool woman came into the "old True Sake" store. She was very groovy and introduced herself as Lulubell!


Lulubell Seiko is the owner of the "smallest sake brewery" in Nagano Prefecture called Fukugen. And she came to True Sake, because she was hoping that I could help her export her sake to the US. We had a very nice visit and she left me some samples of her sake and some intriguing literature about her various products. We hugged when she left.
Then the world changed. Covid did what it did. Mei and I pressed on, and Lulubell ran her brewery during a very difficult time. But unknown to us, we were to continue this chapter in the near future, because of a program that we started at the store called True Sake Selections. This is an effort to get sakes in our shop that we have exclusivity to and are also damn good brews. (We also push these sakes to certain special restaurants that know their brews, and we work as partners to promote these unique and delicious sakes.) 
Before I describe the actual connection that took place to get Fukumimi Junmai Genshu on our shelves, I think it's important to get "The Lulubell Effect" out in the open. As we were exchanging emails for this section she said, "I'm worried about whether I can convey our hearts to everyone with my poor English skills. We are artisans, not artists. We devote ourselves to brewing, and even enjoy[ing] the changes that the natural environment gives to the taste of sake from year to year. I hope people feel and enjoy the nature of each year from sake brewed by Fukugen!" 
Remember, she's a pretty cool person, and sake is more than just a libation to her. It is and has been a way of life and she feels a tremendous connection to the old ways of Nagano Prefecture to their (Fukugen's) way of making sake that is NOT typical of Nagano sake-making ways. Sounds a little confusing, but you will get it soon, because the person who is describing her sake was literally a part of her sake growing up.  
Lulubell said, "We have cold winters in Nagano. It's quite hard for us but it's a wonderful temperature for sake brewing. They start steaming rice in the sake brewery from around 5:00 in the early morning, when the sun has not yet risen. There are chimneys at the end of the eight kura leading from our house, and I can see the smoke rising from the falling snow. It's been my winter scene since I was a kid." 
Ok, I'll admit it, I'm a sake romantic and that imagery gets me every time! Obviously Lulubell loves Nagano, but more importantly she and her family love Nagano rice, and they have been cultivating their own brewing rice including Yamadanishiki since the early 1980's. And this is the heart and soul of Fukugen sake, their rice, their technique, and their passion, and all Lulubell was looking for on that fateful day in True Sake was a vehicle that could get her sake to you!
Fast forward to late 2021 when we were looking for candidate breweries for our True Sake Selections, which also requires an importer to get the products from there to here. As you know, we cannot import sake in this very weird and cumbersome "3-Tier" system in the US. But, knowing we had a brewer in Nagano Prefecture, and having just been introduced to the also very cool Amelia Catalano of Bix Imports biximports.com who was looking to expand her business into sake, we had a match in the making. Amelia then started all of the heavy lifting and secured the Fukugen brewery for her portfolio. Some of you might have tasted these Nagano sakes at SAKE DAY 2022. 
Fast forward again to last week when I sent Lulubell a series of questions for this article, and combined my questions with notes from Amelia, who interviewed the Toji of Fukugen Mr. Tatsuya Suzuki (Otari Toji Guild of Nagano). Basically, I thought the best way to get their story to you would be in an interview format, and herewith is everything that you want to know about our THIRD True Sake Selection Fukumimi Junmai Genshu aged for two years:
Beau: Tell us about Fukugen Sake Brewery 
Lulubell: "We are the smallest brewery in Nagano, so we don't produce that much quantity at our KURA. (±40 Koku) We only export our Sake through distributors who know what Fukugen brewery and what Fukugen Sake really represents. About 10% of our total sales are international and we export to the US, Spain, Belgium, Malaysia, Singapore, and Hong Kong."
"We normally have 4 or 5 Kurabito (including Toji-san) and the Kurabito are seasonal workers. They brew in the winter only (Nov/Dec after harvest through February). The rest of year they are Professional Farmers and our Toji educates young schoolchildren as a lecturer about vegetables." 
"Since 2010, Fukugen's sake brewing has gone in the opposite direction, and instead of using high-polished sake rice as a raw material, we continue to challenge ourselves to make low-polished sake with a deep flavor. This was the goal of Kura that we wanted to take the initiative from the perspective of which means a balanced diet leads to a healthy body, healthy food both prevents and cures sickness and no food can be wasted."
Beau: Tell us about your brewing rice
Lulubell: "The rice is healthy and excellent Yamadanishiki from our own field in Azumino Ikeda which is reputed to be a kind of the grand cru of sake rice. Fukugen Sake, which has a very soft acidity and just the right amount of umami that spreads in your mouth. The soil in the Azumino Ikeda area is consistent from the surface layer to the bottom layer. Clay layer mainly composed of smectite. The soil has a high fertility holding capacity and contains a lot of nutrients. It is said to be a wonderful soil that is rare. Fukugen brews sake with this rice and the hand-Koji, which takes time and effort and underground medium-hard spring water from the Northern Alps."
"Fukugen Shuzo began cultivating Yamadanishiki in its own rice fields in the 1980s under the direction of the brewery owner, the 17th generation KURAMOTO. Cultivation of Yamadanishiki in cold regions is difficult, and after confirming that the rice can grow strongly while acclimatizing to the local harsh climate for many years in the terraced rice fields of Otari Village, which is located in the northernmost part of Nagano Prefecture, then we brought it to our own rice field in Azumino where is a bit south than its village."

"From the beginning, for the purpose of " lutte raisonnee", which is one of the organic cultivation (meaning reduced pesticide organic cultivation), we have been thinking about environmental protection by preventing soil from being affected by pesticides, and this has circulated the blessings of nature and has been aiming for sake brewing in consideration of people, society and the environment. Therefore, it is easy to use, and the brewing amount is kept according to the total harvested rice."
Beau: We know the ingredients and we know the makers, but what is the style of Fukugen sake? 
Lulubell: "Most of NAGANO Sake is Clean and Dry but FUKUGEN is very different from these. Fukugen brews all sake by long-term low temperature fermentation, it gives quality that balances unique flavor and strength."
"There may be only 2 out of 10 lovers in the market today, but there are people in this world who like FUKUGEN and FUKUMIMI, which have a beautiful glossy amber color and a well-balanced balance of complex flavors and aromas. You can easily predict what will happen. The reason is that there are dishes in the world that go very well with these Sakes. The deep aroma, velvety smooth texture, and mellow and elegant taste will keep you enjoying the aftertaste for a long time. Fukugen Sake Brewery only ships sake that has fully matured in taste, and Fukumimi is stored in the brewery until it matures for about 24 months or more. And typically all of our FUKUGEN sake requires about 18 months of aging."
"In times like this, I feel more love for things that have been completed over a long period of time. I feel that it is a gift that can only be made by a small brewery that ticks away time slowly."
Thanks so much to both Lulubell and Amelia and the team at True Sake for making this match happen. I told you it was a good story, and the best part is yet to come, as you will finally get to taste this wonderful sake. Amelia will be pouring Fukumimi on Saturday March 11th at True Sake from 2-4PM. Please see the section on "In-store Tasting." And lastly here is the review for this incredible sake that is so much brew in one glass, and it is a three temperature superstar. Get ready to get your Fukumimi on!
From Nagano Prefecture. Aged Junmai Genshu. SMV: +1 Acidity: 1.3
The nose on this two year aged sake is a superb collection of butter rum, cooked apple, cocoa, orange, peach, caramel, shitake, malt, and honey aromas. Using their own Yamadanishiki milled to 59%, association yeast #14, and Northern Alps spring water this full-bodied and layered sake is a product of excellent technique and total passion and dedication to aging a sake to its perfect being. Round, smooth, rich, viscous, and loaded with tons of umami depth this sake glides across the palate with a gentle velvety flow. Look for a vast, complex and extremely drinkable flavor field of rum raisin, apple pie, honey, sesame candy, butterscotch, grape, mint, toasted rice, and a subtle cocoa finish. This is a perfect three temperature brew that shows so much dexterity at several temperatures points, which also makes it good for pairing with warm cuisines. Say hello to a sake that was made to tell a story! WORD: Rich WINE: Deep Reds/Full Whites BEER: Belgian Ales FOODS: Smoked fish and meats, fowl, game, shellfish, Caviar, stews and pastas, Chinese fare.