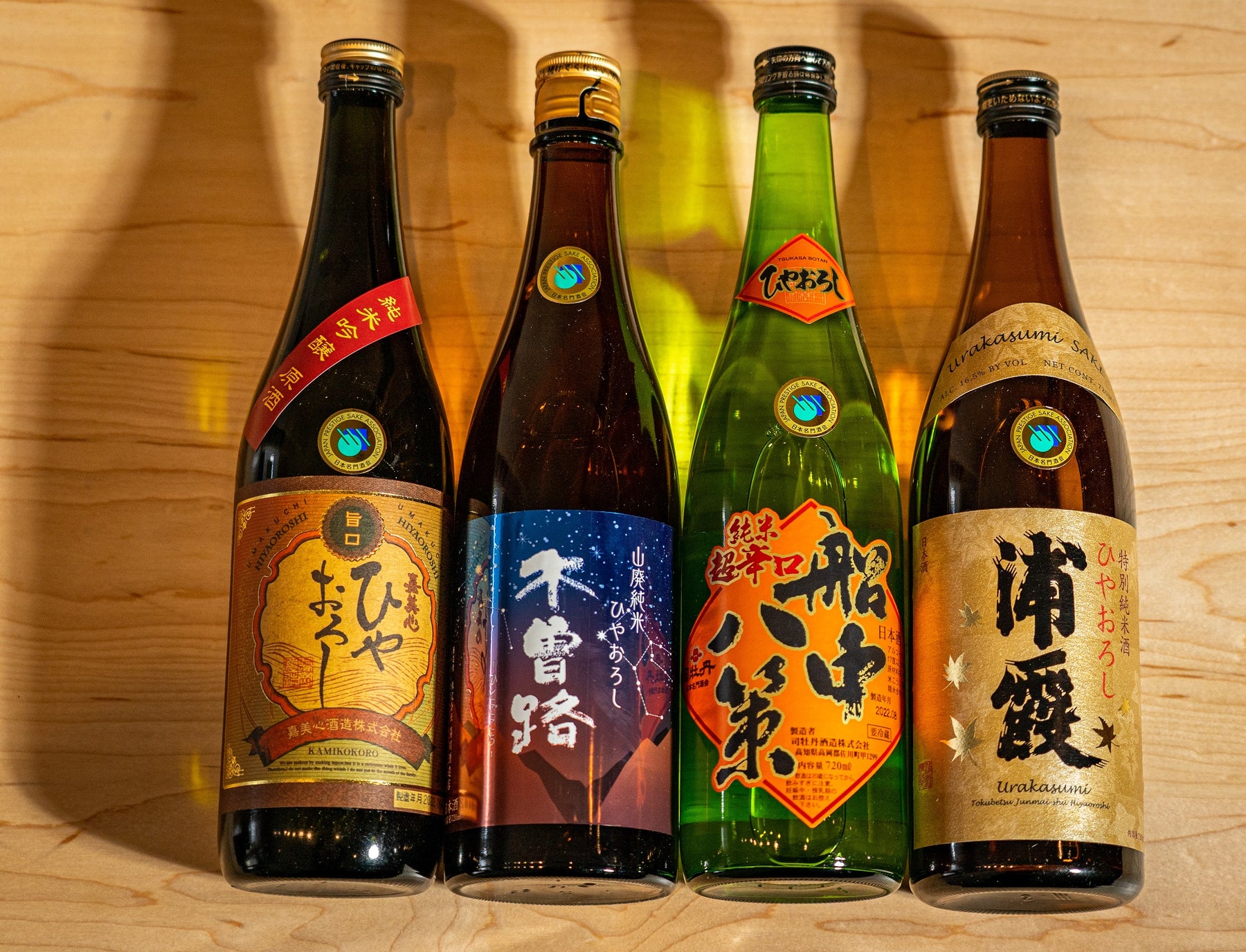 Sake Season – The Flavors of Hiyaoroshi "Fall Draft" Sake
Say hello to the second flight of seasonally released single pasteurized sakes that are officially called "Namazume" but go by the colloquial name "Fall Draft" sake. Aged for roughly six months these brews are structured, released, and are best enjoyed with the flavors of autumn. From fatty fish and fowl to rich stews and roasts they can stand up to most rich fare including your Thanksgiving dinner. 
We have several first time Hiyaoroshi sake in the store and it is exciting to explore these new expressions. Pick a sake partner or fellow couple and have a Hiyaoroshi sake tasting and dinner soon. You won't be sorry. 
Kamikokoro Umakuchi Hiyaoroshi 2022
From Okayama Prefecture.
Junmai Ginjo Genshu Hiyaoroshi.
SMV: -5.5 Acidity: 1.5
The nose on this seasonally released Fall Draft sake is a great collection of cream, melon, peppermint, sugar, mineral, cinnamon, and milky aromas. Say hello to a 1st time in the US Hiyaoroshi that knocks it out of the flavor park. Round, layered, full-bodied fun that drinks rich and flavorful with a ton of umami. Look for hints of dark honey, cooked apples, cinnamon, pear tart with spices, melon, sweet soy, dark chocolate, and a touch of mint. This a great feeling sake that is velvety but also airy and is very impactful with a seasonal richness that is similar to an umami-Cinnabon. Full-bodied and fleshy, this new arrival should not be missed, and don't forget to let it warm in the glass or get to the point directly by warming it!
WORD:
Rich
WINE:
Deep Round Reds/Fleshy Whites
BEER:
Creamy Belgian Ales
FOODS:
Super food friendly, rich pastas, grilled anything, International spice, fatty fish, game, fowl, and Thanksgiving dinner.
Kisoji Hiyaoroshi 2022
From Nagano prefecture.
Junmai Yamahai Hiyaoroshi.
SMV: +1 Acidity: 1.7
The nose on this seasonally released fall draft sake is a fascinating collection of sugar, mint, citrus, vanilla, banana bread, and nutty aromas. There aren't a lot of Yamahai Hiyaoroshi out there so that alone makes this very fresh and fun single-pasteurized brew a good one to check out. Slightly zesty, tingly, slippery, spritzy, and velvety this brew drinks clean with a smooth relaxed brightness. Semi-sweet with lots of green apple, pear, mango, banana bread, granola, and mellow citrus flavors there is an interesting tannin-like dryness with lots of delicious acidity play. This is a refreshing fall draft sake that appeals to wine drinkers and bright autumn food pairings.
WORD:
Spritzy
WINE:
Crisp Reds/Dry Whites
BEER:
Crisp Ales
FOODS:
Sushi, sashimi, grilled chicken and fish, fall shellfish, vinegar based dishes.
Tsukasabotan Senchu Hassaku Hiyaoroshi 2022
From Kochi Prefecture.
Junmai Genshu Hiyaoroshi.
SMV: +8 Acidity: 1.6
The nose on this seasonally released single pasteurized fall draft sake is a light collection of mineral, grains, potato, snow melt, maple syrup, and steamed rice aromas. Hey dry sake fans, I am looking at you! This super easy drinking brew is like liquid dryness in a glass. Smooth, round, velvety, water-like, it drinks very sturdy with a pleasant balance that is more gentle than heavy. Look for steamed rice, salty nuts, toast, cucumber, peach, herbal, lemon peel, rice cracker, and late maple syrup flavors that glide through the palate and leaves with a white pepper finish. A true-to-form dry Hiyaoroshi sake that is perfect for basting a turkey and having for Thanksgiving dinner. 17.5% ABV has never been more water like.
WORD:
Dry
WINE:
Dry Reds/Dry Whites
BEER:
Crisp Ales
FOODS:
Salty, savory, greasy, buttery, oily dishes that can use a dry sake to clean
up.
Urakasumi Hiyaoroshi 2022
From Miyagi Prefecture.
Tokubetsu Junmai Hiyaoroshi.
SMV: +1 Acidity: 1.7
The nose on this fall favorite "namazume" single pasteurized sake is a cool collection of caramel, powdered sugar, sweet potato, butter, and maple syrup aromas. We are always glad to have this special Fall Draft sake in-house every autumn. Using Sansanishiki milled to 60% this is a relaxed Hiyaoroshi that is smooth, velvety, rich, and viscous that oxidizes well in the glass. Layered with a gentle-sweetness look for hints of steamed rice, nougat, caramel, pear juice, oats, maple syrup, and vanilla flavors that linger with both a complexity and easiness that speaks to wine fans. Made for the fall fatty flavors of Miyagi seafood this brew is very elegant to pair with local rich fall flavors.
WORD:
Rich
WINE:
Complex Reds/Fat Whites
BEER:
Stouts
FOODS:
Fatty fish, plump fowl, meat, game, soups, stews of the season.