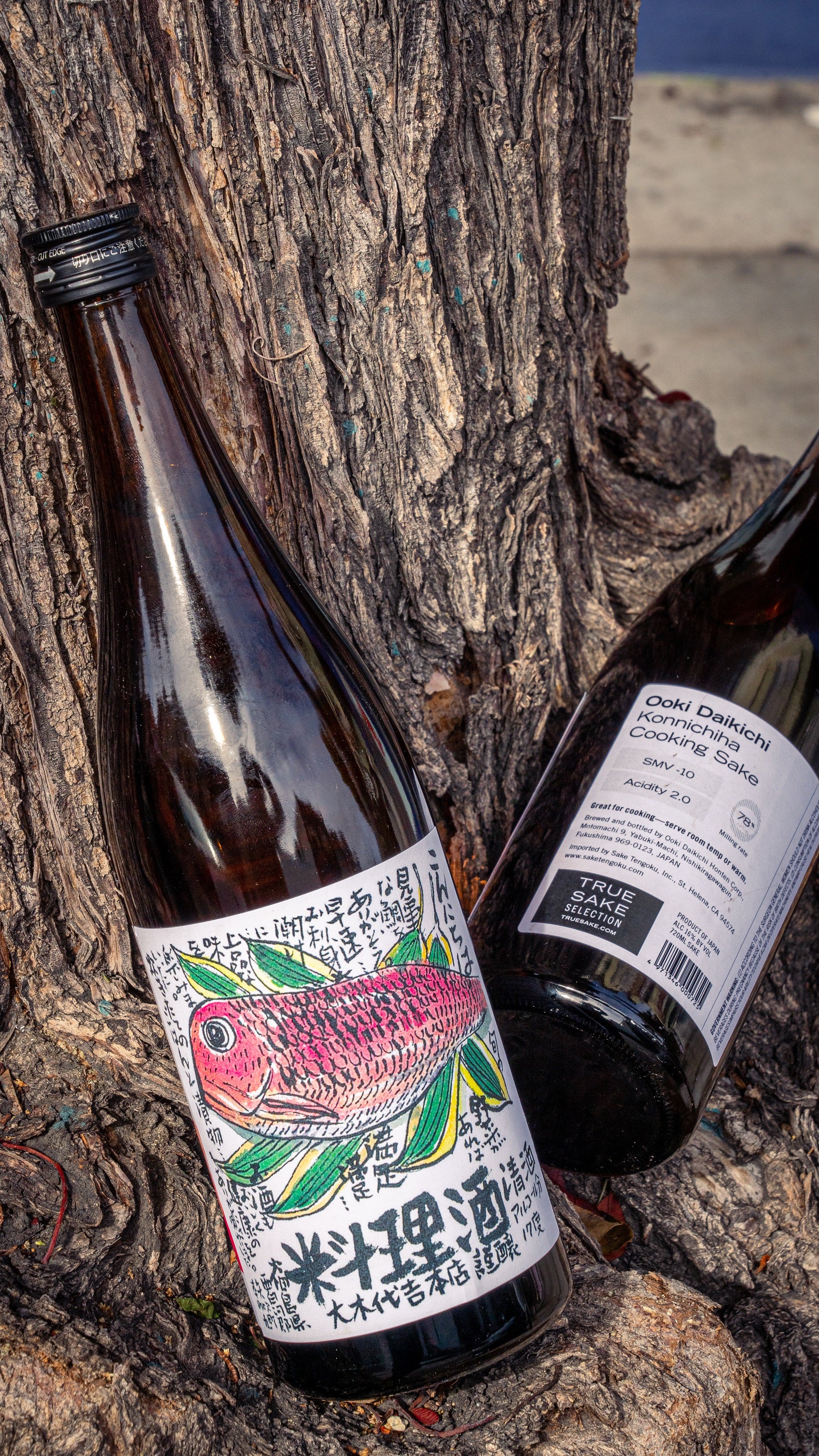 Cooking Sake – Chris Reintroduces a Super Cooking Brew
Chris here. But to avoid any other confusion, since there are multiple Chris' mentioned in this column, this is Chris aka CABS from True Sake. I'm back at it again with yet another True Sake Newsletter column. 
This time around, Sake Samurai Beau Timken asked me to wax poetic about our 2nd True Sake Selection bottle. Yes, the True Sake Selection series is a fun project that the True Sake Cru is constantly working on behind the scenes. Our 1st installment was the legendary Kikuhime Futsushu bottle that uses Yamadanishiki, Gohyakumangoku, and mochi rice to make the smoothest Futsushu on Earth. Our 2nd installment however, is not a new bottle to the shop. This 2nd installment is a bottle we had to fight for, to get it imported back into the United States. We hope you appreciate our efforts!
This 2nd installment of the True Sake Selection series is Ooki Daikichi Konnichiha Cooking Sake. Yes, an aged cooking sake from Fukushima! This is for both the home chef or the professional restaurant chef. I've been selling this cooking sake for a long time throughout my sake career, and this has got to be by far the best cooking sake on Earth. Rich and full-bodied, this is liquid umami in a bottle. The secret weapon in your kitchen. Try this with your next red snapper dish. In fact, we had to go an extra step to save the red snapper label that we love so much. We really do love this bottle! Back label was re-designed by my wife Laura, who happens to be an amazing graphic designer (among other things). We did a huge case study on back labels in the United States, and we are beyond happy with the end result.

So yes, tell a friend, shout it from the top of a mountain, Ooki Daikichi Konnichiwa Cooking Sake is back in the United States as a True Sake Selection bottle. If you love to cook, no matter what level cook you are, this bottle is for you! Be on the lookout for our 3rd installment of the True Sake Selection series coming soon!