Beau-Zone Layer
Wakatake Onikoroshi "Demon Slayer"
From Shizuoka Prefecture. Junmai Gingo, SMV: +3, Acidity: 1.5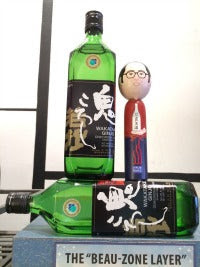 First and foremost I love the bottle. Yup! It's square just like its very famous Junmai Daiginjo's sister bottle. Check out the website to see the old round bottle.
I think this is a very good packaging play to key on the square bottle line, which this brewery is famous for. Wakatake JDG has been one of the top selling and most popular sakes sold in America, but the JG often flies under the radar.
This is a great sake that is very food friendly, and for years I have been recommending it as a good brew to pair with tomatoes, which are very acidic as you know! Think round and clean and a fun sake to slosh in the palate and drink at room temperature.
It is smooth galore and is neither too fruity nor too dry that does well in a larger glass. And who can argue with a demon slayer? (This brewery won a huge lawsuit to be able to use this name in the US)