Sake Resolutions – A Look Back At Sake Resolutions from 2010
So my New Year's Resolution last year was to save the human race. (Sort of a lofty goal, but completely within my skill set.) So did I? Well, I'm still here. I'm assuming you're still here. Looking around, I see mankind. So check that box! Job well done. Thank you very much. This year I was going to take my foot off of the pedal a little and dial down my resolutions, but then it dawned on me. What was my resolution 5 years ago and did I accomplish it as I did this year?
I decided to go to the wayback machine – meaning our True Sake Newsletter Archives, which are awesome and I encourage you to read fun stuff from over a decade ago – to see where my mind was in regards to sake and setting goals in particular. Herewith is the exact text from my Sake Resolutions from 5 years ago with an updated comment at after each resolution. Enjoy!
Herewith are my 2010 Sake Resolutions in no particular order.
1. I resolve to try different categories!
 Yup - I'm in a Junmai rut. That's all I drink on "my sake time." I guess it's time that I branch out personally and consume some Daiginjos - sparkling sakes - hell maybe it's even time to get into some Nigoris.
Ha! I totally didn't get into Nigoris! Funny, not even close. But I have expanded my Junmai "rut" and I have found that I am drinking more in the Ginjo category. So that's a little victory!
2. I resolve to bring more sake out to gatherings! Yes, I am very aware of the fact that people call me "that sake dude" and that I am totally associated with sake. In as much there is almost an expectation that I attend events with sake filling my pockets! "Did you bring sake for us sake man?" "Where's the sake?" "What did you bring?" This has been occurring for years and I sort of rebelled against it. "Nope! I didn't bring sake, but I did bring this incredible "Spicy Eggnog" "Naw- no sake tonight, but I did find the most unusual bottle of blueberry wine." Well, I guess the time has come that I start bringing sake to events - no more dodging who and what I am - no more pineapple infused apple brandy.
Hmmmmmmm! I basically bring sake wherever I go – period. So this resolution stuck in a big way! I will say this though, sometimes it's confusing. If I arrive with one bottle it is perceived as a house warming gift and the hosts squirrel the bottle away for tasting at a later date. Which of course means that I'll have to drink crappy beer or jenky wine. So we have learned to arrive with two bottles.
3. I resolve to try sakes that I have not had in a long time! There is so much sake out there that I have lost a lot of sake friends. With such an assortment of brews on the market I find that I keep trying the new sakes - at the expense of sakes that I used to really like. Take Rihaku for example. I have not had the Wandering Poet in a very long time. I miss the Poet! I tried it the other day and said to myself "You knucklehead - don't forget your friends!"
Fail! There are simply too many sakes out there now – it is so hard to keep up. My team hates me for not tasting all of the bottles left by vendors and reps that sit in the fridge. I haven't had Rihaku since. I have not had many of my favorite sakes in a while. I have failed this resolution.
4. I resolve to retry sakes that I remember not liking!
This is huge! El Snob Boy has access to so many sakes that he scoffs at brews that he once tasted and did not care for. How shallow is that? It's time to taste some brews that need a second chance. We all need a second chance some time and so too do sakes. Perhaps my palate has changed and maybe I will enjoy some of these brews that I relegated to the Island of Misfit Sakes.
Nope! The brews that I particularly didn't care for I still don't like! I have gone back to the well on several sakes basically looking for value brews and they still don't cut the mustard. No knock on the brewery, they simply make a style of sake that I don't care for, and if I didn't like them 5 years ago I still don't prefer them today. And remember my personal motto – I have drunk a lot of bad sake so you don't have to!
5. I resolve to not just drink sake! As a professional, I must dissect every sake that passes my lips. It is a certainty that I cannot run from. Well - I tried my best recently to do just that - to run from dissecting sakes. So I just opened bottles - did not smell - and just drank the brews. I tried my best to just drink for pleasure's sake. No thinking drinking. How boring is this? Sure it is mindless - like TV in my mouth, but boring nevertheless. It's time to get back into the dissecting business and to really comprehend the brews at hand. I need to refocus on pulling a part the components - try to find the water, try to taste the rice varietal, see if I can pull the yeasts. I need to refocus on the elements!
I think I can check the yes box here! It's habit now for me. If a fluid, any fluid enters my mouth I swish it, I aerate it, I chew it, and basically I break it down. From cranberry juice to sparkling water I find myself swishing away, so yes I do that for sake too. I also ask those who I pour a glass of sake for to name one or two things that jumps out at them. It's not only a habit – it's a way of life.
6. I resolve to give more feedback to the brewers, importers, and distributors!
The hardest thing to do in the sake business is to honestly comment on the brews themselves to their makers. "Your sake sucks!" "Man the balance is all out of whack." "I wouldn't even cook with that crap" "Tastes like weasel wiz." "Did your children make this?" "Did your grandfather bathe in the brewing vat?" "Your toji has the skills of a hot dog vendor." "Are you sure this is sake?" "This is great, great for cleaning open wounds" Yes I have had some not really good sake in my day. In fact my motto is "I drank a lot of bad sake so you don't have to." But never in all this time did I utter the above descriptions. Not once! (Well maybe the one about the grandfather cleaning himself in the brewing vat.) Because it's just not done! Every sake is made with so much love and devotion that it's almost an insult to say something negative. We have mastered the "dance" or the way to dance around an honest answer. "Yes, I like this sake it has such a complexity to it - such a how do you say it - opulence and elegance." Yup! From "weasel wiz" to "complexity" just like that! But this is a disservice at the end of the day - if as a professional I can find faults or imbalances then I should perhaps pass this opinion on without it being read as an insult.
Yup! I've gone to giving responsible feedback. I call a spade a spade. It hurts, but they must know why a brew may not appeal to an American palate. It's my job. It's my responsibility, and as I am getting older, as in really old I get to act like the grumpy old guy and say, "this is shit!" Well, maybe not those words exactly.
7. I resolve to update my notes! This is a big problem. There are times when I review a brew, but don't have my special books. Thus I have a lot of reviews on napkins, pieces of paper and on the back of labels. These need to be written in the book! But they are piling up. The longer I wait the longer it will take to catch up. I must get on this before the point of no return.
EPIC FAIL! Please meet the point of no return! I just don't have the time and perhaps this actually should prompt me to start using my smartphone and stop being so dumb! I just have these wonderful journals and they are so cool to write in, but if they are not with me then I'm toast! Yes, I have failed greatly here.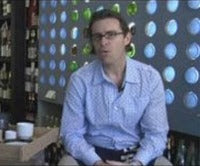 8. I resolve to do more sake experiments! Being "too busy" is not a good excuse for not playing around with sake. My passion and lust to learn is quenched by my unique and weird sake experiments that I/we conduct to test the limits and boundaries of sake. I am very proud of our ability to shatter or confirm pre-conceived industry truisms about sake that are actually false. There is only one way to explore sake and that is to explore sake. I need to conduct a new batch of sake experiments to see what we haven't seen in sake before.
Gulp. Another fail. This going in back thing really sucks! I'm stinking up the room. Geesh! No, I haven't done an experiment for who knows how long. I stink! But the seed has been planted and I will try my best to create something.
9. I resolve to learn more about the new sakes on the market! Yes, in a word there are a ton of brews out there with more on the way. I have access to a majority of the sakes, but there are a lot of new brews that I have no idea about. That's not good. I need to keep pursuing all sakes - however or wherever that takes me. It's incredibly important to stay current, and it's very much a bummer when somebody comes in and says do you have "so-n-so Daiginjo?" and I reply that it is not exported to the US. To which they reply "yes it is - I had it last night at so-n-so sushi" Doh! Not cool when we don't know what's out there.
Ha! Slight victory! The team has done a great job figuring out what is available and we have made the vast majority of sakes available to you! In this regard there are also little pockets of sakes who get imported for certain restaurants and businesses and we have been taping into those too. Some sakes are available on the east coast but not the west and we try to obtain those. All in all hats off to Team True Sake, because we by far have demonstrated that we will go the extra mile for your sake needs.
10. I resolve to drink each sake like it is my first!
I have a professional pallet - and I forget that. My basis for tasting sake is meteoric - and I forget that. I have tasted so many sakes - and I forget that. I will taste a sake and each sip is compared too/against every sip of sake that I have ever tasted. I wish sometimes that I am tasting sake for the first time - again. Can I re-virgin my pallet? Nope! Can a get pallet reconstruction surgery? Nope! But I can try to focus on drinking each sake from a "first timer's" perspective.
Hmmmmm! Still working on this one. Until I get my scheduled lobotomy I can still remember a ton of sakes and it's hard to turn this circuit board off!