Top Ten List – Merry Mei's Top Ten Gift Ideas That Are Sake-riffic!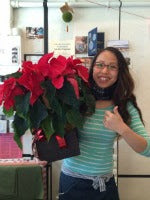 So you need a sake elf to help pull you through the holidays? Look no further than the elf herself – Mei – from the North-Pole-Rammed-Sake-Land or Kimoto-Kringle-Town! Are you at a loss? Don't know what to get anybody?
Well if you need to fill a stocking or fill out an entire gift list then look no further than all things sake! Mei will turn you from a typical gift giving shlub into a super sake rock star with some of her amazing recommendations. She also wanted to remind everybody that we charge nothing other than your patience for really cool gift-wrapping! Take it away Mei!