Sake Day 2016 – The 11th Anniversary of Sake Greatness
Okay folks! Shake off the end of summer blues and focus on your amazing autumn, which includes another waltz into the wonders of sake at Nihonshu no Hi or Sake Day 2016! This year, which is a great year, Sake Day falls on the exact day of sake in Japan, which is October 1st! Better yet! It's Saturday, October 1st, which is always better than a Tuesday!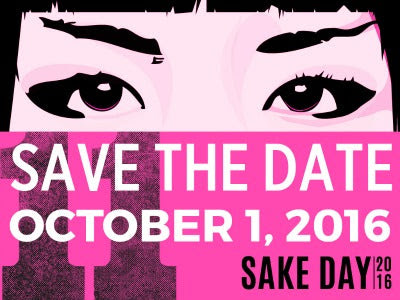 The 11th Anniversary will be awesome, or more awesome than our record breaking 10th Anniversary, which we held in the amazing SF Armory – an event space with a cult following of sorts. It was our largest Sake Day ever, and we look forward to an even bigger blowout this year.
Tickets are available now at at Eventbrite.
What can you expect! Sake, Sake and more Sake! Of course we will have over 200 sakes to taste and explore. There will also be a solid collection of sakes that are not available in the US yet! We like hosting breweries that are looking to see what foreign markets look like and Sake Day has been a launching pad for many breweries to enter the US market! Think Cowboy Yamahai and Katafune!
This year we are putting a lot of effort in highlighting and celebrating the Craft Sake Market here in the US. We want Sake Day to be the Super Bowl for local sake makers, who can share their wares with an educated and enthusiastic sake audience who value the strengths and weaknesses of making sake out of the safe confines of Japan. Our Sake Day guests "get" sake and we do not judge efforts negatively, we encourage the craft sake makers and try to support their products to the best of their abilities. They know that we are all one big sake family.
Many brewers from Japan will also join Sake Day this year. These brewers love interacting with you and learning how we experience their sakes firsthand. Sake Day is an event that they proudly support. They are also fascinated with our "Try It, Like It, and Buy It" program that let's you purchase for free delivery, a very large number of the sakes at Sake Day. This system allows you immediate sake satisfaction unlike any sake event in the US and most in Japan. We take pride in having you not only enjoy Sake Day, but enjoying the sakes that you tasted and liked for months to come!
And lastly, let us not forget that Sake Day proceeds go to the Japanese Cultural and Community Center of Northern California, an organization that I am very proud of and have dedicated supporting for over a decade. It is your chance to come drink and think for a great cause. How cool is that?