Sake Kura – Miyasaka Shuzo AKA Masumi!
So I'm pretty much the last person in the world to visit Nagano Prefecture's very famous Miyasaka Shuzo. For years I have seen pictures and stories from the industry of all my friends visiting this very open and friendly brewery. For years I've watched – ever so jealously – as they talk about what a fun brewery it is to visit! And since I have been selling "Masumi" from my first day of operation at True Sake it has always been a dream of mine to actually visit the place.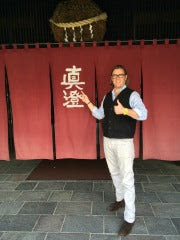 And last month I did! Woot! I am a better sake person for it! But first let me set the framework for this trip to one of the most "important" sake breweries in all of Japan. I am and will always be a fan of Masumi sake. I enjoy selling it as much as I enjoy drinking it! Their sakes are fantastic for so many reasons. Although, the number one reason only dawned on me after I left their kura. And what was that? The positive vibe man! The positive vibe! (Said in my best beach bum stoner surfer voice). I never really picked up on that vibe in all of my years and thousands of bottles of Masumi sold at True Sake.
First of all I have known the family for quite some time. Great people! Fun and very worldly. They like to travel and get about. The Miyasaka family is also very kind. They do great things in the sake industry and beyond. Quite simply they are good for sake. But only on my visit the "how come?" was finally answered. The Masumi and True Sake brands have been joined at the hip for well over a decade now. Since day one at True Sake I showed a video of how sake was made over and over and over. (I bought this weird little CD player and swore the thing would kick out within the first year, but it's still going strong today playing every second the store is operating.) This video has been watched by countless thousands of customers over the years and features Miyasaka Shuzo. We laugh to this day that I have watched President Miyasaka's face every day for over 13 years. (They finally gave us a new video!)
Masumi and True Sake have been educating folks for a very long time, and I always needed partners in my passion of communicating great sake to our customers. It's pretty cool when you can point to a video and say, "See that sake being made? It's this sake right here in the fridge – "Masumi Yumedono" Pretty good for the sale, but better for the educational aspect! Given this it still amazes me that it took almost 15 years for me to get to Nagano Prefecture – Suwa to be exact.
We have carried and sold a lot of Masumi and Miyasaka products over the years. And I like to consider that some of my recommendations – like purposefully aging their Masumi Arabashiri Nama sake for a few years – has provided a lot of useful feedback about how Masumi does in the west. I feel like we have been partners in this process, so herewith are some pieces of brewery information that I did not know, but found to be very interesting:
Every Masumi bottle has braille on it! And all this time I thought that the braille read "Masumi" but it does not! It simply reads Seishu or Sake! They do it because they want everybody to be included in sake! Pretty cool!
What's up with those new plastic caps? Are they cheaper? Are they trying to cut down on expenses? Nope! Actually they are a little more expensive, but Masumi switched to them to keep their customers from cutting their hands when opening the bottle. Can I get an "Amen!" I've cut my hands well over 100 times in all these years of opening products. Some caps are notoriously bad and I have scars on my "opening hand." So – well done Masumi! Thank you for being so kind and cool to your customers.
The brewery employs 100 people during peak brewing months. That's a lot!
They produce 9,000 koku or 1 million isshobins (1.8L) bottles per brewing year.
They predominantly use local Miyamanishiki and Hitogokochi brewing rice. 92% of the rice that they use is locally grown. That's pretty cool!
45% of all sake produced by Masumi stays in Nagano Prefecture.
There are 80 breweries in Nagano Prefecture.
The brewery is in the process of phasing out their Miyasaka line in the US. They will discontinue the very popular Nama Junmai Ginjo with the silver label and they will re-package the Miyasaka Junmai.
As we walked through the brewery we came to a certain point where sake history was made. We stopped at a row of resting tanks and beneath the last one there sat several really amazing looking "ancient" glass tobin jugs, which are used for competition sake. They rested at the base of a tank – not the original tank – at the end of a row by the far wall. On the wall was a plaque that paid tribute to the very famous Association #7 yeast! Yes, it was invented/discovered there in 1946, and to this day it remains one of the most used sake yeasts in Japanese sake making. It's famous! Everybody knows of it and most breweries either use it or have used it at some point. Ironically the brewery did not receive a yen in return! Not a cent. That's pretty much common in the industry similar to Association #6 and #9. They are used and re-used for the good of the sake industry! The ultimate gift that keeps on giving!
Way to go Masumi! Way to go #7!