New Store Arrivals – A Bunch of New Brews From a New Importer!
It's always exciting when a new sake importer comes along with a fun portfolio of sakes that feature breweries that have little or no exposure to the US market. The EHH importing company is no exception. They have some great "new" breweries with some killer sakes, and they also rep some of our favorite kuras that have all new offerings. The result? You now have access to some very different and tasty sakes to explore and imbibe in. Herewith is our first order from this new importer, and please know that we are really excited about these unique and flavorful brews. (And check out this month's Beau-Zone Layer for another one of their "new" sakes.)
They are so new and fresh that I haven't even tried them yet, but most of the team has so they will gladly guide you through this batch of the first sakes of the season!
Katafune "Tobintori"
From Niigata Prefecture. Daiginjo. SMV: +2 Acidity: 1.3
The nose on this world class gold medal winning Daiginjo is a splendid collection of blueberry, kiwi, honeydew, and tangerine peel aromas. Talk about a sake that talks back to you! This is one of "those' kinds of sakes that has the amazing ability to linger in the palate in such a way that it would peak the interest of a professional judge. Look for layers of ripe and tropical fruit tones that explode at certain moments throughout the sip. Juicy licks of strawberry and pear tart roll on the fleshy smoothness, and there is a sneaky heat that compounds the flavor. Chilled and in a white wine glass brings forth the brightness.WORD: Expressive WINE: Complex reds/hot whites BEER: Crisp ales FOODS: Sushi, sashimi, clean fare, oysters. $135/720ml
Katafune "Wan"
From Niigata Prefecture. Honjozo. SMV: -3 Acidity: 1.3
This "Woof Wan Woof" dog bark cup sake is a very gentle and smooth walk on the easy side. Semi-sweet, rich, and creamy there are hidden treasure flavors of nougat, sweet rice, and vanilla. It has a very calm nature that speaks to those who like a good mouth feel without a boozy hotness. Good chilled and at room temp this doggie is perfect for a relaxing walk on the smooth and easy side.WORD: Gentle WINE: Rich Reds/Creamy Whites BEER: Creamy Belgians FOODS: Bar snacks $7/cup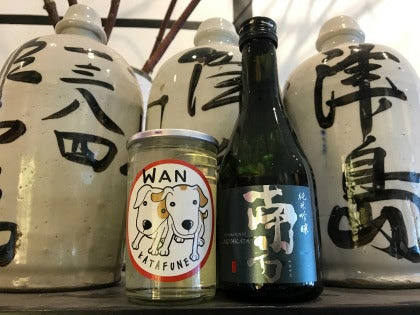 Minakata
From Wakayama Prefecture. Daiginjo. SMV: +2 Acidity: 1.3
The nose on this world class gold medal winning Daiginjo is a splendid collection of blueberry, kiwi, honeydew, and tangerine peel aromas. Talk about a sake that talks back to you! This is one of "those' kinds of sakes that has the amazing ability to linger in the palate in such a way that it would peak the interest of a professional judge. Look for layers of ripe and tropical fruit tones that explode at certain moments throughout the sip. Juicy licks of strawberry and pear tart roll on the fleshy smoothness, and there is a sneaky heat that compounds the flavor. Chilled and in a white wine glass brings forth the brightness.WORD: Expressive WINE: Complex reds/hot whites BEER: Crisp ales FOODS: Sushi, sashimi, clean fare, oysters. $135/720ml
Minakata "Extra Dry"
From Wakayama Prefecture. Junmai. SMV: +15.5 Acidity: 1.8
The nose on this "Extremely Dry" sake is a collection of grains, steamed rice, and crushed leaves. It's about time that we added a true really dry sake to the mix. With an SMV rounded up to 16 you are looking at a bone dry brew that doesn't make the mistake of sacrificing flavor to get that high dry. It is ricey and tight with a real compact drinking feel. It's light and goes down easy, but speaks to those who like a little heat in their palate. Does well chilled, room temperature and lightly warmed look out! A perfect brew to throw at your fatty foods ensemble to wash away the greasy oils and preserve the flavor. WORD: Extra Dry WINE: Tannin Reds/ Tight WhitesBEER: Crisp snappy ales FOODS:Salty and savory, fried everything. $35/720ml
Katafune "Koshino Sesshu"
From Niigata Prefecture. Junmai Nigori. SMV: -10 Acidity: 1.7
The nose on this coarsely filtered unfiltered or "Nigori" sake is a loaded with minty, milky, yogurt and vanilla aromas. Say hello to a really cool sake. Why cool? It's different, but more importantly is really tasty! Take a look at those chunks or flakes of unfermented rice particles. This is no nigori bum-rush of flavor, this is smooth and balanced brew that happens to have some serious texture. It's not dry and it's not sweet, in fact you can call it a connoisseur's nigori for all of the wonderful balance involved with each sip. There is a great rice flavor that is more milky than creamy and a touch of pulp! Look for sweet rice and coconut licks, but enjoy all of the movement and the residual on your glass WORD: Professional Nigori WINE: Nope BEER: Not really FOODS: International spices, cheese boards, dried fruits, dry desserts.$31/720ml