Sake Gifts – Team True Sake Pick Their Gifts For You!
In the spirit of the Holidays The True Sake Elves wanted to make specific sake selections for you to consider as gifts for family and friends. And away we go Ho Ho Ho: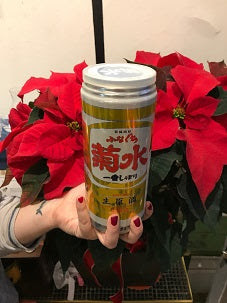 From Elf KJ:
This Christmas my main sake brew is absolutely, positively the Funaguchi MONSTER CAN!!! What better way to kick off a crazy holiday party than a 1L sized can that looks exactly like a classic tall boy? The alcohol is high, which gets the juices flowing and could even help you get lucky under the mistletoe. The flavor is robust, with that distinct namazake character. Buy this can and you'll even get a spout to pour daintily into tiny cups if you so choose! I prefer chugging this with a circle of friends, to be honest. This MONSTER of a sake also makes an awesome white elephant gift! Come and get 'em while they're HOT!!
From Elf Beau:
This a Ho Ho Ho slamdunk! The box is awesome. The bottle is one of the only sake bottles in the biz that is shaped like a wine bottle with a long neck and a concave thumbhole in the bottom called a "punt." It has a cork top with gold foil protecting the sake. The label looks like a wine label, but this baby is pure sake! Pure wonderful and amazing sake known as Miroku! It is the best working sake in the states right now! Working? Yes, this sake is a food-pairing monster, and it goes with all cuisines from French fare to cowboy campfire fare. Truly an amazing sake and the perfect gift for any foodie, wine-o, and sake aficionado! In my best Elf voice I say, "Get a bottle of Miroku and get your Ho Ho on!"
From Elf Mei:
This Holiday Season I say Bah Humbug to delicate, soft and light Daiginjo sake! My recommendation is a ballsy sake from the historically famous Ishikawa Prefecture brewery called Kikuhime Daiginjo Genshu. These guys make a bold and gutsy Daiginjo using super premium Yamadanishiki from secret rice farmers in Hyogo prefecture, who are known for growing some of the best sake brewing rice in the world. So I say give the best gift of all, a superb full-bodied and rich Daiginjo that the brewers call BY! This doesn't mean C-Ya rather it means Brewing Year and this Holiday Season the best gift you can give is a ballsy BY!
From Elf Hiromi:
The sake that I recommend as a gift is my favorite sake of all time. I would gift a bottle of Senshin from Asahi Shuzo in Niigata Prefecture (the makers of Kubota). Why? Because it is nicely balanced and very elegant! The box is great and the rice paper label is also beautiful. But best of all Senshin makes me happy, so I am sure it will make your gift recipient happy too and that's what the Holidays are all about!