"Ask Beau" – "Happy 15th Anniversary True Sake!"
That wasn't even a question! But it's a pretty powerful statement! And so it is true, on August 7th True Sake will be quietly celebrating its 15-year of peddling sake to the world. If you recall it took us a year and half to open the store, because of crazy SF rules and regulations, so last year should have been our 15th. Nevertheless we have reached a pretty powerful milestone and of course we achieved the very improbable because of amazing people like you who have supported us from day one. I recently did an interview for PBS and they asked me once again, "What was your motivation for opening a sake store?" The answer was and still is very simple, we wanted to open a welcoming place to help people answer all of their questions about sake in an environment that celebrated the beauty and passion of this incredible libation. And we reduced that into a sentence that every person who walks into True Sake hears, "Let us know if you have any questions." Bingo!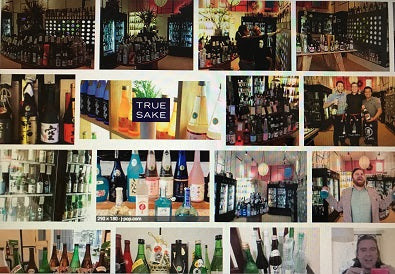 A lot has happened in 15 years or doing something that has never been done before. We have sold well over ONE MILLION bottles of sake. But better than that we have made over a million friends in the glorious process. We have witnessed phenomenal growth in the sake segment, but we have also remained true to our mission of being a good sake destination to educate and fascinate customers. We have watched a very small minority of sake breweries be joined by hundreds and hundreds of new exporting sake breweries. And we have striven to be open and fair to each and every importer, distributor, and vendor who are in the business. We don't play sake politics.
Not everything has been peaches and cream. We had a very dark two-year period that I am still personally and financially trying to recover from. In a word it almost broke True Sake. But I felt if I closed doors then the sake market would believe that sake had failed when it did not. I failed. It was user error and not the product. We mean many things to the sake world, and I am very proud of that fact, so it was imperative that I clear sake's name by bringing True Sake back from a very dark chapter in my life. The net result is that we learned who our true friends were in the industry. In a sense, we were able to stress test the incredible business relationships that we have nurtured for over a decade. And best of all we are still standing!
Of course you – each and every one of you – are part owners in True Sake. This has been as much about you as it has been about sake and the first dedicated sake store outside of Japan. And for that we are forever indebted to you and your kindness. We thank you very much, and we want you to know that we value our relationship more than you can possibly fathom. You are more than our customers. You are family. You are True Family! Secondly, I want to thank the team from True Sake. I say it often, but not often enough for my liking, that you are the core reason why this enterprise is witnessing its 15th year of operations. You have made this crazy idea work. You are the lifeblood. You are True Sake! From employees past and present you are the glue and bond that has kept a crazy idea afloat and operational. And you did it with the biggest goofball at the helm. So I thank you all from the bottom of my heart for fulfilling my greatest crazy idea accomplishment.
Again, we are doing this anniversary celebration on the down low. No balloons this year. (Maybe) No big party this year! No Justin Bieber pop-up concert in the store. (Maybe) And no hoopla! But, we would like to "celebrate" with our peeps in a small way for you to be a part of this powerful landmark. So if you come into the store during the week of August 6-12th (Aug 7th is THE actual day) and say something along the lines of "Happy 15th!" we will give you a little bottle of sparkling sake that is not available to the market just yet! And you can toast our mutual success together!