Sake Industry - A Sake Store Down Under
"Hi Beau,
Hope all is well in your world of sake.
We are about 3 months in from launching our 2nd sake shop here is Sydney so exciting times all round. Also this weekend is the very first Sake Matsuri in Australia. Basically 5 importers have banded together and we are hell bent on converting Australians to the way of the rice.
OK a few months back you asked if I was interested in penning a few paragraphs for your newsletter, and the answer is let's do this thing. I would love to write about our fledgling sake scene down here and give a post Matsuri report with a few photos. If you let me know a reasonable word limit and I can have something in your inbox next week.
Leigh"
And voila! Just like that we get to hear about the sake scene in Australia! Due in large part to the IWC, I get to meet so many sake souls from all over the world who are doing their part for the betterment of sake. I particularly like hearing about folks opening sake stores. So herewith is a "Down under update" from a fellow IWC judge by the name of Leigh Hudson. I asked Leigh to write whatever he felt and to include a brief bit about him. Take it away Leigh:
"Don't let being a wanker get in the way of discovering great sake. Too many people get caught up with "I only drink Daiginjo / Omachi" etc. My advice is to forget about this and just get on with enjoying sake. – Leigh Hudson
This is what happens when you blend the DNA of an ex Chef turned Sommelier, a no bullsh** approach to drinking good booze.
So how did Australia's first sake shop come about? It all began with a really crazy idea about twelve years ago, "Let's open Australia's first Japanese knife store". Today we have a store in Sydney, a store in Melbourne and are the largest retailer of Japanese knives in the southern hemisphere, so maybe the idea wasn't so crazy after all. This kept the Chef side of me very happy but my Sommelier shoes were gathering dust, so this led to an even crazier idea about 5 years ago.
"Let's open a Japanese sake shop inside our Melbourne knife shop – Japanese knives and Japanese booze together, what could go wrong, right?" Now the chefs of Melbourne can get a fix for almost all their addictions in the one place.
In truth it was a huge risk considering the sad state of the Sake scene in Australia at the time. Sake was the domain of big Japanese food importers and for the most part they sold exclusively to Japanese restaurants. Tetra pack sake outsold bottles at a retail level in Japanese grocery stores and there was no information available in English except for the price.
Fast forward to July 2017, we opened our first stand-alone Sakeshop in suburban Sydney nestled up next to Chef's Armoury Sydney store. This is in fact Australia's only stand-alone sake store. Now that we had Sydney and Melbourne stores it was time to go hard and make Sake a cult product the way we did with Japanese knives years earlier.
We had a massive PR push backed by a hardcore marketing campaign. How hardcore? We increased Sake related search terms on Google Australia by 782%, this proved there was a thirst for sake and peeps were listening. We did tastings, pop-up Izakaya nights, Sake focus groups, sponsored a Sake Bar at Sydney's only Sakura festival, sponsored the Japanese film Festival and even made a 15 second spoof Sake commercial. We also launched Australia's only WSET 'Sake Only' school.
And why are people excited? For the very first time in Sydney, sake is available and accessible. Each and every Sake on the shelf is tagged with tasting notes and there in someone on hand for personal consultation that really knows the product.
I think we have kicked the Sake hornets nest - Big bottle shop retail groups have taken notice and started stocking an increased range of sake on their shelves, restaurants are listing more sake and other distributors have ramped up their marketing as well.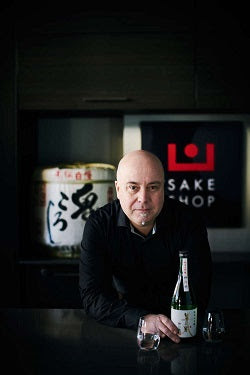 It's exciting times to be part of the Sake market down under and we are amped to be the driving force behind retail sake in Australia, making it accessible and affordable for customers to drink sake every week.
We are also founding members of an association of 5 independent sake importers all hell bent on making Sake the next big thing. We are really excited about driving sake to the next level in Australia."
About Leigh Hudson:
Leigh Hudson is co-founder of Chef's Armoury, the largest importer and retailer of handmade Japanese knives in the Southern hemisphere. And owner of Sakeshop – with stores in Sydney and Melbourne.
He is a veteran of the hospitality industry having served as chef, wine sommelier and boutique wine wholesaler. Leigh has since turned his attention to Japan where he gained knowledge in the ancient art of honing blades and returned to open Australia's largest specialty importer of handmade Japanese knives and rare boutique Japanese ingredients.
Leigh's aspirations for Sakeshop are to introduce Australia to sake from small brewers that normally wouldn't leave Japan's shores, make sake an everyday and everyman's drink to be enjoyed at home, and to sell sake at more affordable prices for the Australian consumer.