Top 10 List – Ten IWC Medal Sakes To Explore
At the last International Wine Challenge in May from Yamagata roughly 5% of the sakes received a Gold Medal. Pretty tight! But many sakes received Silver, Bronze, and Commended Awards as well and we shouldn't discount them because they didn't get the G! Herewith is a list of Silver and some Bronze Medal winning sakes that we currently carry at the store. We will post the entire list of Silver, Bronze, and Commended sakes at the store that you have access to in the hopes that you do some sake exploring.
10) Choryo Yoshinosugi Taru "Cedar Country"

This is not just any cedar sake! It is a brew from a sake brewery that specializes in taru sake and they use the Omachi rice varietal and the Yamahai production technique. It is cedar sake plus!
9) Akashi-Tai Junmai Daiginjo Genshu

This Junmai Daiginjo Genshu (undiluted) is new to the store, but not new to winning sake awards. It's a great food pairing Daiginjo, which is also just great to drink!
8) Daishichi Minowamon "The Gate"

We've been selling this sake from Day One at True Sake for good reason. It is a great sake from a killer brewery in one of the most productive sake making prefectures in Japan at the moment. And it's a Kimoto Daiginjo to boot!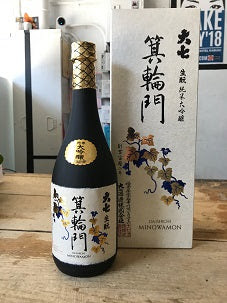 7) Sougen "Pride of Samurai"

This has been one of the best "hidden secret" sakes at True Sake for the past 15 years. It is a powerhouse Junmai loved by the guy who started the whole selling countrywide of small brewery sakes in Japan. He knew his stuff!
6) Tedorigawa "Silver Mountain"

This sake gets a lot of attention, because the brewery was featured in a Netflix movie called the "Birth of Sake." But, we give it a lot of attention because it is a great sake and a food-pairing monster.
5) Eiko Fuji "Glorious Mount Fuji"

Still one of the best labels in the sake world. This wonderful Junmai Ginjo is a very tasty sake that actually oxidizes well in the bottle. Meaning if you can't finish the bottle it keeps on getting better!
4) Ura Gasanryu "Koka"

This sake actually won the Honjozo Category Trophy a few years back at the IWC. Quite simply it's one of the best Honjozo sakes in the biz. A must try sake.
3) Akitabare Suirakuten

This Daiginjo is one of those "welcome to sake" sakes that shows how amazing sake can taste and feel. It is so subtle and nuanced that it speaks to beginners but pros get lost in how many faces it has and how many expressions jump out of the quiet glass.
2) Ohyama Tomizu "Special Water"

This sake just rocks! It is a flavor bombshell waiting to explode in your palate. The prototypical "How can rice and water taste like this?" sake. A can't miss sake, which is great for exploration.
1) Hanahato "Gorgeous Bird"

If you have never tried this unique dessert sake then your sake bucket list is not complete. It is truly an amazing rice and water creation that has won countless IWC Trophies including best in show! It is a Grand Champion sake.