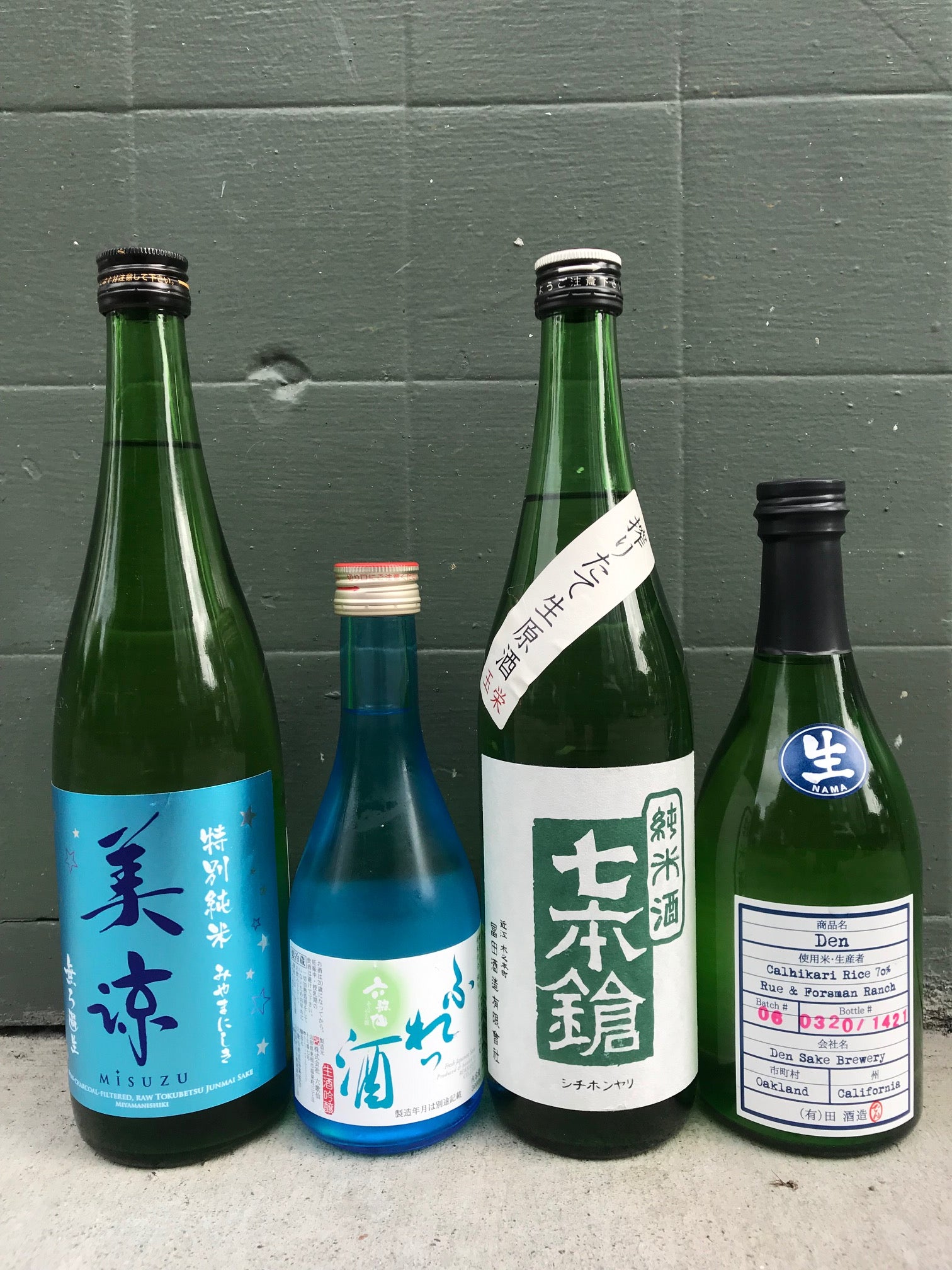 New Store Arrivals - The Spring Seasonal Nama Wave Continues
It's a great time to be a sake drinker in America. When we first opened the store there was only one nama – unpasteurized – sake available in the US. It was a Nama sparkling sake for $115. Today looking at our shelves we have well over 40 unpasteurized brews in-store! How cool is that? This spring has been the best and most promising Nama season on the books EVER! Herewith are 4 more brews to play with! From Oakland to Shiga Prefecture try four different styles of Namazake. They won't be around for long so get them while we have them! Get your Nama on! Or better yet keep your Nama on!
Misuzu Nama 
From Nagano Prefecture. Tokubetsu Junmai Nama. SMV: +3 Acidity: 3.0
The nose on this "Nama" (unpasteurized) sake is a fun collection of berries, prunes, dates, figs, and cranberries. In a word this is a big and brash brew that is bright and zesty, and speaks to those who like a lot of story in their glass. Using Miyamanishiki rice milled to 55% and having an alc content of 17% it fills a glass with lots of frisky edges and drinks with a snappy goodness that is very lively and robust. Look for crisp tangy citrus fruit tones with hints of honey, mint, yellow cherries and persimmon flavors. There is semi-sweet beginning that dances with an elevated acidity play that fills the palate and explodes in the finish with a brashness that screams living sake. WORD: Lively WINE: Deep Reds/Crisp Ales BEER: Crisp Ales FOODS: International Spice from curry to tacos and from Thai to Vietnamese.
Rokkasen Ginjo Nama 
From Yamagata Prefecture. Ginjo Nama. SMV: +3 Acidity: 1.1
The nose on this very fun unpasteurized "Nama" sake is a collection of blueberry, watermelon, white grape, and mineral aromas. Smooth, fresh, clean, and layered this brew drinks juicy with an almost snow cone-like quality that has minerals mixed with hints of young mango, concord grape, pear, and lots of snow melt! Good body, good texture, and great feeling this Ginjo drinks clean and smooth with a quick finish that makes the bottle finish quickly too! The brewers recommend drinking this brew very cold to capture the freshness, which means it's perfect for picnics in an ice chest! WORD: Juicy Clean WINE:Gentle Reds/Clean Whites BEER: Light Beer FOODS: Shellfish, crab, oysters, sashimi, clean sushi, and fruit plates.
Shichi Hon Yari "The Seven Spearmen" 2019 
From Shiga Prefecture. Junmai Nama. SMV: +3.5 Acidity: 2.0
The nose on this specially released Spring Nama sake is a cool collection of green apple, steamed rice, pear, wax Halloween teeth, and Jolly Rancher candy. Talk about a "Discovery Sake"! This brew is so unique and so tasty it should be tried at least once by all unpasteurized sake lovers. Behold a "Green" brew that is all things green – green bottle, green apple, green young pear and mango flavors, and green sheen of freshly pressed nama sake. It is very expressive and very different. There is a great acidity play that mingles with the astringency of the sake, which gives it a vivid, tangy, and lively brew that would appeal to tannin-loving red wine drinkers. WORD: Green WINE: Tannin Reds/Tangy Whites BEER: Tangy Ales FOODS: Big red wine fare with complexity and depth, spice, and fried food.
DEN Batch #6 
From Oakland, California. Junmai Ginjo Muroka Nama. SMV: +1 Acidity: 2.8 
The nose on the sixth offering from this great little local brewery is a collection of green apple, rice, ginger, lemon peel, and pear aromas. This is a very lively and brash batch with lots of crisp fruit tones and a zesty acidity play. A bright brew with a quick drying finish that tingles and teases a long tail. Look for young peach, young pear, and dry apple flavors that dance with the brash and lively zesty qualities of this Den Batch #6. More fruit tones come forth as the fluid warms in the glass, and a larger glass like a wine glass works best. WORD: Lively WINE: Frisky Reds/Brash Whites BEER: Crisp Ales FOODS: Sushi, sashimi, poke, grilled fare including vegetables, fish, chicken, and beef.