Power 5 Challenge – Five Private Label Brews Made By Great Breweries
In this Power 5 Challenge, we look at sakes that are made by terrific breweries for private label endeavors. As you know historically in the Japanese sake scene there were sake brewery brands and sake breweries that make sake for other brewery brands. These types of situations were called no tax sales, as usually a smaller sake brewery would make tanks of sake for another brewery to sell under their brand. Since they weren't selling to the market they didn't have to pay tax to the tax board, and as such were called "No tax" breweries. If you recall the brewery in Kyoto that Philip Harper went to produced almost all "No tax" sake until Philip took over. Now they produce far more Tamagawa branded sake.
In the past ten years, there have been several large efforts to make private label sake for the international market. TyKu is by far the largest private label effort and they are really the pioneers in this segment. Also during this time a small brewery (Hokusetsu) on Sado Island off the coast of Niigata became a dominant private label brewery for the Nobu chain of sushi restaurants. Other chefs would then have private sake labels for their restaurants. In the past, half-decade we have witnessed several new directions of private labeling.
My sake brother and fellow Sake Samurai, Richie Hawtin, launched his line of ENTER.Sakes, where he approached several amazing breweries to make special brews for his portfolio to better educate a growing number of European and American sake drinkers. Rich was the first guy to bring sake to the music scene on an international level. And who doesn't like sake and music? Now other efforts exploring other synergistic scenarios are coming on line. HEAVENSAKE is a food pairing inspired set of sakes that were made in conjunction with a master champagne maker.
Personally, I enjoy all of these endeavors as they are taking sake to new frontiers. Certain groups are studying and applying sake in different scenarios, and this only helps the sake scene. It's awesome to see sake served at rock concerts. It's awesome to see sake served at high-end restaurants. And it's awesome that we don't even know the next way that private label sakes will be used in the future. The one constant, however, is that the sake must be good. Period. I don't care whose name is on the private label as long as the brew is good. And that is why we are looking at our collection of private labels at True Sake to show you that fantastic producers make them all.
Herewith are Power 5 brews to taste a different expression from some of our favorite breweries.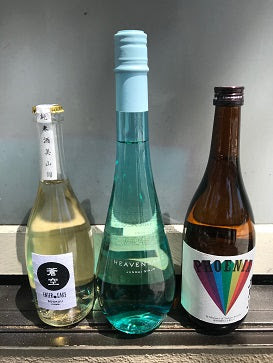 1) ENTER.Sake Sookuu
From Kyoto Prefecture. Junmai. SMV: NA Acidity: NA
The nose on this very cool looking muroka or "unfiltered" made by Fujioka Shuzo sake is nutty, ricey, buttery, and creamy, with a touch of butterscotch. This is a really talented Junmai sake that is compact and tight, but equipped with lots of tasty flavors that come out at different times and sips. It is quick and dry, but there are lots of stops in between. Look for cocoa and salty nuts on first inspection. Followed by an earthy, rich, savory, nutty, and dark chocolate licks. A small cup brings forth more sweetness with a tingle of citrus, and a mid-sized cup brings more balance. But this brew loves a wine glass that opens up the acicity play with a nice tingle on the sides of the palate. More cocoa comes forth as it warms. WORD: Clean WINE: Dry reds/clean whites BEER: Light beer FOODS: Sushi, sashimi, grilled things on a stick, salty and savory. $45/500ml

2) HeavenSake Junmai Daiginjo
From Yamaguchi Prefecture. Junmai Daiginjo. SMV: +3 Acidity: 1.4 
The nose on this private labeled sake made by the Dassai brewery has a loaded nose with grape, pear, apple, and lush tropical fruit aromas. Behold a profoundly expressive Junmai Daiginjo that reminds sake drinkers that rice and water can truly drink like a tropical fruit storm. How do they do it? I don't know, but I do know that you will need to bring your favorite fruit basket to collect all of the fruit expression flavors that are found on a slippery and silky fluid flow. Look for blueberry, white grape, apple, cooked pear, and pineapple flavors with a very subtle banana note that all play perfectly with a mineral kick! I cannot stop smiling when I drink this sake, because it is a lush, semi-chewy, and vivid drinking experience that works wonders in a white wine glass. WORD: Lush WINE: Fruity reds/Mineral whites BEER: Creamy ales FOODS: Champagne fare. $106/720ml

3) HeavenSake Junmai Ginjo
From Miyagi Prefecture. Junmai Ginjo. SMV: +2 Acidity: 1.5
The nose on this private labeled sake made by the Urakasumi brewery has a gentle collection of sweet rice, lemon peel, cocoa and crème brûlée aromas. Talk about an elegant and supremely balanced Junmai Ginjo! This heavenly sake is not your typical fruity Ginjo, rather it plays in the rich flavor zone of sweet rice, honeycomb, nougat, white raisins, and crème brûlée flavors on a fluid that is as smooth as velvet. There are earthy elements that expand as the fluid warms, and a white wine glass brings forth the most flavor and feeling. Look for hints of creamy flavors and enjoy this sake that has one of the best looking bottles in the sake biz. WORD: Smooth WINE: Fat reds/Rich whites BEER: Belgian Ales FOODS: Full-bodied cuisines that are savory and creamy. $48/720ml

4) HeavenSake Junmai "12"
From Hyogo Prefecture. Junmai. SMV: +2 Acidity: 1.7 
This private label sake is made by the ancient Konishi Sake Brewery and has a very gentle nose of hay, butterscotch, nougat, and steamed rice. The methodology of this sake is to be a super drinkable Junmai that pairs very well with foods. The mission was a success! First, the lower alc. content of 12% (instead of the typical 15-16) makes this brew gentle. Smooth, light, and compact. It drinks more full because of the Nihonbare rice varietal and the elevated acidity, which speaks to tannin lovers who enjoy a little astringency complexity in their glass. Speaking to you red wine drinkers who enjoy subtle yet complex flavors such as persimmon, apricot, chicory, dark chocolate, and caramel licks. There is a tickle of bitterness in the finish that speaks to the craft coffee crew and far more ricey expressions come out as the fluid warms in the glass. A mid-sized glass makes for more flavor bumps, but a wine glass captures the smoothness and drying finish better. WORD: Ricey WINE: Tannin Reds/Crisp Whites BEER: Light Ales FOODS: Meats, game, fowl, and fish. Complex pastas, and crisp veggies. $32/720ml

5) Tatenokawa "Phoenix"
From Yamagata Prefecture. Junmai Daiginjo. SMV: -2 Acidity: 1.4 
The nose on this special sake that proceeds go to the Japanese Red Cross is a gentle collection of cherry, mango, berry, pear, and apricot aromas. Smooth, round, silky, clean, and balanced this brew is very user friendly and good example of the qualities found in a "premium" sake. A mid-sized glass brings out the best flavor profiles of cooked pear, apple, and mineral notes. It is a very slippery sake, which means you can really taste the special brewing water, and there is a nice rice-neutrality that is neither too fruity or too dry. Is this sake restrained or just a very unpretentious Junmai Daiginjo? Either way it drinks great and is for a great cause. WORD: Slippery WINE: Dry Reds/Clean Whites BEER: Light ales FOODS: Clean cuisine. Steamed fish, tofu dishes, and gentle veggies. $43/720ml