The "Beau Zone Layer" – Shirataki Jozen Junmai Ginjo Nigori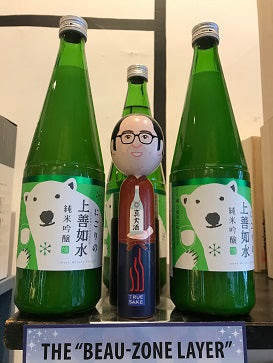 The "Beau Zone Layer" – Mizunoshirabe "Sound of Water"
From Niigata Prefecture. 
Junmai Ginjo Nigori.
 SMV: +4 Acidity: 1.7
No! Don't tell me that you just blew past this review, because it is an unfiltered or "Nigori" sake? Shame on you! Nigori sake is sake too! But I get why you might think that all Nigori sake is the same. I understand. You think all unfiltered sake is creamy, thick, sweet, and a rush of flavor almost like a cocktail. Some think that's fun and tasty! But not you. You think Nigori sake is kid's stuff! Not true my friend, and there are a lot of coarsely unfiltered sakes that would speak to you if you were wearing blinders on. Yup! People get caught up in the look of Nigori sake. Don't! Especially this Junmai Gino sake that drinks totally like a Ginjo sake even though it's cloudy. If you are a fan of Jozen then this brew is a must! Seriously, all of their technique and subsequent feeling and flavor are in this amazingly packaged brew. And if you don't know the brewery then trust us when we say that they make remarkable sake – even Nigori sake. And lastly, this was a special order so we only have less than a case left on this brew that as a sake fan you should at least try once.