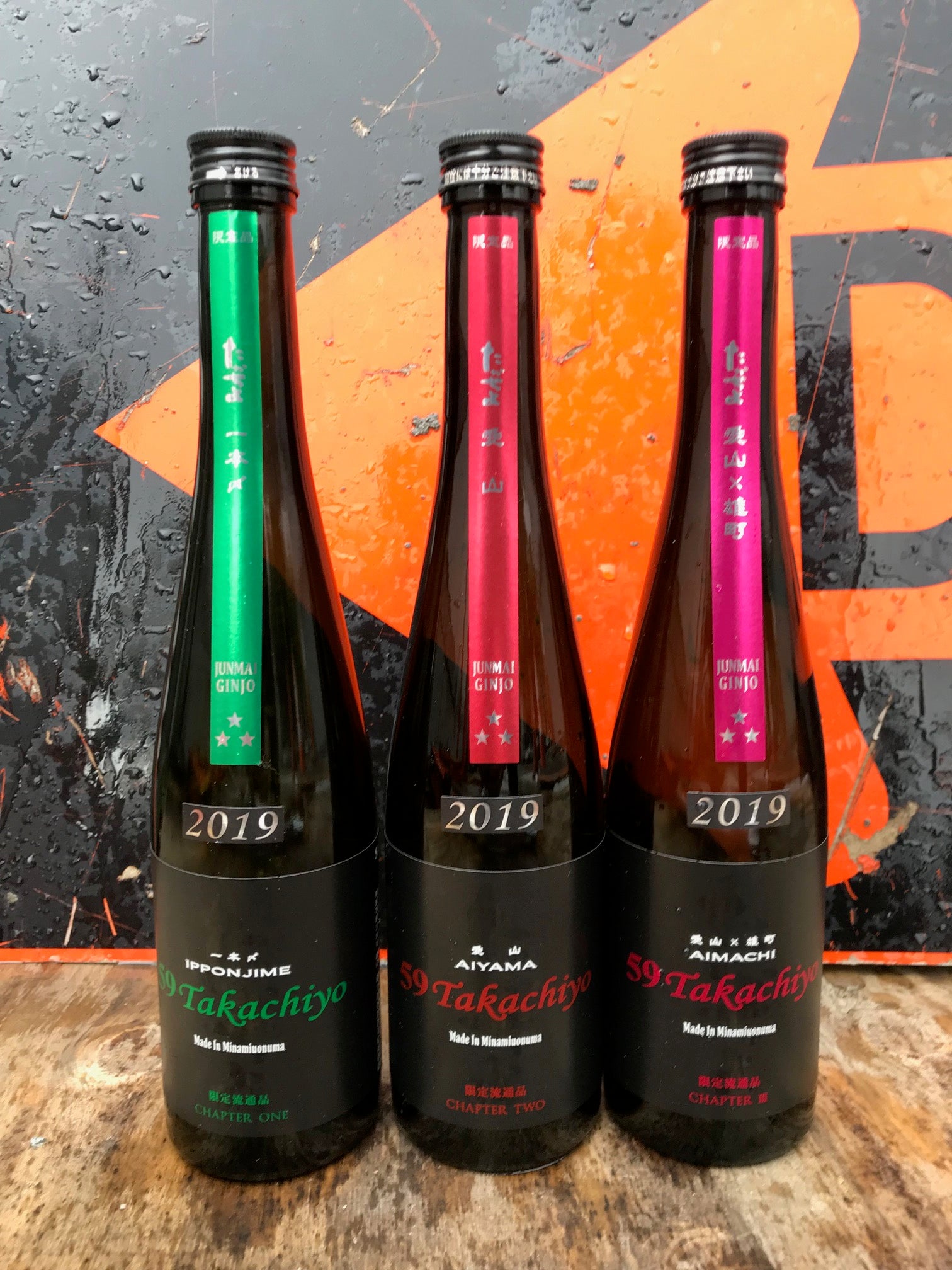 Sake Exclusives – The Takachiyo Nama "Chapters" Are Back!
By now you all know that the word "exclusive" bothers the crap out of me. Of course it is very important to a retail business to separate itself from the pack. This is true of all industries, and it makes just good business sense. I've always been in a position to get "exclusives" for True Sake, and sometimes I fall into the trap of saying YES! And then I go to the newsletter and social media to make us look great! We have "Exclusive" this and that, and you guys say "whatever." On a few occasions I have had to pay for "exclusive" rights, and when that happens more than once I have been burned. Burned? Yup! (I worked for a year to get the Kikusui Funaguchi "Monster Can" and when they finally said yes, they said that I'd have to buy ten cases to secure the order and my "Exclusive" status. So I did! And then a month later I saw the Kikusui Funaguchi Monster cans sold in Chicago? And I had not even received my order yet. What the wha? When I called to say that it was BS, they said it was a mistake by the importing company. That sucks.)
So that was a very long introduction to inform you about yet another "exclusive" to True Sake in the form of the second year of Takachiyo Nama "Chapters." Yes! For a second year in a row we get to play with one of the most ultra popular cult sake collections in Japan. Takachiyo is quite simply one of "those" sake experiences that all sake lovers should play with at some point in their drinking careers. Why? The brewers are fastidious and totally passionate about exploring the far realms of sake appreciation. (Very similar to Masao Aisawa's rice appreciation efforts at Yamagata's Takenotsuyu, Takachiyo makes a superb effort to explain sake by using the taste of brewing rice itself.)
Takachiyo 59 Nama Chapters are a work of sake art! In a word they are a liquid education for anybody who wants to explore isolated rice flavors in sake. Sake is made with rice, but rarely do we get to isolate the rice flavor itself. So, if you take the same brewing water, the same mold, the same kobo or yeast (1801), and use the same methods including the same final alcohol content, the same milling rate (59%), the same Muroka (non-charcoal filtered), and left the brews unpasteurized and made each specific sake exactly the same way, but with a different brewing rice varietal then you would have the Takachiyo Chapters. Pretty cool huh? Ten Chapters featuring different rice varietal and varietal combinations to play with and have fun.
The first three chapters have arrived! So get your sake geek on. Chapter One is made with 100% Ipponjime, which is a very local Niigata rice varietal. Chapter Two is made with 100% Aiyama, and Chapter Three is made with "Aimachi" 22.5% Aiyama and 77.5% Omachi brewing rice. And all three rocked. Compared to 2018 these brews have many similar attributes that literally pop out of the glass. They are very exciting and very worth a look, feel, and taste. Herewith are the reviews for the first Three Chapters of Takachiyo's Nama 59 2019.
Takachiyo 59 Chapter One Ipponjime "Green Label" 
From Niigata Prefecture. Junmai Ginjo Nama. SMV: +1 Acidity: 1.6
The nose on this special sake that is Nama Muroka is a unique collection of melon, pear, cucumber, and Asian Apple Pear aromas. Say hello to a fresh and gentle brew that drinks round and smooth with hints of citrus and other notes such as blueberry, Asian apple pear, and sweet rice. Zesty, bright, and crisp the flow is semi-chewy with a dry finish. Fresh and tight the Ipponjime definitely has a subtle peek-a-boo sour quality that drinks like tangerine, pink grapefruit, and "lemoncello" water. It's pretty cool and refreshing, and a larger glass makes the experience smoother and softer. This is very gentle Nama Nama sake. WORD: Citrus WINE: Tight Reds/Crisp Whites BEER: Crisp Ales FOODS: Sushi, sashimi, lightly grilled fare, shellfish.
Takachiyo 59 Chapter Two Aiyama "Red Label" 
From Niigata Prefecture. Junmai Ginjo Nama. SMV: -1 Acidity: 1.6
The nose on this "exclusive to True Sake" Nama is a very mild collection of rice, tomato water, mint, and sunflower aromas. Say hello to a savory and dry unpasteurized brew that is bright, semi-zesty, and tight. This is a very clean Nama that has a unique dryness that is almost tannin-like with a very quick finish. There are neutral flavors of dried fruit tones similar to trail mix and rice cracker tones that drink very clean and dry. Dig deep enough and you can pull dry cranberry elements with a mineral water finish. A savory brew that is unique for an 1801 yeast, which makes this Aiyama Chapter very fun to explore. WORD: Dry WINE: Dry reds/Crisp Whites BEER: Dry Ales. FOODS:Salty and savory grilled fare.

Takachiyo 59 Chapter III Aimachi "Magenta Label" 
From Niigata Prefecture. Junmai Ginjo Nama. SMV: ±0 Acidity: 1.5
The nose on this extremely fresh sake is a great collection of strawberry, sweet rice, mango, and berry gum elements. Bright, fresh, and snappy this living sake drinks juicy, fleshy, and zesty. Look for fun fruit compote flavors such as strawberry, mango, and blackberry hints that jump around on the brash and sassy flow. The amazing thing is that for all of this upfront zest and fun the finish is quick and gone. This Chapter 3 has a lot of wine-like elements that are common with brews made with the 1801 yeast. WORD: Bright WINE: Fruity Reds/Crisp Whites BEER: Crisp Ales FOODS: Fresh fare, fruit plates, cheese