Sake Party – The Best SAKE DAY Ever?
Not Joking! This could be the best SAKE DAY ever! The line-up is unreal. If you have wanted to attend one this is the year to pull the trigger. If you are on the fence then please fall on the side of attending. If you went a long time ago, please consider re-visiting this special event. And for you amazing repeaters this year will blow you away!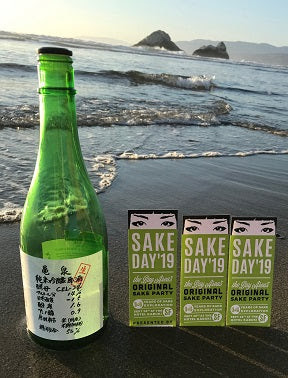 Herewith are some quick hit selling points for SAKE DAY 2019 the 14th Anniversary of all things sake. Tickets ALWAYS sell out so be smart and order them today. Go to SAKEDAY.com or EVENTBRITE.com
Sake Day Highlights:


Meet Yasutaka Daimon owner of Daimon Shuzo who graciously donated the Welcome Sake called "Shizuka" and with partner Marcus Consolini will pour you a Secret Sake if you visit the Sake Today Magazine table to learn what the secret word you need to know to taste the special sake, which is hiding under their table.


Have fun pairing sake and miso with Jake and Noriko craft sake brewing legends of Sequoia Sake who are teaming up with Mieko Swartz a chef and miso genius and maker of "Mieko's Miracle Miso"!
For the first time the RIEDEL Crystal Company will have a table at SAKE DAY. They will launch their new "Junmai Glass", will sell glassware, and will do live "Smell" demonstrations!
Join Author and Sake Educator Super Star John Gauntner at his Sake World table to try 4 brews that he hand selected! Then pick the mind of one of the biggest names in the sake world, and learn what's happening in the sake scene today and going forward.  
Meet the acclaimed French cellar master, Regis Camus, who has collaborated with Dassai, Urakasumi, and Konishi to create HEAVEN SAKE.


Say hi to owner and toji Takeda-san of Katafune Brewery in Niigata, who has been a major supporter of SAKE DAY for the past 7 years. Taste his IWC Trophy winning Honjozo!


Visit the EHH Importers table to taste several "Chapters" from the cult favorite brewery called Takachiyo from Niigata and their available only in Japan Omachi Nama Junmai Ginjo.


Say hello to Yoshi Sako from Oakland's Den Sake Brewery to taste his craft Nama and Pasteurized brews that are taking the sake world by storm.


Head to the new distributor Fifth Taste tables and stick your tongue out at the good people from Floating World and they will give you a taste of Tenko 20 the new ultra Junmai Daiginjo that is a work of art! 
Another sake celebrity will join us for his first SAKE DAY. Meet author, educator, and current Chairman of the Japan Sake Export Association Mr. Haruo Matsuzaki who will join Mr. Yamasaki of Aichi Prefecture's Yamasaki Brewery pouring three outstanding sake that are not available in the US.


Visit the Fifth Taste Distributor table to meet Mrs. Kodama owner of Akita Prefecture's Kodama Shuzo makers of Taiheizan and Tenko brands. Please welcome her and her line-up back to the US after a brief stoppage. She is re-launching her brands via Floating World importers.
Meet with Etsuko Nakamura and learn about her amazing company called "Sake Tours" that brings folks like you to Japan to visit some of the best sake breweries in the land. She will pour some brews from some of her favorite breweries that she tours. And you can even sign up for her next tour to Mie/Wakayama and Niigata in February.


Be the first to taste Mutsu-Hassen sakes brought over from Japan specifically for SAKE DAY by Aomori Prefecture's Hachinohe Brewery.


Meet Mr. Harada from Yamaguchi's Hatsumomidi Brewery who will be pouring his brand new Harada 80 "Master Creation."


Join Kazu Yamazaki at the Japan Prestige Sake Intl table to taste a "Koshu" aged sake that is a blend of years starting in 1972.
The owner of Chiyomusubi will be pouring 7 different brews including Sorah "Beautiful Aurora" Sparkling Sake.


Meet the owner of Niigata's Kaetsu Sake Brewery and taste their award winning sake including a 5 year aged Daiginjo and an aged Yamahai Junmai.


Be the first to taste a Sparkling "Rose" sake from Ibaraki Prefecture's Kiuchi Sake Brewery makers of Hitachino Nest Beers.


Meet the owner of Yamagata Prefecture's Rokkasen Brewery at the Maruto Table featuring Yamagata sakes.


Get ready to try some of the most freakishly delicious sake on the Japanese market today! Visit the Nagaoka Classic Table to try some aged Daiginjo from Koshino Hakugan in Niigata and crazy brown rice Namas from Kin Kame Brewery in Shiga! These brews are not available in the US, but if you like them then maybe one day in the future!


Go crazy with Sakeman Red at their excellent table featuring some of the best brews on the market today!


Give a high five to one of the most fun guys at SAKE DAY, owner Tonoike-san maker of the super popular Sanran and Bo sake brands from Tochigi Prefecture.


Check out some spectacular Craft Sake from Setting Sun Sake and the Texas Sake Company who have their own tables and Brooklyn Kura sake from New York being poured at the Vine Connections table.


And returning for his 9th SAKE DAY say hello to the hardest working man in sake Mr. Masao Aisawa owner of Yamagata Prefecture's Takenotsuyu Sake Brewing Company. Masao will pour 7 brews that are not available in the US including his famous "Jellyfish."


If you are into "Organic" sake meet the owner of Ibaraki Prefecture's Tsukinoi Sake Brewery who dedicated herself to make healthy organic sake after her husband died of cancer.


Meet Mrs. Miho Fujita owner of Mioya Shuzo from Ibaraki and makers of the famous Yuho brand of sakes! Located in a town known for UFO sightings Miho enjoys pouring her out of this world brews! 
Visit the Mutual Trading table to taste sake from three new breweries Yokoyama from Nagasaki, Izumibashi from Kanagawa, and Tanzikura from Yamanashi Prefecture. Be the first in the Bay Area to try these brews and then order them for free delivery in California.
And enjoy the launch of Blue Phoenix "Premium Vietnamese – American Rice Wine," which is a new spin on two ancient beverages. Blue Phoenix is a traditional Vietnamese libation modified for today's distinctive consumers. Basically you will be the first group of tasters to enjoy this extremely unique beverage that is a food pairing monster!