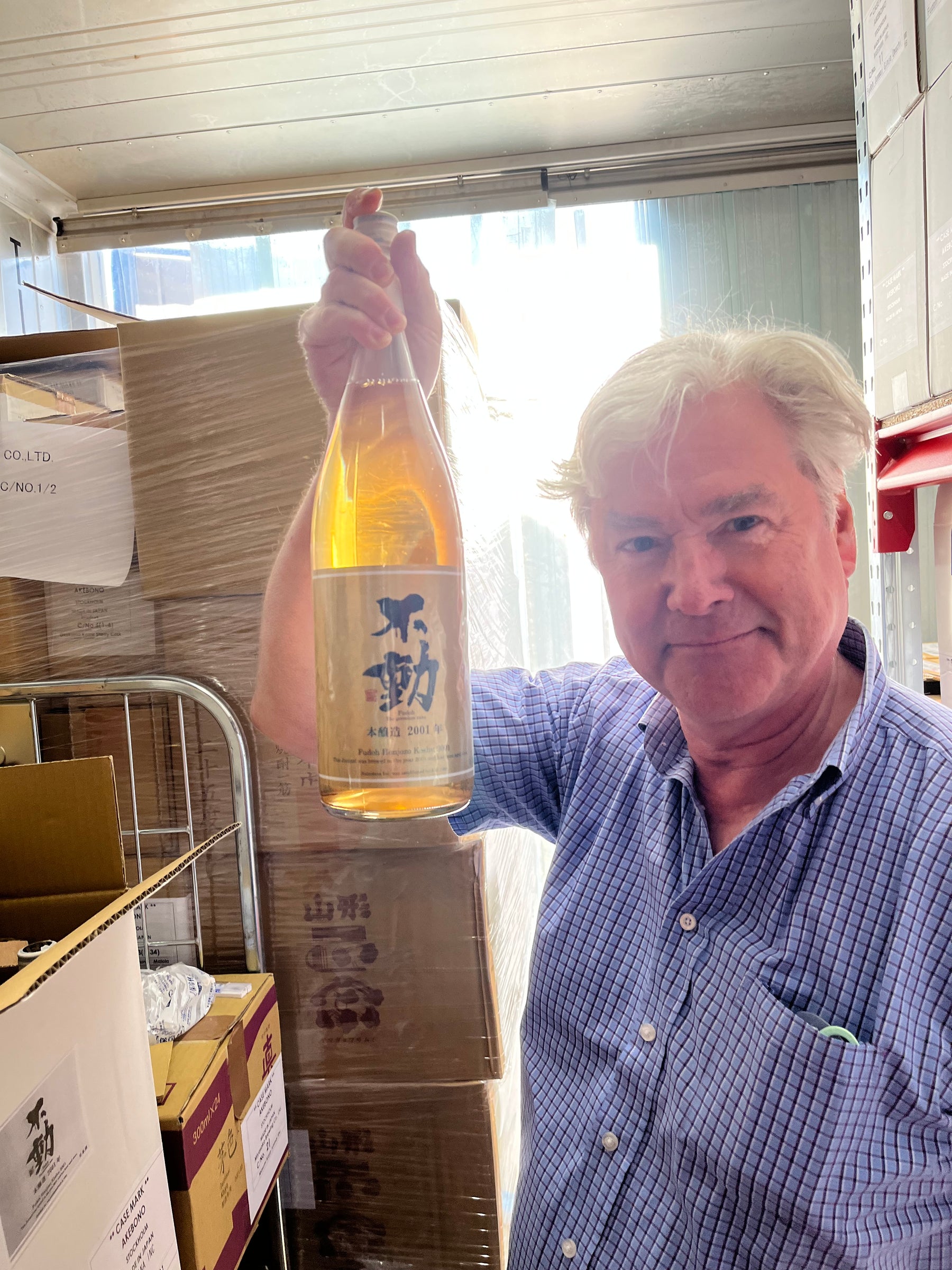 Sake Sweden – Åke Nordgren IS Swedish Sake!
As I have stated over and over the best part of the sake industry are the people who you meet along the way. They are just awesome, and so full of positive energy and passion. Nobody and I mean nobody exemplifies this more than my very dear friend Åke Nordgren from Stockholm, Sweden. 
In a word, Åke is sake in Sweden! He turned his passion into the largest sake importing business in Scandinavia, and arguably one of the best international portfolios in the world. In another word Åke is infectious – no, not like with Covid – the other kind of infectiousness that includes a smile, cutting wit, and pure 1000% enthusiasm for all things sake. 
Very few people can literally say that they created a sake market. Åke did just that with the help of his amazing wife Suzanne and daughter Fixi. They basically became the first family of sake in Scandinavia through very hard work and loads of passion. And what they achieved is incredible, because they did it – they led the charge – they stood there during the good times and bad – they educated an entire market – and they created a very savvy sake scene outside of Japan. 
I met Åke in London at the International Wine Challenge and we have been extremely close friends since then. We share many similar war stories in our efforts to make sake more popular outside of Japan, and we also have many different trials and tribulations. But I always know one constant, and that is Åke always puts sake first! He has a deep and powerful sincerity about the betterment of sake that I not only bond with, but feed off of. 
Not sure why it has taken so long to do a big write up on Åke for the Newsletter, but maybe it had something to do with distance. He's always been over there and I have been over here. That did change this summer when I took my family to go and visit Ake and his family in Stockholm, and I did get to see his sake empire in action. I took a lot of photos and learned a lot about the logistics involved. I then asked Ake to write in his own words his story about sake in his life and in Sweden today. 
Herewith is my sake brother: 
I guess it all started back in 1977 when I had my very first Japanese meal at restaurant Samurai here in Stockholm Sweden where I was born and raised. I soon became a regular of the restaurant and as hungry for the food, I was hungry to learn more about Japanese culture and everything related.
At the time I did work as a graphic retoucher employee, but when I later started my own company back in 1984 I decided to go digital as soon as there was equipment that could handle large files.
So in June 1991 I traveled to Japan for the first time in my life to visit a company in Wakayama to see their super computer system "HyperPaint" which at the time was nr 1 equipment in the world of digital retouching.
On that trip I was introduced by the international sales manager ( Yohji Hamada) to Sake at a very small cozy Sake bar called TADAYA which is still in operation. That night changed my life and sake became a part of my life.
Years went by and my travel to Japan increased year by year, now not only focusing on my digital business, but more and more into a new upcoming business, Importing Sake to Sweden in a new company, AKEBONO.
Akebono was started in 1998 by Åke Nordgren with a great interest in food and drinks as a lifestyle.
The Japanese culture and lifestyle impressed on the first trips to Japan and the idea of ​​starting a company that could convey the Japanese culture in food and drinks in an easy-to-explain and interesting way was born.
Together with Suzanne Lindén, Fixi Linden and Dan Jay-Lundgren, Åke Nordgren today runs Sweden's leading import company of Japanese beverages where the goal is always to educate and show people the fantastic, but unfortunately sometimes misunderstood, beverage from the east. 
And the interest is great! Nowadays you can drink sake at both Michelin star restaurants and small "hole-in-the-wall" sushi bars.
There have been many trips to Japan over a period of 30 years and we can answer most questions both regarding Japanese drinks & food culture, and of course everything else you always wanted to know.
The first brands of sake was of course from Wakayama, Nate Shuzo and their brand Kuro Ushi and Heiwa Shuzo now with the new brand KID, since Norimasa Yamamoto took over. The list of breweries has increased over the years due to all my travels and focus on visiting many breweries in person and building a relationship for importing and distributing their sake.
Today there are almost 50 breweries in our portfolio, and it has expanded with Umeshu, Japanese craft beer, shochu, whisky and gin, but still 100% Japanese beverage.
In the beginning, Swedes were a bit skeptical, but I created my office as a showroom with a kitchen so I could cook and pair sake and run education at the same time, which was the salvation and a game changer for this wonderful beverage. 
Of course a lot of trade shows, hard work visiting restaurants , being able to serve sake on Nobel Prize Nobel Night Cap bar and more pointed Sake in the right direction.
In 2007 I was invited to IWC in London to judge sake for the first time and that of course changed a lot of things,  meeting sake friends from all over the world, Beau Timken for example. We are still judging sake every year together at IWC.
In the beginning, of course most restaurants were Japanese or Asian fusion, but now there are a great deal of Swedish, Nordic and Mediterranean style restaurants that are our customers.
Sake bars are popping up and regular cocktail bars are serving sake these days as well.
I never have asked for anything (but hard work), which I love. But sometimes Japanese organizations want to recognize your work so I did put together a small list of things that have happened in the years.
1991 - Start travel to Japan, 2022 it has been 103 trips to Japan
1998 - Started Akebono Unlimited AB (Ltd)

2001 - Diploma Swedish sommelier school 
2007 - 2022 - IWC Sake senior judge (today Co Chairman)
2009 - 2010 - John Gauntner Sake SPC 1 / SPC 2 

2010 - Sake Contributor Award (Japanese Sake junior council)
2011 - Sake Samurai (Japanese Sake junior council)
2014 - Japanese Foreign Ministers Commendation

2015 - WSET Level 3 Award in Sake
2015 - WSET Sake Educator Level 3 Award in Sake


2016 - 2022 - WSET Level 3 & Level 1 Award in Sake (8 courses)


2020 - The Order of the Rising Sun, Gold and Silver Rays
2021 - Sweden never closed down during Covid-19 so sales continued to grow (28%)
2022 – Started to travel to Japan again and visited 7 new breweries for our portfolio
Please check our web page www.akebono.se
Instagram @akebonounlimited
Instagram @sakemannen
Please follow their story and if you are ever in Sweden please do enjoy some amazing sake hand-selected by the man!