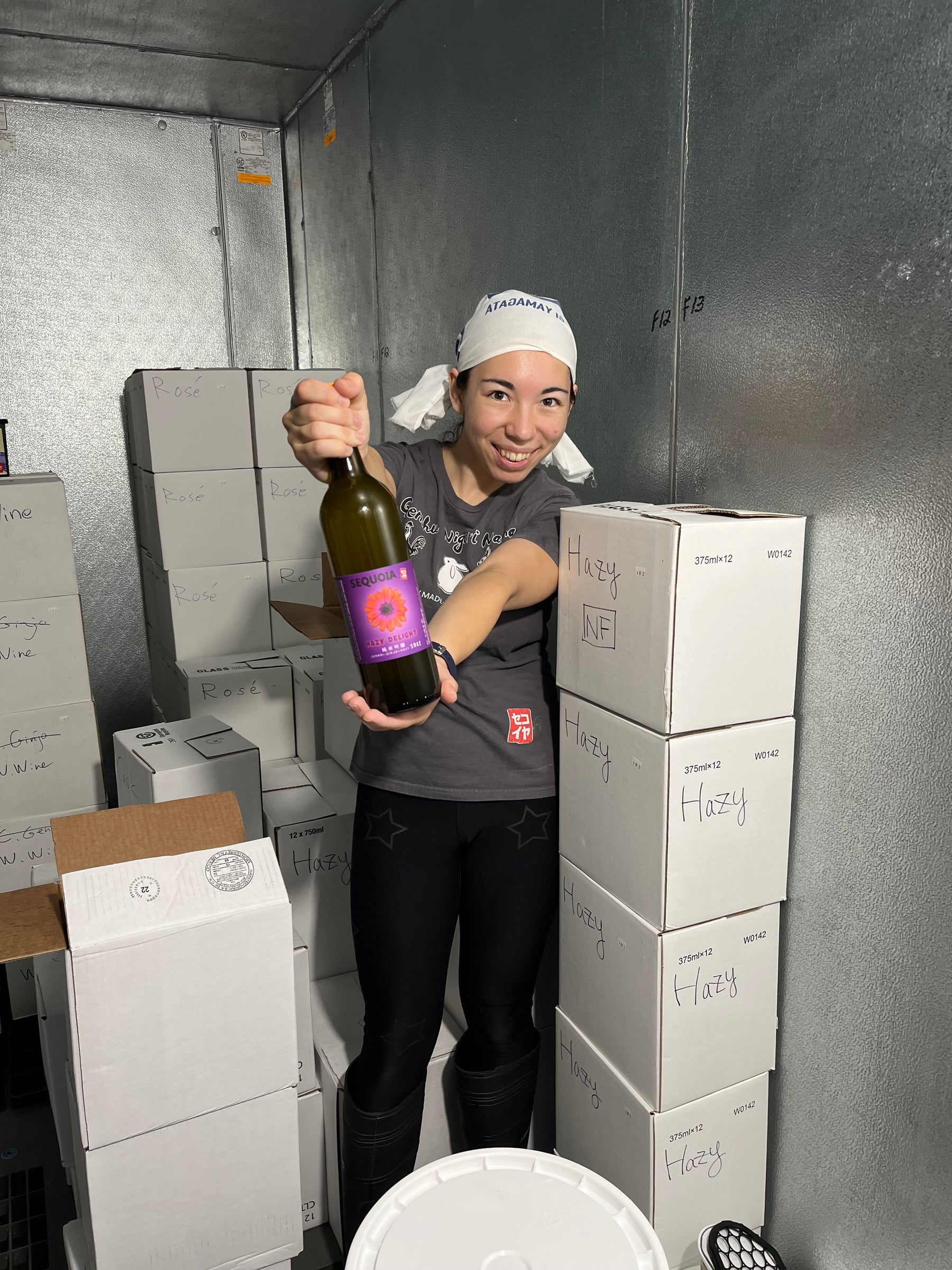 Sequoia Sake – Sake Brewer Olivia Myrick Gets "Hazy"
Guess how many female sake brewers "Toji" are brewing outside of Japan? 
I'll give you a hint: not many! There is one in Hawaii, and we are lucky enough to have two here in San Francisco. Olivia Myrick and her mom Noriko Kamei are two fermenting superstars who have put Sequoia Sake on the international map. Her mom won a Gold Medal at The Tokyo Sake Competition, and Olivia won our hearts with her brewing efforts called "Hazy Delight." 
Olivia trained at two different sake breweries in Japan, then worked another two years at Sequoia before releasing her San Francisco-themed sake "Hazy Delight". Her inspiration came when she returned from Japan and recognized that America was lacking the same diversity in nigori as Japan. Most nigori in Japan are not as creamy and thick as they are here. Hazy is a light sake with a refined refreshing flavor. What stands out most about Hazy is its compatibility with savory foods, unlike your typical nigori which tends to be reserved for desserts. She worked hard to balance the delicate earthy notes with the bright Ginjo aromatics. This balance allows Hazy to pair well with many iconic San Francisco foods, such as Dungeness crab from Fisherman's Wharf, and North beach pesto pizza. Olivia invites you to try her sake and looks forward to hearing your comments.
You will notice hints of melon, mushrooms, and honeysuckle with a soft creamy texture. San Francisco foods, from clam chowder in sourdough bread to vegan sushi, or headland's goat cheese, as well as artisan chocolate all, gain an extra dimension when paired with Hazy.
Usu-nigori as it is often referred to in Japan is a style of sake in some ways similar to nigori because we are adding a small amount of tank's sake back into the pressed sake. However, that is where the similarity ends because Olivia uses a significantly smaller amount of tank's sake plus, she lets it flow through two different filters to remove most of the rice particles, allowing only the creamy part through. Then this small amount is put back into the bottle. This gives the haze and distinct flavor of "Hazy Delight"
Olivia is continuing her research on new styles of sake as well as continuing her education in chemistry and biology as it relates to all things fermented. She is planning to release another line of sake in the fall of this year.
For a limited time only jump on the Hazy and get it before it's gone! 
From San Francisco, California. Junmai Ginjo Usu-Nigori. SMV: N/A Acidity: N/A
The nose on this local craft sake is a cool collection of peach, sweet rice, mint, yogurt, banana, melon, and creamy aromas. Say hello to a frisky, semi-sweet, slippery, semi-rich, and crisp sake that is not a Nigori, rather it is a misty Nigori called Hazy Delight. So it appeals to fans of filtered and unfiltered sake that has layers of flavors and fun feelings too. Look for lychee, Asian pear, melon, persimmon, peach, crisp apple, fleshy mango, banana bread, and a sneaky vein of sourdough bread. It's really a fresh and fun brew that is zesty with a nice dry finish. WORD: Foodie WINE: Zesty Reds/Crisp Whites BEER: Stouts FOODS: San Franciscan fare; street food, international spice, tacos, burgers, and pizza.