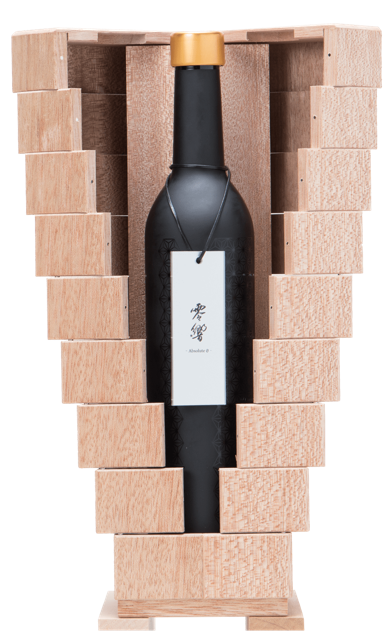 True Stories – Chris Mines the Newsletter Archives (Zero Sake)
Greetings Sake Fans and Connoisseurs,

Chris here, back at it with another newsletter column. This time around, the Boss Man has asked me to talk about Absolute 0, a sake with a seimaibuai of less than 1 percent. 
First off, I know this sounds crazy, and this is the ultimate expression of opulence in the sake world. And for those that know me, I am far from opulent. However, I am a sake nerd, and I am always pushing for our sake shop to carry everything under the sun (as long as it tastes great). But of course, we cannot carry everything... only the best. For starters, I've helped bring in the Niwa no Uguisu Doburoku, the Kita Shuzo 1996 Ginjo Koshu, the Sohomare Tokubetsu Kimoto, the Tenbu Junmai Ginjo, etc. to the True Sake lineup, and I'm always looking for more sake to carry. So to obtain my goal of stocking all things nihonshu, and being the completist that I am, yes, I am pitching to you International Wine Challenge Brewer of the Year 2022, Niizawa Brewery's Absolute 0.
How did we get to Absolute 0? Well, to simplify things, and to not get too edited down for this newsletter, we can go back to 1992. This is when the National Tax Agency of Japan created the tokutei meishoshu, a special designation sake system that separates categories based on polishing ratio. The lower the polishing ratio, the "better" a sake is. I put better in quotes as this is very subjective.
The winning formula for award winning Daiginjo sake became YK35, which is an abbreviation of Yamada Nishiki, Kobo #9, and a polishing rate of 35 percent. This formula became the norm, and gold medals were obtained. 
The timeline gets fuzzy, and I'm sure I'm omitting lots of other brewers that have taken part in the polishing wars, but at some point, Asahi Shuzo from Yamaguchi and their Dassai brand upped the ante by making Dassai 23. Then, Niizawa Brewery from Miyaga came out with Super 9 with a seimaibuai at, you guessed it, 9 percent remaining. Afterwards, at some point Tatenokawa Brewery from Yamagata came out with Shichiseiki which was milled to 7 percent. There have been rumors of Dassai Beyond being milled to single digits as well, but I cannot get that confirmed on record. Tatenokawa then came out with Komyo which was milled to an astonishing 1 percent. There's no way we can go lower than that, can we?
Niizawa Brewery did it. They milled local Miyagi rice Kura no Hana to an unheard of 0.85 percent. Anything lower than 1 percent is rounded down, hence Absolute 0. The rice takes 7 months to mill down. Smooth, with faint notes of Asian pear and honeydew, and a quiet, whisper finish. Comes in a hand-made "Tosa Kumiko" box custom-built for Absolute 0. Only 999 500ml bottles are produced annually. The cost? $5600 USD. No refunds on special orders.


Is it worth it? I cannot answer that. But one thing is for sure, if you were ever curious to try ultimate sake opulence, we are taking pre-orders for an entire weekend. Pre-orders close on Wednesday at midnight pacific standard time. If you got the dough, you won't want to miss out. By the way, did I mention that Niizawa Brewery just won IWC Brewer of the Year 2022? I know I did, but if you needed one last reason to try Absolute 0, maybe this is it?
Till next time,
Chris
Sake Nerd first, Opulence Adviser and Consultant second