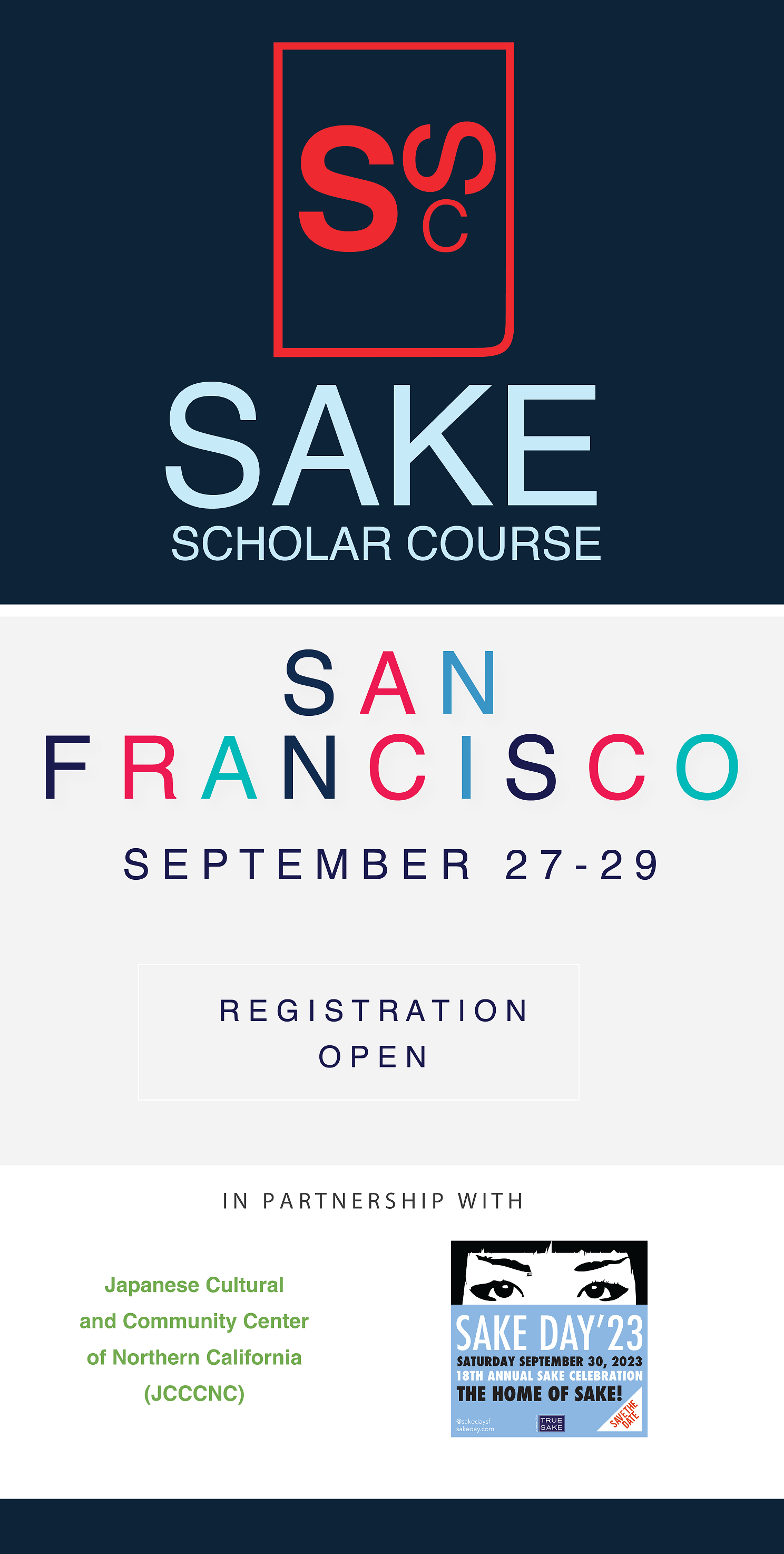 Sake Education – James Beard Winner Michael Tremblay Brings Sake Scholar Course to SF
ONLY 5 SPOTS LEFT
Yes! Great news for all Bay Area and beyond sake fans who enjoy amazing sake education programs. After a little bummer called Covid sake superstar Michael Tremblay will be hosting his outstanding Sake Scholars Course a couple of days before SAKE DAY 2023 in Japantown SF. He literally just won a James Beard Award for his book on sake called "Exploring the World of Japanese Craft Sake," in which he uses a lot of the info in his course work. If the book is good enough for James Beard then the course would be great for you! 
Michael's course is one of the best things going in the sake education world, and if you think you know everything about sake he will prove that you don't. His deep dive into the water and rice that makes up the history of sake gives you an even greater appreciation and understanding of this beverage. The best part is that you don't even have to be in the sake industry to benefit from this world class program. And you wine geeks, you will find this in-depth sake exploration an unbelievable insightful look into a libation that has many similarities to wine. 
And best of all he is hosting this course at the Japanese Cultural and Community Center of Northern California "The Center" in Japantown SF, which is about ten blocks from True Sake. The JCCCNC as you know is the beneficiary of all ticket proceeds for SAKE DAY, and if you sign up for the course you will get a very large discount on SAKE DAY 2023 tickets. 
In his words:
The Sake Scholar Course held its inaugural class in Toronto in Spring 2019.  A San Francisco version was planned for Sake Day 2020 but, alas, the pandemic 'paused' this.  After three long years since then, I am happy to announce that the SSC is coming to San Francisco…FINALLY!  
The Sake Scholar Course is dedicated to exploring the many sake regions of Japan.  This advanced course is the next level in sake education and is geared for sake experts and professionals.  It will tell sake's story through a variety of narratives, notably through curated tastings of sakes and honkaku shochu spanning many of Japan's 47 prefectures.  Students will feel like they have travelled the sake world by the end of the course and have a solid understanding of Japan's fascinating sake corners.  
Over three full days, starting with the Foundation section which provides an overview of how to explore each region and provides a series of tools to do this with, we embark on a journey that starts in Hokkaido and ends in Okinawa, tasting sake and shochu through 'Curated Tastings' from many of Japan's prefectures.  It's a huge amount of fun and the perfect way to prepare for Sake Day, the world's best sake festival!
Sake Scholar Course
SEPTEMBER 27-29 2023 
Japanese Cultural and Community Center of Northern California (JCCCNC)
For more information or to register: