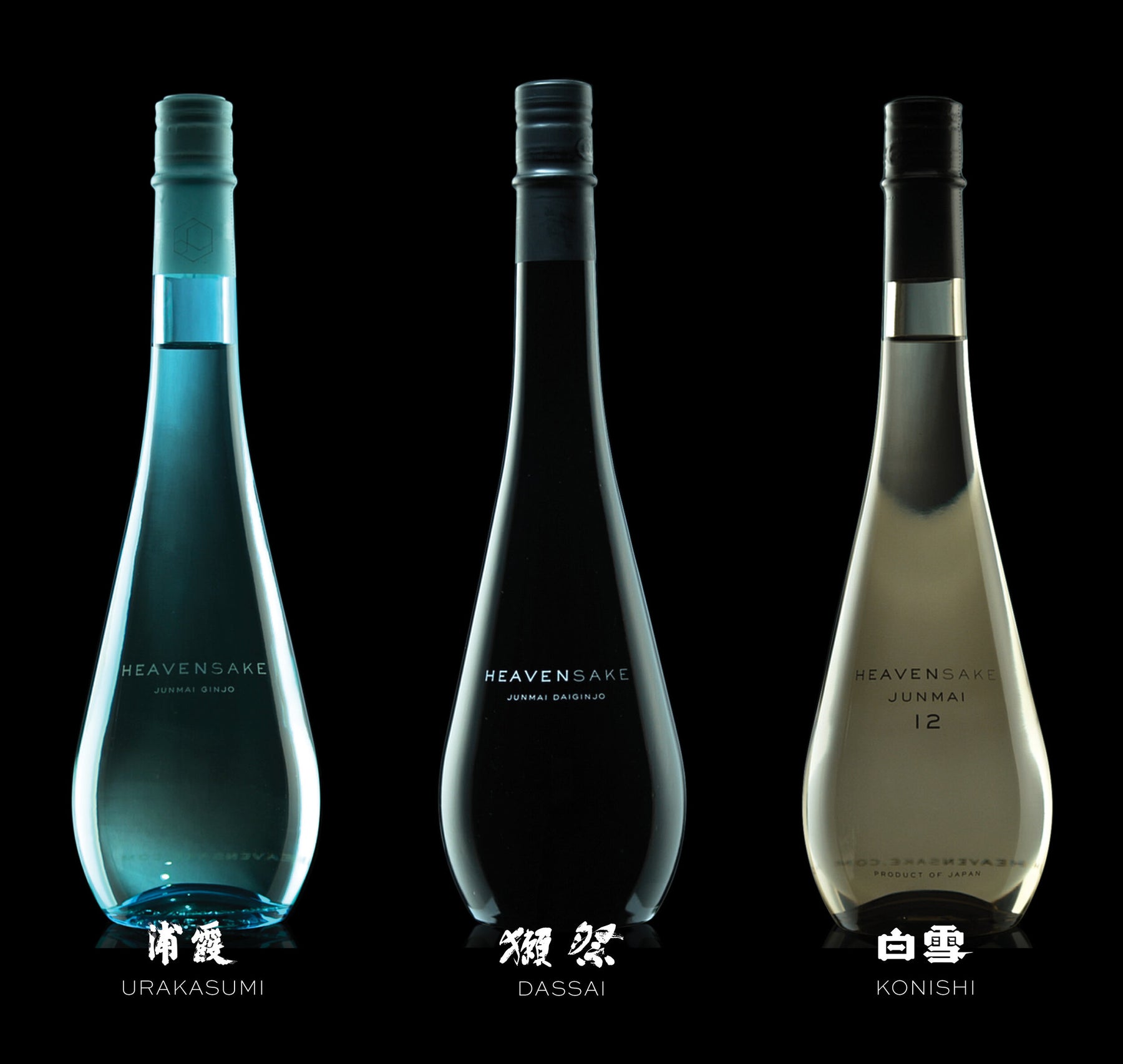 Sake Packaging – HEAVENSAKE Sets The Cool Packaging Standard
Well it's the time of year in retail when packaging means just a little bit more. The Holidays always bring new shoppers into the store, and you can track their eyes as they shop. Cool bottles definitely get selected. BUT, as I say time and time again, "We would never sell something that looks cool, but does not drink well." And with that in mind one unique name and brand pops out – HEAVENSAKE.

When we unpack bottles we smell things, we hear things, and we see unique things that customers might not. I can hold roughly 7 bottles at a time, and when a different bottle shape comes out I take note. When I first saw the bottles from HEAVENSAKE I was pretty impressed. Then I took them out of the box, put our sticker on them, and then shelved them. They clanged when they touched each other. It was the first time that I have heard this sound, and it sounded like bells almost. Clang Clang Clang, as I pulled the bottles and placed them in a row. Cool! (Sorry, goofy things like this float my boat.)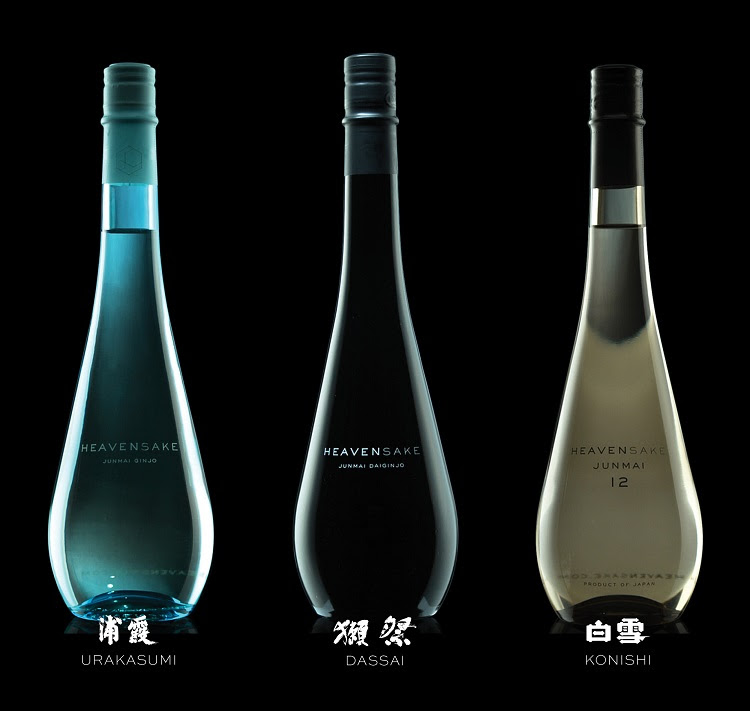 And so I did! Here are some questions that I asked Nes Rueda of HEAVENSAKE about their cool bottles and great concept sake.
Of all the bottle shapes in the Sake business, what inspired you guys to pick that shape?
"Designing the HEAVENSAKE bottle took us almost 18 months. We knew we needed an iconic bottle if we wanted to transcend the sake category like Absolut did it for vodka or Patron for tequila. The challenge was to find a shape that respected the traditionally understated elegance of Japanese culture while expressing our strong personality. We wanted to evoke the purity of water, the character of champagne and the timelessness of wine all in one. Life in a drop."
What inspired you to pick the colors?
"Once we had decided that we wanted to offer a range of products rather than one, it was clear that we would have different colours for each SKU so that they could all have their own identity, but also be easily recognisable. Sake is an intimidating category for new consumers so we wanted to make it easier for them. Our HEAVENSAKE Junmai Daiginjo is black because it expresses luxury and depth. Our Junmai Ginjo is blue to evoke the purity of water in Japan. And the Junmai 12 is a light amber to express its warmth and softness."
Has the market responded? Good in restaurants? Good in retail?
"Creating a successful alcohol brand requires a few key elements at the base of which there must be a great tasting liquid. Then you need a recognisable bottle design which awakes an emotion in people. Finally the brand name and the world created around those three elements should be aligned to create a sense of credibility and quality which then leads to desirability. If you have all this covered, you will find great people who believe in your project and want to be part of it on all the levels such an adventure requires, from the team members at HEAVENSAKE, the distributors, the sommeliers, the retailers, but also great opinion leaders of the Industry like you and your team. We are blessed to have encountered so many wonderful people who have helped us create a unique success story in the on-premise world as well as in the retail space now. There is still a long way to go but we are now very well positioned to be one of the brands which spearhead the sake movement."
Has this shape caused any problems? With boxes? The height? Hiccups?
"We faced challenges during the design process because the long bottle neck meant the thickness of the glass had to be adapted to ensure resistance. Japanese glassmakers are highly experienced craftsmen so once they had approved the technical designs we knew there wouldn't be any issues down the line. Some of our producers had to slightly adapt their production lines but we were lucky to find a solution to all the many complexities such a project brings along. We feel extremely lucky and grateful to work with such professional and reliable people at our four breweries."
After SAKE BABY any new projects? Sparkling Sake?
"SAKE BABY is our main focus as a new project at the moment. Now that JUNMAI 12 our Low ABV. sake (25% less alcohol and 25% calories) is well established in the market, our aim is to use SAKE BABY to present sake to a more playful audience. It is important not to dilute our efforts by launching too many innovations too early. But we are so obsessively passionate about creating products that expose sake to the world that we will constantly look for new opportunities to create exposure for the endlessly versatile world of Junmai Sake."
Add anything that you want to inform the readers.
"Sometimes we face "sake purists" who have mixed emotions towards brands like us who try to create a new perception and clientele for Junmai sake. It feels like, to them, having a beautiful bottle and a strong brand and marketing strategy makes them distrust the quality of the product because they believe those are unnecessary gimmicks. While we understand that there might be some projects out there who put marketing before the liquid, we have gone the extra-mile in all important areas of the project to ensure we meet the highest standards of quality and respect of traditions. From the involvement of Regis Camus, to working with names like Dassai, Urakasumi, Konishi and Hakushika but also investing enormously into exposing sake to taste makers around the world, we strongly participate in raising the knowledge and desirability of the category as a whole. What we would like to tell every sake lover out there, is that our mission is to break sake into mainstream consumption so that a great percentage of restaurants and liquor stores offer a variety of quality sake in the future. It will take projects like ours and other lifestyle oriented brands to achieve this breakthrough and we all need to work together to create the sake revolution!"

Awesome Nes! Thank you for your thoughts and insight about HEAVENSAKE.

I'd like the readers to know that I am very down with the HEAVEN style and methodology. Private labels can be a tricky thing, but these guys and gals went up and beyond and broke the mold. And talk about partners! Dassai makes their Junmai Daiginjo, Urakasumi makes their Junmai Ginjo, Konishi makes their Junmai, and their new SAKEBABY Junmai is made by Hakushika – all powerhouse brands and breweries!

Also, HEAVENSAKE is a big player in SAKEDAY and they always come strong and present so well. Usually they bring a pizza truck (when it doesn't breakdown), and we are proud to say that they will be at SAKE DAY'22.

It's time to get your HEAVENSAKE on
From Yamaguchi Prefecture. Junmai Daiginjo. SMV: +3 Acidity: 1.4
The nose on this private labeled sake made by the Dassai brewery has a loaded nose with grape, pear, apple, and lush tropical fruit aromas. Behold a profoundly expressive Junmai Daiginjo that reminds sake drinkers that rice and water can truly drink like a tropical fruit storm. How do they do it? I don't know, but I do know that you will need to bring your favorite fruit basket to collect all of the fruit expression flavors that are found on a slippery and silky fluid flow. Look for blueberry, white grape, apple, cooked pear, and pineapple flavors with a very subtle banana note that all play perfectly with a mineral kick! I cannot stop smiling when I drink this sake, because it is a lush, semi-chewy, and vivid drinking experience that works wonders in a white wine glass. WORD: Lush WINE: Fruity reds/Mineral whites BEER: Creamy ales FOODS: Champagne fare. $90/720ml
From Miyagi Prefecture. Junmai Ginjo. SMV: +2 Acidity: 1.5
The nose on this private labeled sake made by the Urakasumi brewery has a gentle collection of sweet rice, lemon peel, cocoa and crème brûlée aromas. Talk about an elegant and supremely balanced Junmai Ginjo! This heavenly sake is not your typical fruity Ginjo, rather it plays in the rich flavor zone of sweet rice, honeycomb, nougat, white raisins, and crème brûlée flavors on a fluid that is as smooth as velvet. There are earthy elements that expand as the fluid warms, and a white wine glass brings forth the most flavor and feeling. Look for hints of creamy flavors and enjoy this sake that has one of the best looking bottles in the sake biz. WORD: Smooth WINE: Fat reds/Rich whites BEER: Belgian Ales FOODS: Full-bodied cuisines that are savory and creamy. $48/720ml
From Hyogo Prefecture. Junmai. SMV: +2 Acidity: 1.7 
This private label sake is made by the ancient Konishi Sake Brewery and has a very gentle nose of hay, butterscotch, nougat, and steamed rice. The methodology of this sake is to be a super drinkable Junmai that pairs very well with foods. The mission was a success! First, the lower alc. content of 12% (instead of the typical 15-16) makes this brew gentle. Smooth, light, and compact. It drinks more full because of the Nihonbare rice varietal and the elevated acidity, which speaks to tannin lovers who enjoy a little astringency complexity in their glass. Speaking to you red wine drinkers who enjoy subtle yet complex flavors such as persimmon, apricot, chicory, dark chocolate, and caramel licks. There is a tickle of bitterness in the finish that speaks to the craft coffee crew and far more ricey expressions come out as the fluid warms in the glass. A mid-sized glass makes for more flavor bumps, but a wine glass captures the smoothness and drying finish better. WORD: Ricey WINE: Tannin Reds/Crisp Whites BEER: Light Ales FOODS: Meats, game, fowl, and fish. Complex pastas, and crisp veggies. $36/720ml