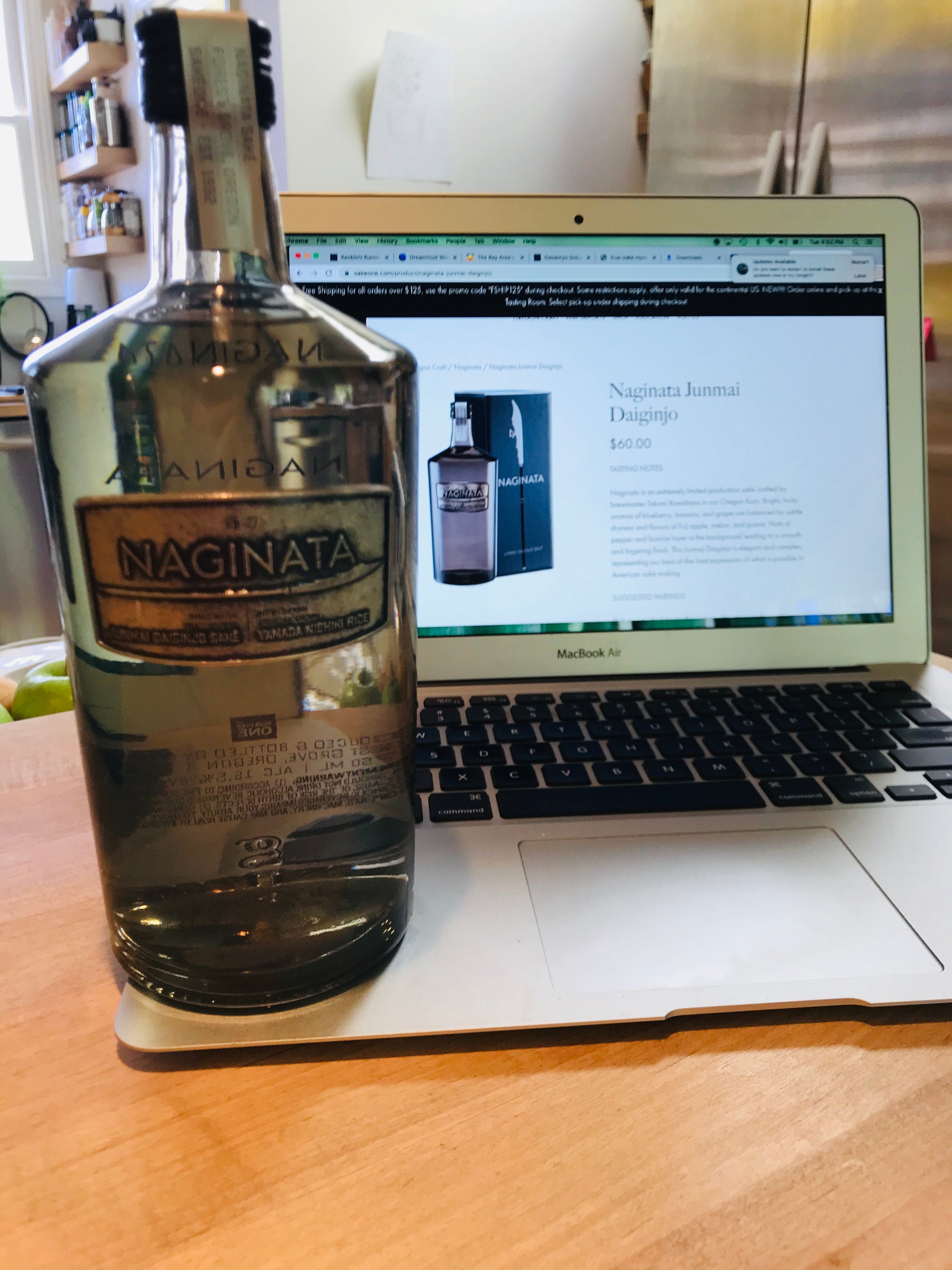 Sake Coolness – SakéOne's American Junmai Daiginjo Naginata
This article is long overdue. In a word, I wanted to talk about a very cool "sake project" by the SakéOne brewery in Oregon when I visited them several years back, but the Rona kicked off and it went on the back burner.

But Naginata is not back burner sake!

It represents the very best of the past of American-made sake and the very best of the future of sake made outside of Japan. SakéOne is a pioneer on so many levels, but this project really captures the "it" factor in sake making and promotion. And I am very stoked that their efforts paid off in such an awesome way.

But let's go back a few decades. When I first started selling sake, many customers would ask, "Why don't you sell any American-made sake?" My reply was the same and very consistent for over a decade, "We don't sell brews that you can find in large grocery stores, because this takes space on our shelves and it keeps us from offering more imported sake." This statement was sort of a lie or cover for the fact that quality was still an issue with American sake. Luckily that would quickly change.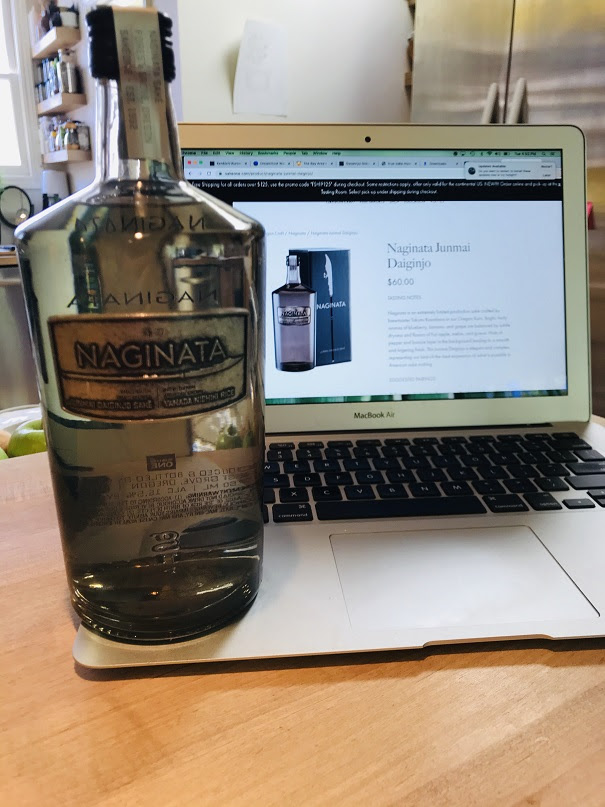 The key to upgrading American-made sake came in the form of using better sake brewing rice. That's it. And slowly certain growing efforts came on line from farms all over America. One such effort was a Junmai Daiginjo made with Yamadanishiki by Sho Chiku Bai, which was extremely secret and hush hush. The problem was that these efforts were so small, that the general public didn't have access to the end product.
As better rice growing efforts increased, along with collaborations with sake brewers and local farmers, things started to take off and we are now at a point in time when we don't need Yamadanishiki from Hyogo prefecture to make high-end elegant sake. The time is here.
And this leads us back to SakéOne and their great relationship with an Arkansas rice farm and business called Isbell Farms – the OG of Yamadanishiki in the US. (I'll do another story in a future issue on Isbell Farms, who have committed to attend SAKE DAY '22) But let's just say that this collaboration is a great blueprint for amazing things to come in the US sake making industry.
Herewith is some promotional speak from SakéOne about Naginata: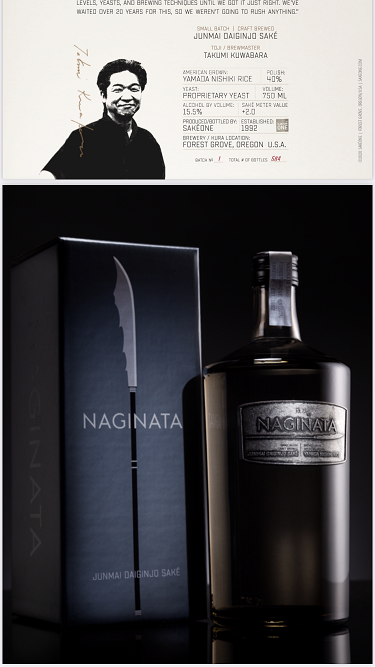 "This is the result of a 20-year-pursuit to create the greatest sake outside of Japan. Naginata is an extremely limited production Junmai Daiginjo saké brewed by brewmaster Takumi Kuwabara in SakéOne's Forest Grove kura (brewery) utilizing the abundant, soft water of Oregon's beautiful coastal range. A saké specific rice called Yamada Nishiki, grown by a single grower in Arkansas, was chosen for this project. The rice was milled to 40%, meaning the outer 60% of each grain was removed in order to utilize the starch-rich center of the grain called the shinpaku. Polishing rice in this fashion results in a clean, focused saké with fruity and floral characteristics. A proprietary yeast was used for fermentation to further highlight the fruit and floral notes yet balanced with a slightly dry finish. "We made multiple test batches before deciding on a final approach," says brewmaster Takumi Kuwabara. "We experimented with multiple rice polish levels, yeasts, and brewing techniques until we got it just right. We've waited over 20 years for this, so we weren't going to rush anything."

SakéOne, America's foremost premium saké brewer and importer of fine Japanese saké, announces the inaugural release of its "tête de cuvée" saké – Naginata. Naginata (pronounced NAH-ghee-NAH-tah) is a new brand from SakéOne created specifically for this project whose sole purpose was to create the greatest saké ever produced outside of Japan. "Experience is everything in saké brewing. After twenty-plus years of brewing saké in the Pacific Northwest, we felt the time had come to release our best-of-the best expression of what is possible in U.S. saké-making," says brewery President Steve Vuylsteke.


Brewery Location Forest Grove, OR

Founding Date 1992

Brewmaster Takumi Kuwabara

BREWERY



SakéOne is America's first craft saké producer and complements its own fine products with a growing portfolio of imported premium Japanese saké. Takumi Kuwabara brings more than 28 years of sake brewing experience to SakeOne. A leader committed to saké education at the wholesale, retail and consumer levels, SakéOne is focused on expanding the enjoyment of premium sake in the United States.



NAGINATA CRAFT BREWED BY SAKÉONE ©2020 SAKÉONE | FOREST GROVE, OREGON/USA | SAKEONE.COM

JUNMAI DAIGINJO | BATCH ONE | 584 HAND CRAFTED BOTTLES

TASTING NOTES

Bright, fruity aromas of blueberry, banana, and grape with a touch of orange blossom, balanced by a subtle dryness and flavors of Fuji apple, melon and guava. With the spices of pepper and hints of liquorice layered in the backdrop leading to a
smooth and lingering finish, this is a Junmai Daiginjo that is elegant and complex.

SUGGESTED PAIRINGS by BREWMASTER

Delicious by itself or enjoy with Salmon and Hamachi sashimi/sushi, fried chicken

and cheese burgers.

Those tasting notes were for Batch One, which accounted for 584 bottles. Today the brewery is on Batch Three. And their third batch is the largest so far with 654 bottles. The cool thing is each bottle has a handwritten sticker that has the individual bottle number on it!

So when you see Batch quantities of 584 and 654 you can sense that again these are small batch offerings. Add to that the crazy thing known as "supply chain issues," which has been a problem for the brewery to source their very cool Naginata bottles from Taiwan, and we have a limited supply to offer to you our very cool True Sake Newsletter readers.

Currently we have about 20 bottles in stock and don't expect more until 1st Quarter 2022. Given this very limited quantity we politely ask that you only order one bottle at this time, so several of your fellow sake fans can taste this historical treat.
From Forest Grove, Oregon. Junmai Daiginjo. SMV: +2 Acidity: N/A
The nose on this Junmai Daiginjo made with Yamadanishiki brewing rice from Arkansas milled to 40% is a wonderful collection of apple, melon, berries, mango, and creamy aromas. This is the 3rd Batch by head brewer Takumi Kuwabara and it is both ethereal and nuanced, which means it drinks like a high-end Junmai Daiginjo made in Japan. But that is not enough of a compliment, because Naginata is smooth, round, soft, gentle, and very elegant. Look for melon, strawberry, pear, apple, mango, and sweet rice flavors that drinks fruitier in a larger glass. It's semi-sweet, fleshy, and has a quick finish (kire) that is clean and whisper-like. Congratulations SakéOne for making a world-class sake that should not be missed by any sake enthusiast. WORD: Elegant WINE: Soft Reds/Fruity Whites BEER: Fruity ales FOODS: Sushi, sashimi, Champagne fare, grilled fish and chicken, shellfish. $59/750ml