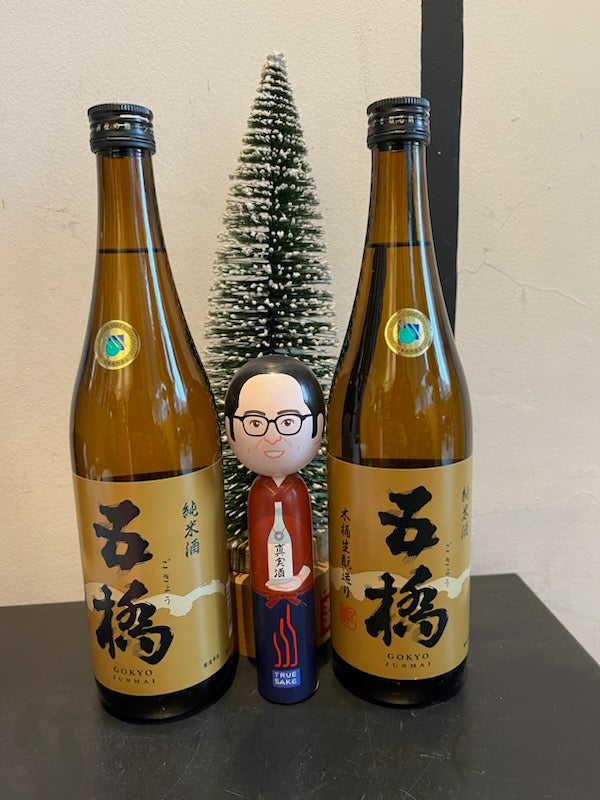 Beau-Zone Layer – Gokyo Kioke
Yamaguchi Prefecture 
Kimoto Junmai Kioke
SMV: ±0 Acidity: 2.1
A good sake store should feature a sake from most types of brewing and brewing techniques. So I am glad to say that a Kioke sake is back at True Sake. What the heck is a Kioke sake? Well, I'm glad you asked! Before fancy stainless steel vats, and before fancy enamel tanks, there were good old fashioned wooden vats. And Kioke sake is as simple as that, the use of a wooden tank to ferment sake. But wait a second there, because it's not that simple! In fact, it's quite difficult to ferment in wood, and that's why brewers choose to use fancy stainless steel and/or enamel tanks. Ah! Now you are getting it. Certain (cool) brewers choose to make sake using the more difficult wooden tank method, even though it's sort of a pain in the rear. 
In a word, sake is about control. The better the control a brewer has, the better the sake. Wooden vats have less control than the smooth surface areas of the modern tanks. As one Toji once told me, "Wooden tanks have slats and these slats are where active yeast go to rest while eating the sugars to make alcohol." When these hungry yeast pause from "eating", they throw off the balance or flow of the fermenting, and as such there is less control. 
There are only a handful of Kioke sakes available in the US, so we are very excited about this Gokyo Kioke that drinks smooth, round, semi-rich, and has great balance. Why not try a traditionally made sake that will round out your sake appreciation with a very drinkable brew made the old fashioned way.  Great chilled, great at room temperature, and great warmed!