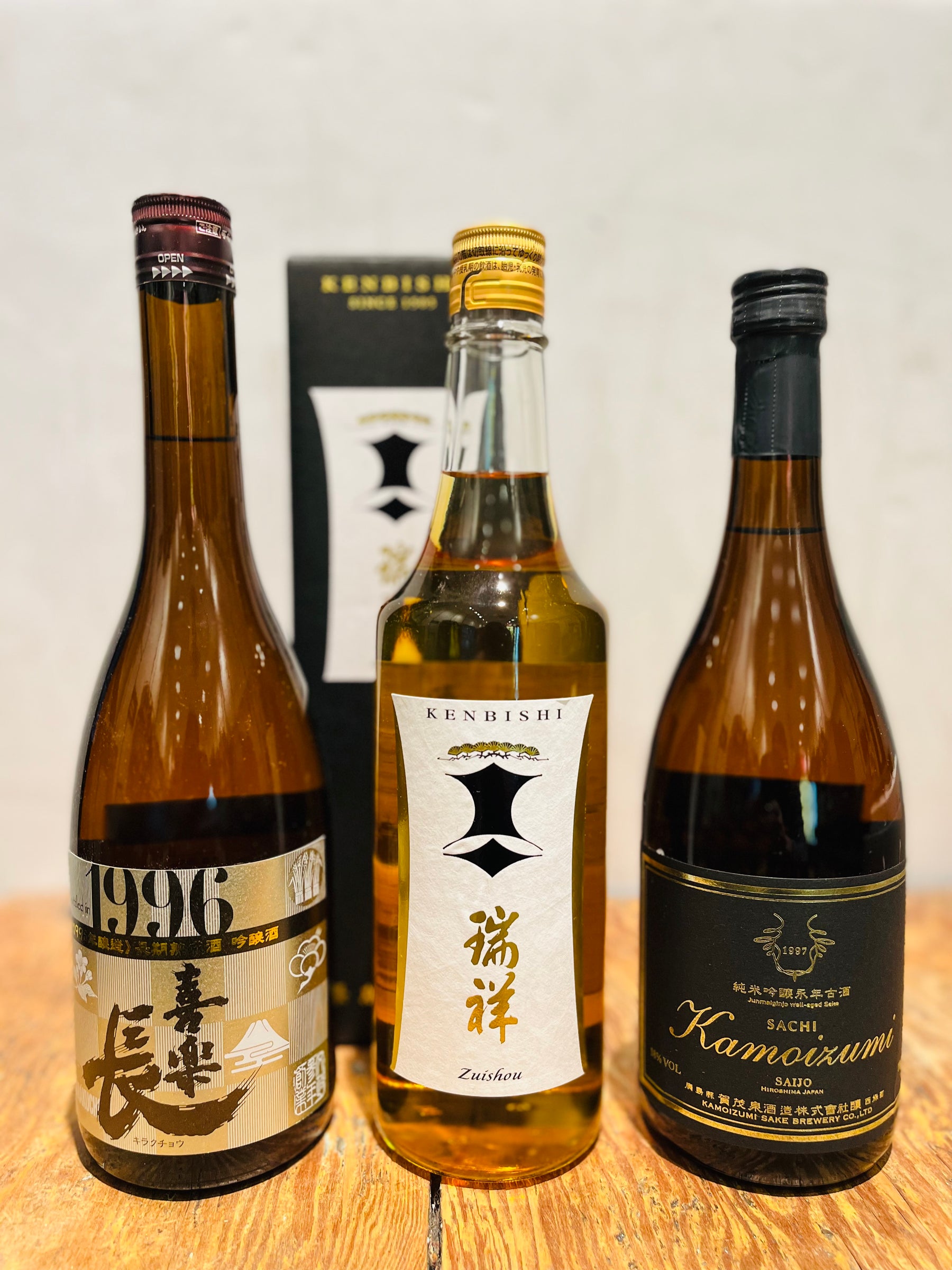 Aged Sake – Filling out our Koshu Department
In a word we love aged "Koshu" sake at True Sake. Actually, we absolutely love Koshu brews! You should see Chika's Koshu Dance. And that's why we were bummed when one of our top importers informed us last month that they would no longer carry two of the best Koshu sake in the aged sake game. (However, they did mention that a different version of the Daruma Masamune will be available soon and this is glorious news.)
In this regard, we went Koshu hunting through all of our vendor's accounts to see what aged sake was out there and what needed to be in our inventory. There are quite a few of what we call "Elegant" Koshu brews that are actually cold-aged Daiginjo that are lacking that wonderful aged color quality but are still available for those high end Daiginjo lovers. Yes, these are technically Koshu sake, but we would rather call them Junmai Daiginjo or Daiginjo sake even if they were aged for ten years, because they were super chilled in storage, so much so that the color of the fluid is still clear. We dig the colored Koshu's that get a bit more complex and funky.
So we have great news! We have identified and procured three Koshu sake for the store and one of them is absolutely brand new! Say hello to the first folks that are carrying Kenbishi's newest Koshu sake called Zuisho (Check out that color and cool box!)
We are also adding two brews that were bottled one year apart in 1996 and 1997. Koshu sake might be a little bit more expensive, but they are more rare and treasured as well. If you are learning sake, you will definitely want to try an aged sake. And if you know your Koshu sake then say hello to our new selection!
Lastly, we are toying with a new Koshu Section on the website, and will probably come up with something cool that will feature both types of aged sakes, but for now we keep them in the "Unique" Section of the website. Go check them out!
From Shiga Prefecture. Ginjo Koshu. SMV: +0.2 Acidity: 1.4
The nose on this "Koshu" or aged sake made with a table rice called Nihonbare milled to 60% is a killer collection of cedar, raisin, honey, molasses, cooked lemons, soy sauce, dark chocolate, honey baked ham, and horse saddle leather aromas. Round, smooth, soft, and both watery and velvety this koshu has a clean dry finish. The strength of this aged sake is that it is a Ginjo, which takes some of the bulk out of the fluid and lets it drink light and easy without losing complexity. Look for mushroom, cooked pear, honey, orange blossom, vanilla, crème brûlée, soy sauce, walnut, pickled bamboo, and egg custard flavors that end with a dry, smoky, and tingly finish. With an 18.5% ABV that is barely noticeable this sake oxidizes well, and rocks when warmed. WORD: Rich Light WINE: Complex Reds/Deep Burgundy BEER: Deep Ales FOODS: Smoked fish, meat, game and cheese, big pastas, steaks, chops, salami plates, Thanksgiving dinner.
From Hyogo Prefecture. Junmai Koshu. SMV: +0.5 Acidity: 2.2
Made with Yamadanishiki and aged between 5-15 years. The nose on this gloriously looking brew is a fabulous collection of caramel, butter, bonfire, marshmallow, soy sauce, sea salt, seaweed, maple syrup, stewed peaches, raisin, and bacon aromas. Round, smooth, velvety, rich and almost full-bodied this "Koshu" drinks light for the amazing color. In a word, this is a very user-friendly aged sake that is a great starting point on your path to understand why brewers age sake. Look for hints of crème brûlée, black sugar, sweet rolls, honeycomb, cocoa, white mushroom, smoked pickles, honey baked ham, chicken broth, sesame seed, and salted egg flavors that flow on a silky fluid that has a very tasty savory finish. This is not a powerful Koshu sake, but rather it is full-flavored with a rich and not too heavy feeling which is appealing to those looking to explore aged sake. With an 18% ABV it is also a very food friendly brew that takes sake to new complex, rich, and challenging cuisines, and when warmed this sake is like drinking liquid amber. WORD: Rich Light WINE: Complex Reds/Heavy Whites BEER: Amber Ales FOODS: Smoked meats, fish, and cheese, steaks and chops, cheese plates, turkey, pheasant, duck, Holiday meals.
From Hiroshima Prefecture. Junmai Ginjo Koshu. SMV: +3 Acidity: 1.6
The nose on this "Koshu" or aged sake that was brewed in 1997 and uses two different rice and yeast varietals has a stunning nose filled with raisin, cedar, mushroom, kombu, leather, cooked apple, burnt butter, honey, maple syrup, and wet wool aromas. Slick, slippery, semi-viscous, chewy, rich, round with a complex crispness, this aged beauty is an elegant Koshu that makes you appreciate what happens to sake in the bottle when there are no preservatives like sulfites. Tight, crisp, and dry when it enters the glass the fluid expands as it warms and an array of flavors come forth. Look for honey, soy sauce, plums, molasses, figs, cooked vanilla, toasted rice, dark chocolate, dates, shitake mushroom, and caramel flavors that become more round as the fluid warms. This is a dry sake lover's koshu that doesn't have the typical deep koshu sweetness. Dry, bright, with a delicious crispness this brew has an ABV of 18% and is great at three temperatures. WORD: Complex WINE: Dry Reds/Crisp Whites BEER: Crisp Stouts FOODS: Smoked meats and cheese, duck, pheasant, turkey, steaks and chops, Christmas Dinner, and cigars.