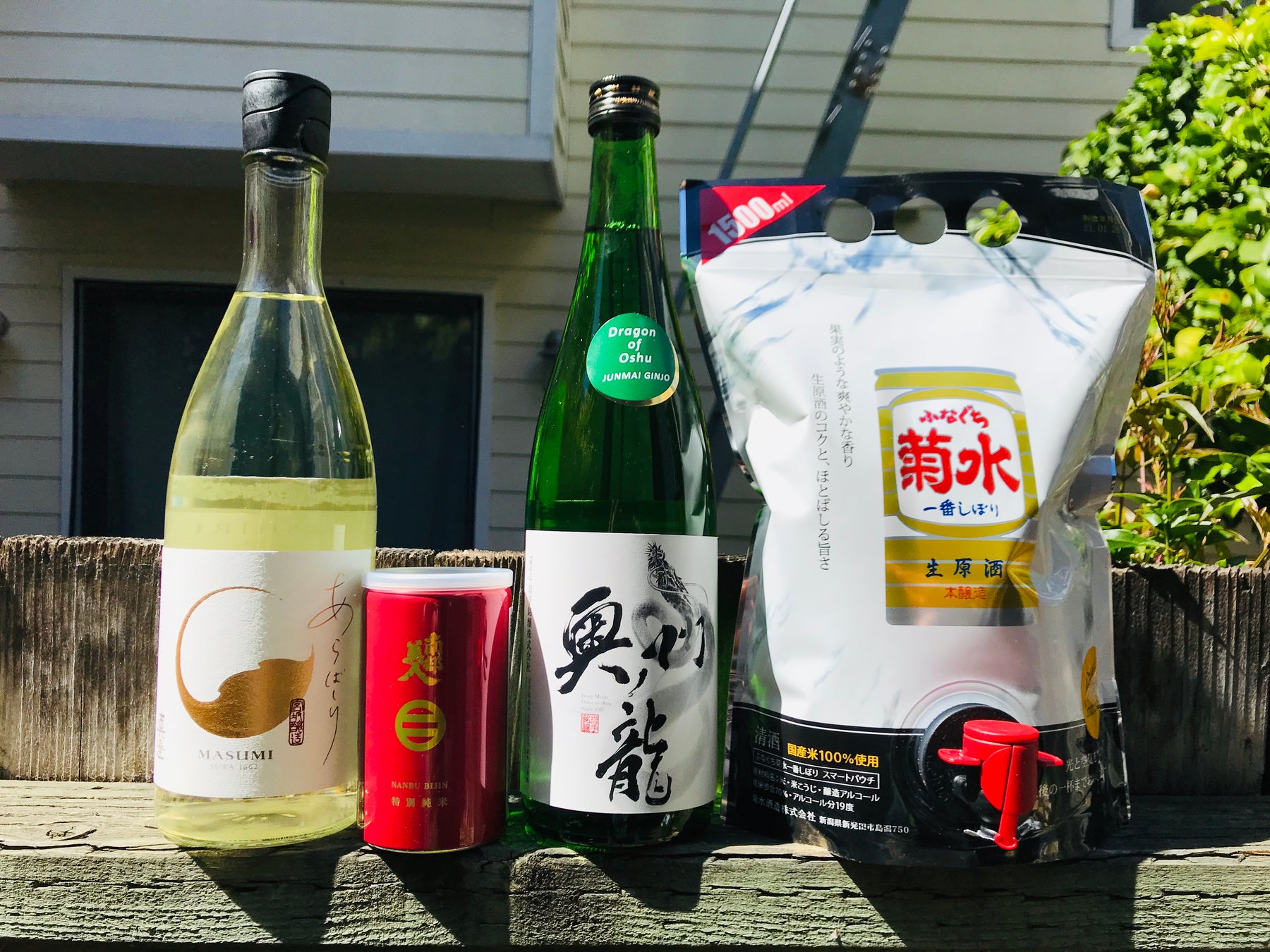 New Store Arrivals – Masumi, Nanbu Bijin, Iwate Meijo, Kikusui
Masumi Arabashiri "First Run" 2021
From Nagano Prefecture. Junmai Ginjo Nama. SMV: -1.7 Acidity: 1.9
The nose on this fan favorite, seasonally released sake, is a great collection of green apple, citrus, kiwi, melon, and green grass aromas. Say hello to a new label and a new expression of Masumi's Arabashiri that has been at True Sake for over a decade. This season's version has a little more upfront sweetness, but don't be alarmed because it's glorious. Zesty, frisky, juicy, bright, and semi-viscous, this brew dances with layers of fruit tones and has a nice slippery finish. Look for grape, citrus, apple, pear, fleshy papaya, and melon ball flavors that create chewy fun action. With 18% ABV this living and breathing brew is a wonderful food pairing sake that drinks great with a meal and just as great by itself. A larger glass brings forth more activity and wine-like elements. WORD: Fruity WINE: Bright Reds / Crisp Whites BEER: Fruity Ales FOODS: Sushi, sashimi, International spice, acidic cuisines, cheese and fruit plates, Oysters, and shellfish. $39/720ml
Nanbu Bijin Tokubetsu Junmai "Southern Beauty"
From Iwate Prefecture. Tokubetsu Junmai. SMV: +5 Acidity: 1.5 
The nose on this IWC Champion sake is a wonderful collection of pecan, almond, peach cobbler, apple pie, wheat toast, and creamy aromas. What can you say about a sake that is made in a very small town, but has conquered the world? This brew is the ultimate explorer Junmai that is great with food, but also world class just drinking by itself. Using a very local rice varietal called Gin Otome milled to 55% and using their special brewing water Nanbu Bijin has set a standard with this sake that should be on very enthusiast's bucket list. Round, soft, light, creamy it drinks with a rolling smoothness that is part rich and part ricey with large amounts of that 5th taste known as umami. A small cup brings forth more umami and hints of nougat and caramel. A mid-sized glass extols breakfast cereal qualities and highlights a superb finish. A wine glass brings out the juicy, silky, and balanced rice play that highlights the pure definition of this sake. When warmed look for brown sugar and sweet corn flavors on a soft fluid. Balanced sake at its best. WORD: Balanced WINE: Round Reds/Rich Whites BEER: Creamy Belgian Ales FOODS: Soups and stews, burgers and chops, steaks and chicken. $35/720ml 
Iwate Meijo Oshu no Ryu Junmai Ginjo "Green Dragon"
From Iwate Prefecture. Junmai Ginjo. SMV: +3.5 Acidity: 1.5 
The nose on this Junmai Ginjo that is milled to 50% is a cool collection of cucumber, honeydew, strawberry, pear, and butter cookie aromas. Say hello to a great sake that has tremendous flavors and even tremendous-er feelings. It's round and soft right off the bat then you feel the richness and depth followed by a thick but lean feeling. How do they do that? We don't know, but maybe it has something to do with the very unique Gingina rice varietal that creates an amazing flavor field. Look for apple pie, honeydew melon, cooked pear, blood orange, blueberry, banana bread, and a tasty salinity with a white pepper finish. There is a lot of shibumi to this brew, which highlights a young Asian Apple Pear theme that also welcomes "Kire" or quick finish. A seafood pairing specialist. WORD: Fruity WINE: Complex Reds/Fruity Whites BEER: Fruity Ales FOODS: Sushi, sashimi, chicken, and pizza. $32/720ml
Kikusui Funaguchi Gold "Smart Pouch"
From Niigata Prefecture. Honjozo Nama Genshu SMV: -4 Acidity: 1.7
The nose on Gold is a mix of banana bread and honey. This guy is fat, chewy, viscous and packs an uppercut that feels good on the train ride home from work. (They are coin dispensed in Japan) There is a lot of impact from the 18% alc content and the flavor is rich sweet with honey and yeasty tones. It goes well with lots of spicy foods because it is such a blanket of flavor and feeling. It's pretty huge! WORD: Big WINE: Huge reds and sweet whites. BEER: High alc ales FOODS: All spice dishes from anywhere in the world, salty fare, pub snacks. $39/1500ml