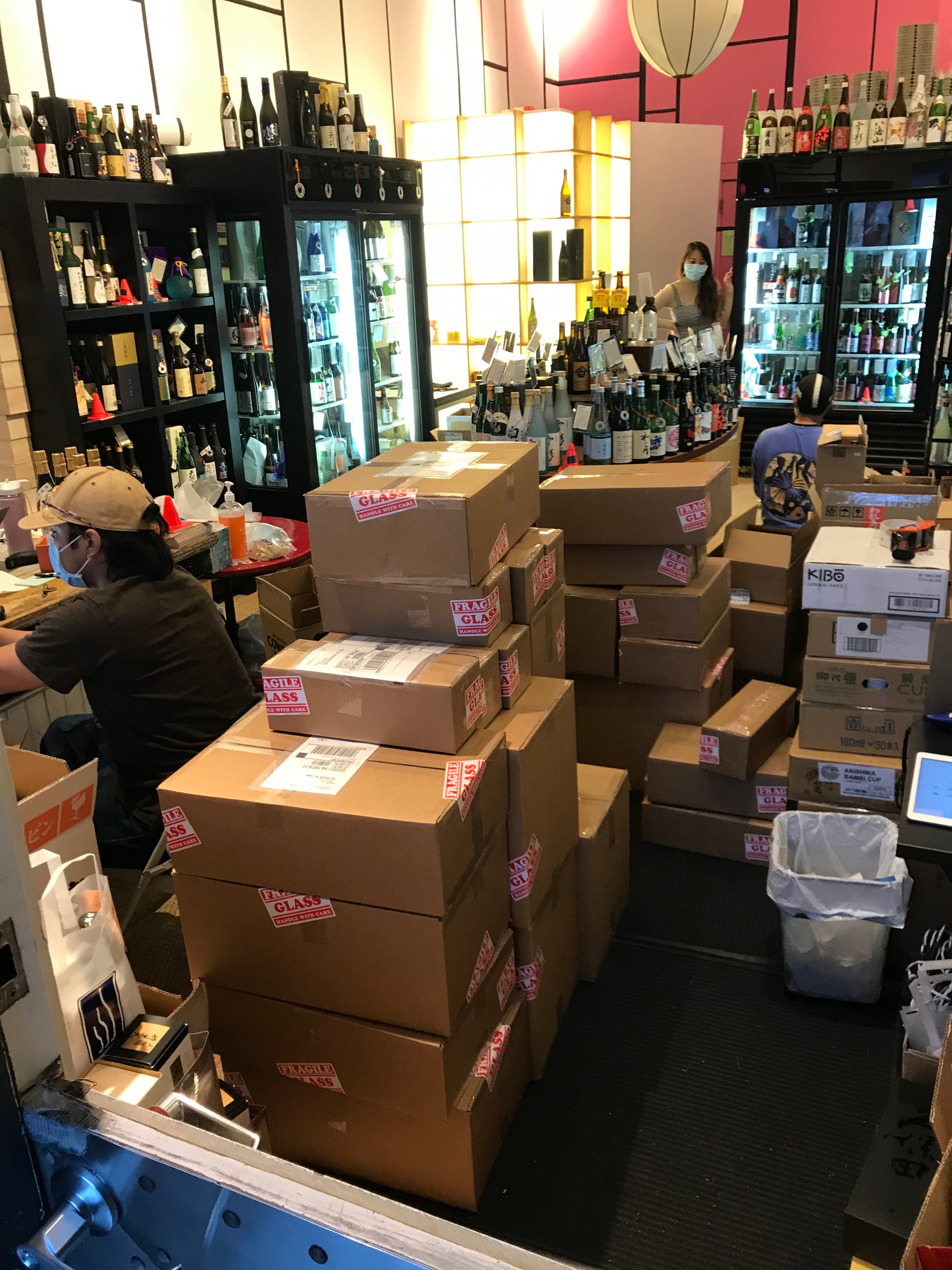 True Store – Slowly Welcoming You Back Into True Sake
Have you missed browsing the sake selection in person? Have you missed those moments of being surrounded by hundreds of different sake bottles and those wonderful labels? Have you missed us, on the other side of our split door? Well, we've missed you, and are getting ready to do something about it. 
Starting later in the month (Friday May 21st) we will open the doors to customers on Friday and Saturdays in a slow rollout to eventually being fully open. Why not open fully right now? You know the answer to that! We have an extremely small store, and it's that simple. There aren't that many 6-foot circles in floor space, and we have 3 to 4 employees working on each shift. Working within city guidelines we wanted to test things out in a limited capacity at first to determine the best approach and store layout for the future. 
Also, because of the overwhelming amount of product that we have sold during the pandemic to our shelter in place customers, we are dealing with much larger orders from our distributors that only get delivered on certain days. This is out of our control. For example, we are SLAMMED on Wednesdays. Imagine trying to navigate the store with 30 cases of delivered sake on the floor, 15-20 built boxes for shipping, and those 4 wonderful True Sake Crew Members! There literally is no room, and that would make it very difficult to operate with customers in the store. Again, it's that simple. 
But let's focus on the good news! Starting on Fridays and Saturdays we look forward to opening the doors to you and all of your sake passions! We are excited to walk you around the store showing you some favorites like the Junmai Table, the Ginjo Cabinet, the Daiginjo Tower, and of course those fridges filled with wonderful unpasteurized sake galore! The store will be back in shape with the reviews and price tags on full display, and there will be plenty of ventilation. 
We just need your attention and support to make the new rollout successful. Of course masks are still required by the city for indoor shopping, and we will limit the number of customers to TWO for the aforementioned size issues. And for the time being we will not accept cash. Lastly, instead of us having to wipe down bottles constantly, we ask that you let us grab the bottles for you. We are excited to be at your service!