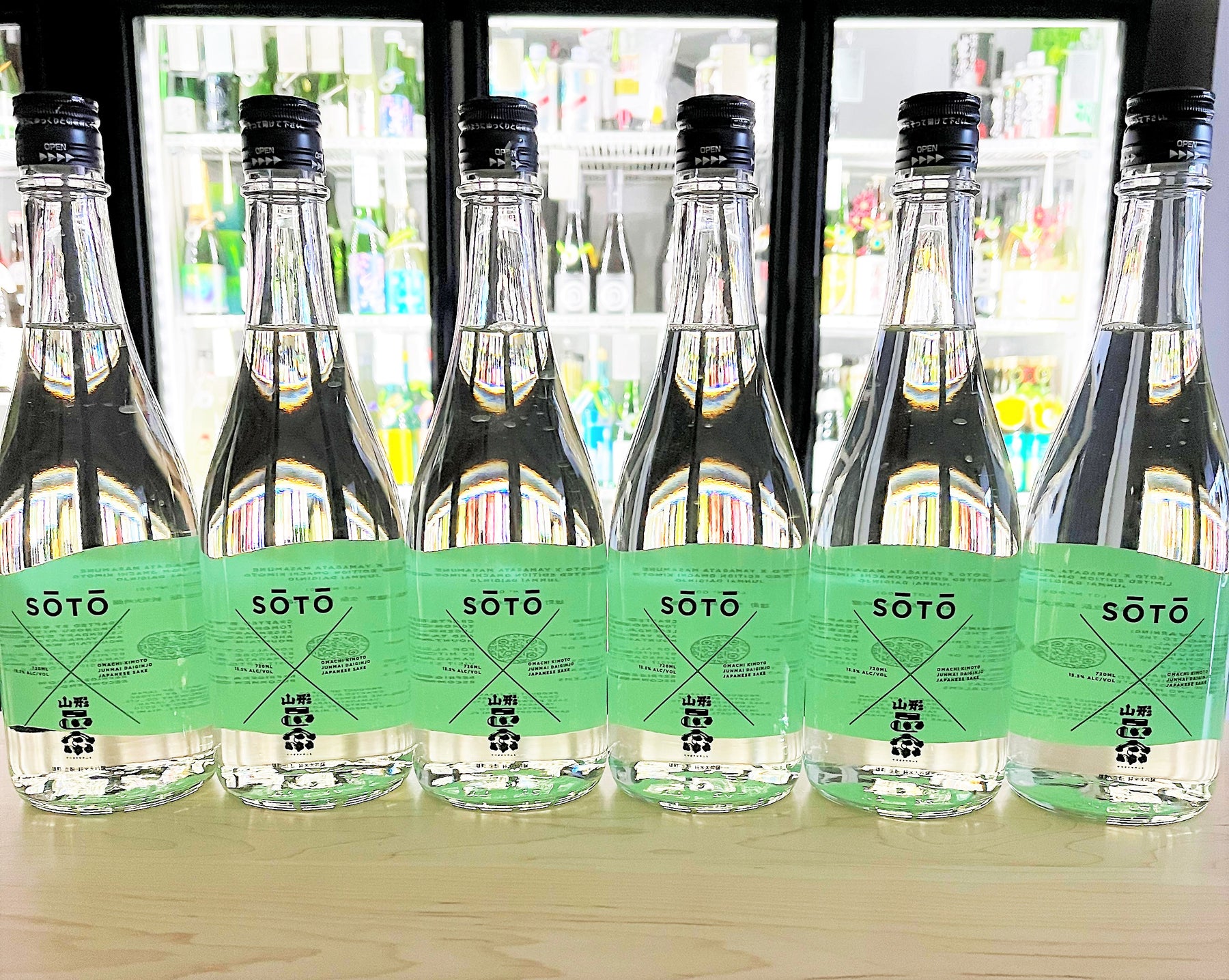 Sake Moments – A "One of Kind" Sake Made Only Once By Yamagata Masamune
The cool thing about sake is that it keeps getting cooler! We know the history, we know the brands, we know the makers and everything is changing. Everything in sake always changes, despite it being a libation that is always supposed to be consistent in technique and character. It's like each new sake brewing season brings us another first. 
And so a "project" and "concept" sake by the brand SOTO Sake is dancing on this new type of change, and luckily you get to be a part of it! And we are stoked, because the project involves many of our favorite things from the rice varietal (Omachi) to the technique (Yamahai) to the "Introducer" (Michael Tremblay) to the maker (Yamagata Masamune). And it's a single batch. That's it. One tank of goodness then it's in the history books. Here today for today and gone baby gone, never to be brewed again. It's literally a slice of sake history that was targeted, teamed, and tested for a select group of people, who enjoy and work with the brand SOTO Sake. 
And as we sell SOTO sake, as we are friends with Michael Tremblay, and as we've been wanting for ages to sell a Yamagata Masamune product, this brew is a lightning bolt of goodness, and it's at your disposal for a very limited time. (Like a very limited time!) Herewith is Jenn Ross of SOTO Sake to tell you more about this special project, and don't forget to see the In-Store Tasting Section that allows you to taste this brew and buy it at a discount on Saturday May 13th. 
Yamagata checks all of the right boxes when it comes to sake making, such as cold wintertime temperatures, pristine mountain water for brewing, and high caliber rice to name a few.   It's the reason that this northwestern prefecture on Japan's main island of Honshu is home to many (many!) of the country's top sake breweries.   When SOTO decided to establish a new limited-edition series as a thank-you to its customers, this was a natural starting point in finding the perfect brewer for No.1.   The limited-edition project is aimed at introducing SOTO customers to jizake producers (craft brewers in the truest sense) that make sublime sake in their respective corners of Japan. 
SOTO approached Michael Tremblay, a Sake Samurai and founder of the Sake Scholar Course, to find a brewery that would be a good fit for the project.  The sake had to be not only spectacular but also food friendly to co-exist with all kinds of cuisines.  The decision was made to work with Mitobe Sake Brewery, a small producer located in the center of Yamagata's Mogami Basin, bookended by the Ou mountains and Dewasansan mountains to the east and west respectively.  Fifth Generation Master Brewer Tomonobu Mitobe's sakes were highly admired by Michael and SOTO cofounder Dan Rubinoff, where both had the opportunity to try the Mitobe Sake lineup in a variety of settings for many years.  
The magic at Mitobe Sake starts with their brewing water.  It has a naturally higher mineral content than the average found at other breweries in Yamagata.  This medium hard water can be felt on the tongue as you taste the brewery's sakes.  No matter which sake you are tasting, there is usually a sharpness on the finish and a very subtle salinity that make Mitobe's sakes unique and fresh.  It's one of the reasons that Mitobe Sake's key brand is called Yamagata Masamune, named after the famous (and sharp!) samurai swords of Goro Nyudo Masamune, a 13th century swordsmith.  
Apart from the spring water used by Mitobe Sake to craft this limited edition, it was decided that the sake would be a Junmai Daiginjo sake (a sake where the rice is polished down to a minimum of 50% of its original size) and crafted using the ancient Kimoto brewing method.  Junmai Daiginjo sakes typically have an element of fruity and floral elements to their aromatic profile, and a lighter, more delicate palate.  The Kimoto technique lends a richness and complexity to the palate that works well with Mitobe Sake's semi-hard water and the rice used to make the sake: Omachi.
While Mitobe is considered a 'Domaine' brewer, or a brewer that grows their own local rice (a rarity at the moment in Japan), SOTO and Mitobe Sake decided to use the ancient heirloom rice Omachi for this sake.  It naturally works well with the brewery's harder water, not to mention that Mitobe-San is a master at bringing out the depth of flavor inherent in Omachi, which is considered Japan's oldest sake rice.  
In Mitobe-San's own words, here is a little more about this very special sake:
"This time, we're working on a limited-edition sake with SOTO.  The reason we made this sake was because it will be marketed abroad.  We want people who have not yet tried a Japanese drink to try the best of the best in terms of quality.  
Omachi is an ancient rice which has a lot of history, from which we can create a wonderful sake.    I'm a great fan of Omachi rice.  We're doing this in hopes that everyone can enjoy it.  In the Kimoto method the proportion of rice polishing is usually 60%, but we did it at 50%.  We did it thinking that we wanted to produce a drink that is more refined and elegant.  
With respect to water there are many things to talk about. The water we use is 'harder' than normal.  Despite that in the modern way of making sake, the current brewing [called Sokujo], softer water is usually used.   When I started sake brewing, I did various experiments to try and soften the water.  Since we have such a wonderful spring on my property it doesn't get better than that.  There's no reason not to use it.  Instead, we adjusted [the sake making] to make a sake that goes well with that water.  I think they are very good features."
The SOTO x Yamagata Masamune Limited Edition Omachi Kimoto Junmai Daiginjo is one of the most interesting sakes you will ever taste.  It has aromas of honeydew melon, candied apple, honeysuckle and ripe wild strawberry with subtle herbal accents.   The palate echoes the fresh fruit aromas with juicy ripe melon and apple flavors with an exotic array of fresh cut herbs and subtle baking spice such as mint, tarragon, and fennel.  What is most remarkable about the sake is the textural structure, where wet stone minerality, refreshing acidity, and lingering silkiness taper into a beautiful sharp and crisp finish - a signature of Mitobe Sake. There's also a complexity and depth in the layers of flavours that Omachi, and the Kimoto method, are famous for.
The sake is best served chilled in a wine glass where all of the delicate aromas can be explored.  If you are trying this sake with food, don't just try it with Japanese food!  Savory mushroom pizza, duck confit and a charcuterie board are incredible with it.  
-Jenn Ross-
SOTO "Mitobe"
From Yamagata Prefecture.
Kimoto Junmai Daiginjo.
SMV: -5 Acidity: 2.0
The nose on this highly crafted "single tank" sake from the legendary Yamagata Masamune sake brewery is a clever collection of pear, green apple, honeydew, molasses, peach, and mineral water aromas. Have you ever wanted to taste a high-end sake that checks all of the boxes? Using premium Omachi brewing rice, made using the traditional "Kimoto'' or pole-rammed technique, and featuring an elevated acidity level this single-pasteurized brew would appeal to wine drinkers and those who love "technique-driven" sake. Clean and layered, zesty, fresh with a slippery complexity, and featuring a peek-a-boo acidity with a crisp finish this SOTO rocks a wine glass. Look for Asian pear, apricot, citrus, melon, and minerals on a silky flow. Lively and tasty, this "project" sake is absolutely worth trying as they only made one tank and you have a chance to be a part of sake history. WORD: One Tank WINE: Zesty Reds/Crisp Whites BEER: Crisp Ales FOODS: Ceviche, charcuterie, cheese plates, grilled white fish, duck confit, risotto, and ponzu dishes.