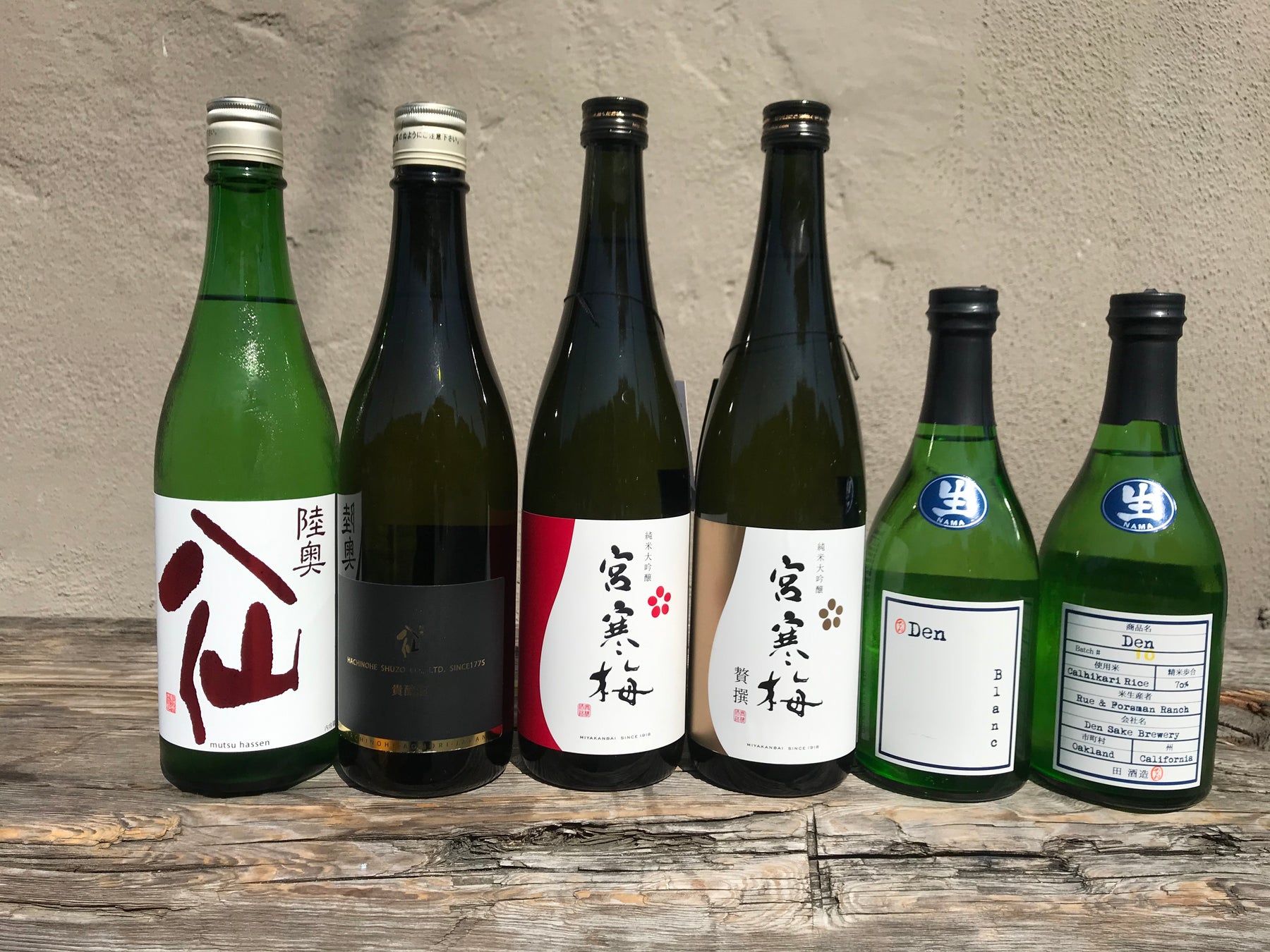 New Store Arrivals – Mutsu Hassen, Miyakanbai, Den Blanc
From Aomori Prefecture. Tokubetsu Junmai. SMV: +2 Acidity: 1.3
The nose on this super popular Junmai sake is a lively collection of red apple, grape, blueberry, and mango aromas. Some sake breweries are known for a "flagship" brew that symbolizes the brewery and their techniques. Say hello to a very well known sake from a stalwart brewery. Zesty, frisky, spritzy this brew is bright, lively, and juicy and it drinks exactly how they want to make it. Talk about a different breed of brew look for apple, pear, Asian apple pear, peach, and a touch of orange soda flavors that drink crisp in the glass. Again this sake is made with rice and water only but there is a basket full of fruit flavors and even a hint of Jolly Roger Candy. A mid-sized glass works best for the acidity and the action.  WORD: Technique WINE: Beaujolais BEER: Fruity Ales FOODS: Fruit and cheese plates, champagne fare, bright dishes, and American sushi. $45/720ml
From Aomori Prefecture. Kijoshu. SMV: -21 Acidity: 3
The nose on this specially made type of sake is an amazing collection of yeast, lemon peel, apple, and grapefruit aromas. Say hello to a wonderful category of sake called Kijoshu, which is essentially sake that is made with more sake in place of water during the fermentation process. Huh? Wouldn't that make the sake super sweet and cloying? Take a sip and then listen to the resounding NO from the great brewers at the Mutsu Hassen brewery. This intriguing brew drinks bright, fruity, crisp and has a tantalizing acidity play. Zesty and tingly the fluid literally bubbles through the palate like a lesser version of soda. And get ready to get some citrus senses going as there are several versions of lemon-like flavors such as lemonade, Lemoncello, lemon sorbet, Lemonheads, and lemon honey tea as the fluid warms. Also discover crisp apple, white grape, and apricot effervescent goodness. A little more sourness emerges as the Kijoshu gets to room temperature, and a larger glass vessel like a white wine glass works best to distribute the acidity. For fun try pouring a glass and putting it in the freezer on a hot day. WORD: Dexterous WINE: Sour Reds/Crisp Whites BEER: Citrus Ales FOODS: fruit and cheese plates, shellfish, ankimo, citrus based dishes. $79/720ml
From Miyagi Prefecture. Junmai Daiginjo. SMV: -1 Acidity: 1.5
The nose on this elegant Junmai Daiginjo is a cool collection of berry, peach, melon, and honey aromas. Say hello to a very flavorful and mellow Junmai Daiginjo that drinks like a smooth dream. Round, soft, juicy, and silky this brew is the definition of relaxing with a glass of sake. In a word it is gentle and extremely drinkable and that is a good thing – a very good thing. A wine glass works best to explore the flavor field of apple, pear, strawberry and mineral water tones. As the fluid warms in the glass take note of a subtle layer of honey flavor that makes the experience all the more soothing. Elegant, soft, and as gentle as a whisper that fills your palate with wonderful sake calmness. WORD: Smooth WINE: Soft Reds/Round Whites BEER: Fruity ales FOODS: Champagne fare, sashimi, sushi, shellfish. $51/720ml
From Miyagi Prefecture. Junmai Daiginjo. SMV: +/-0 Acidity: 1.5
The nose on this special sake is a great collection of pear, red grape, veggie, cut grasses, bamboo, and blueberry aromas. With a nose like that what the heck is in the glass? Let's just say that this ultra Junmai Daiginjo that is made with one of our favorite brewing rice varietal – Kura no Hana milled to 40% remaining – has a sneaky complexity that will baffle and reward your senses with each glorious sip. What the heck is sneaky complexity? Basically, it's a sake that tastes great and is a joy drinking but it makes you think! Thinking while drinking is the best. Smooth, round, layered, semi-sweet, velvety, rich, and clever this brew is like magic in your glass. Look for pear, yellow apple, grape, sweet rice, and lots of ricey umami licks. And coolest of all the fluid has a rolling richness that literally moves across the palate. A very even and balanced JDG that pokes you in the side of your head as you enjoy each sip, and asks "am I complex or what?" Quaffable Complexity. WORD: Clever WINE: Rich Reds/Layered Whites BEER: Creamy Ales FOODS: Salty and savory fare, sashimi, creamy pasta, shellfish, grilled chicken.  $56/720ml
From Oakland, California. Nama Junmai. SMV: -1.5 Acidity: 3.3
The nose on this very unique sake made with white koji and the typical yellow koji (mold) has an amazing nose filled with citrus, floral, green apple, grasses, and koji rice aromas. This is a very tasty new sake expression from Yoshi at Den who wanted to try brewing with a white koji like they use in shochu.  Lively, and bright you immediately taste a wonderful array of acidity and flavors that jump in the glass with an astringent kiss. Look for a kaleidoscope of flavors such as tangerine, lemon, grapefruit, green apple, grape, black berry, and umami goodness. There are tannin-like elements that appeal to wine drinkers and a sweet and tart profile that hints at a sneaky sour vein that makes this sake quite fun to consume. And talk about a food-pairing monster! Lastly, Yoshi had a special helper (me) while making the first batch of this expressive sake creation.  WORD: Citrus Basket WINE: Tannin Reds/Zesty Whites BEER: Lemon Ales FOODS: lemon, fruit salads, and lemon chicken. $29/720ml
From Oakland Prefecture. Nama Junmai. SMV: +3.1 Acidity: 2.6
The nose on this 11th version of single batch craft brewing is a vivid collection of green apple, vanilla, grape, nutty and yeasty aromas. Batch #11 keeps in-line with Yoshi's style of creating lively, bright, and expressive sake that tingles the senses and cries out for amazing food pairings. Fresh and fleshy this batch jumps in the glass with a tantalizing acidity performance and a round and tingly flavor field that explores lemon and lime, green apple, grape, mineral, and apricot tones. There is a stand up astringency (Shibumi) that makes you think of unripe fruits and drinks with a complexity that appeals to wine drinkers. The legend of Den continues to grow with Batch #11.
WORD:
Bright
WINE:
Zesty Reds/Complex Whites
BEER:
Crisp Ales
FOODS:
Salty and savory, rich and bright, zesty salads, and international spice.
$29/720ml