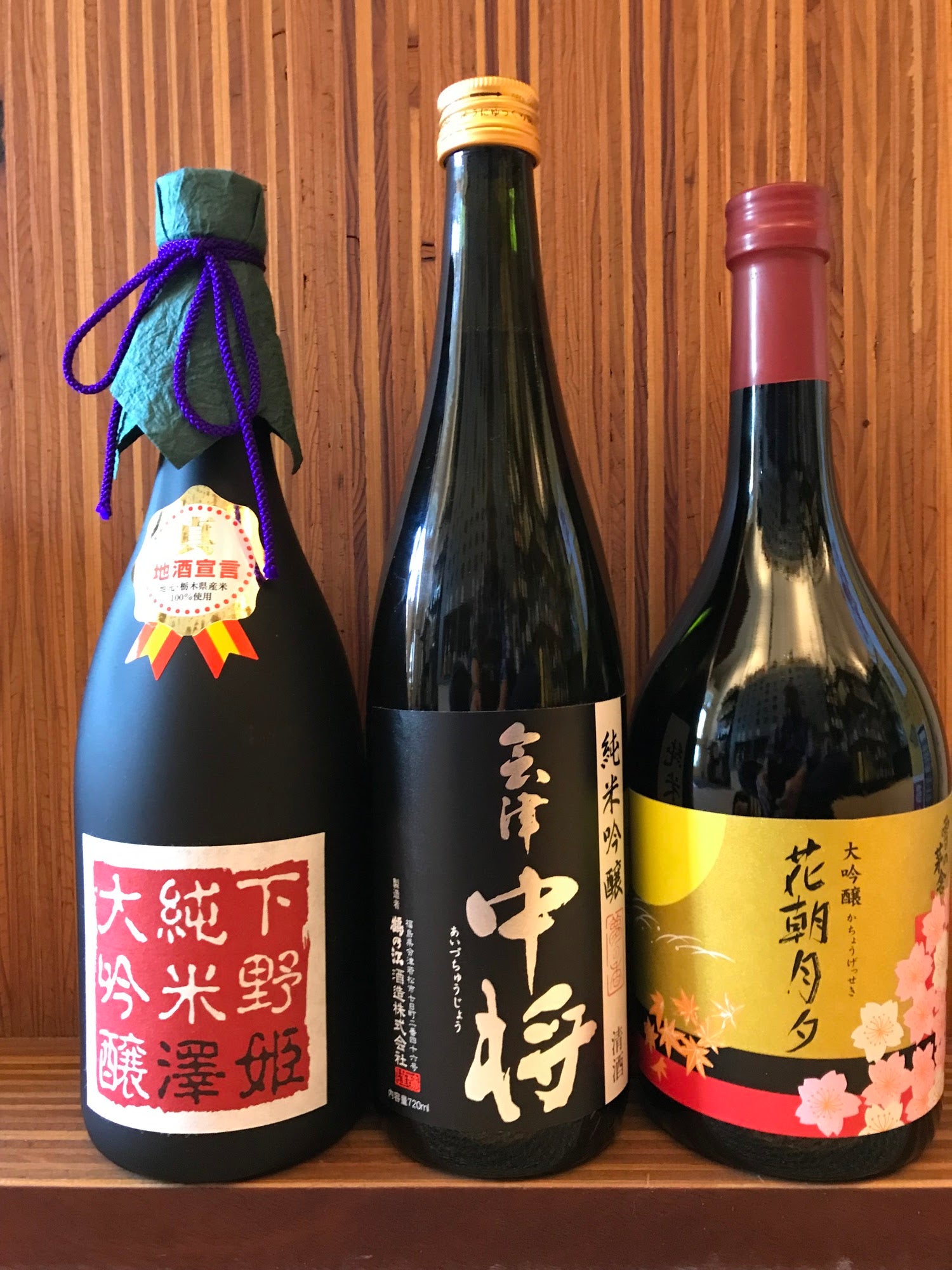 New Store Arrivals – Sawahime, Aizu Chujo, Yuki no Bosha
From Fukushima Prefecture. Junmai Daiginjo. SMV: ±0 Acidity: N/A
The nose on this very flavorful sake is a gentle collection of rose water, juniper, melon, and berry aromas. Get ready to say one of the most fun words in the sake world – Gohyakumangoku! What the heck? This is one of the most famous sake brewing rice varietals in the history of sake, and when you mill or polish each grain to 40% remaining, you are talking about a world class sake wonder. Round, smooth, fleshy, silky, compact, and a quick dry finish, this special sake drinks with a confidence and playfulness that will baffle the professionals and reward the newbies. Look for cooked apple and pear, raspberry tart, flan, ripe melon, and a tingle of citrus flavors that mingle with sweet rice tones that produces an enjoyable, semi-sweet drinking experience, and a clean and dry finish. It's a performance sake that is also controlled and appeals to complex wine drinkers looking for rice and water love. WORD: Liquid Love WINE: Full Dry Reds/Crisp Fruity Whites BEER: Fruity Ales FOODS: Sushi, sashimi, shellfish, oysters, savory pasta, and high-end meats and fowl. $80/720ml
From Fukushima Prefecture. Junmai Ginjo. SMV: +2 Acidity: N/A
The nose on this sake made with Yumenokaori brewing rice milled to 55% is a fresh collection of blueberry, melon, pear, plum, and bubblegum aromas. Say hello to a whimsical sake that feels great in the palate and brings a smile to your face with each fruity sip. This is one of those "I can't believe this is made from rice and water" fruit-bomb sakes that has a ton for fruit reflections. Such as peach, honeydew melon, pear, apple, and blueberry flavors along with a gentle push of bubblegum and blue raspberry Slurpee. But the most fun part of this brew is the slippery nature of the fluid. It's like a fruit tone Slip 'n Slide® in the palate that really lets you taste the blending of the water and alcohol in a flavor rush waterslide. Yummy! WORD: Fruit Slide WINE: Light Fruity Reds/Slippery Whites BEER: Fruit Ales FOODS: Sushi, sashimi, crab, lobster, shrimp, fruit and cheese plates, Champagne fare. $42/720ml
Yuki no Bosha Chosetsu "The Sound of Snow"
From Akita Prefecture. Junmai Daiginjo. SMV: -2 Acidity: 1.3 
The nose on this masterpiece sake is an amazing collection of raisin, pear, peach, melon, anise, floral, and tropical fruit aromas. Made by the most respected Toji (master brewer) in the sake world using Yamadanishiki brewing rice milled to 35%   this sake is a work of rice and water wonder. Wine drinkers might use the word jammy, as this brew is literally a loaded fruit basket of flavors on a thick and chewy flow. Round, lush, velvety, and smooth look for honey, peach, papaya, mango, pear jam, banana bread, bubblegum, and a hint of white pepper flavors. Some brews glide through the palate and some brews, especially in Akita, coat the mouth with a viscous flow that leaves your senses to enjoy the fluid a little longer and is better for food pairings. In a word this sake tastes expensive, because that is the hallmark of a special sake.
WORD:
Velvety
WINE:
Deep Smooth Reds/Chewy Whites
BEER:
Belgian Ales
FOODS:
Champagne fair, sushi, sashimi, shellfish, Foie gras.
$420/720ml