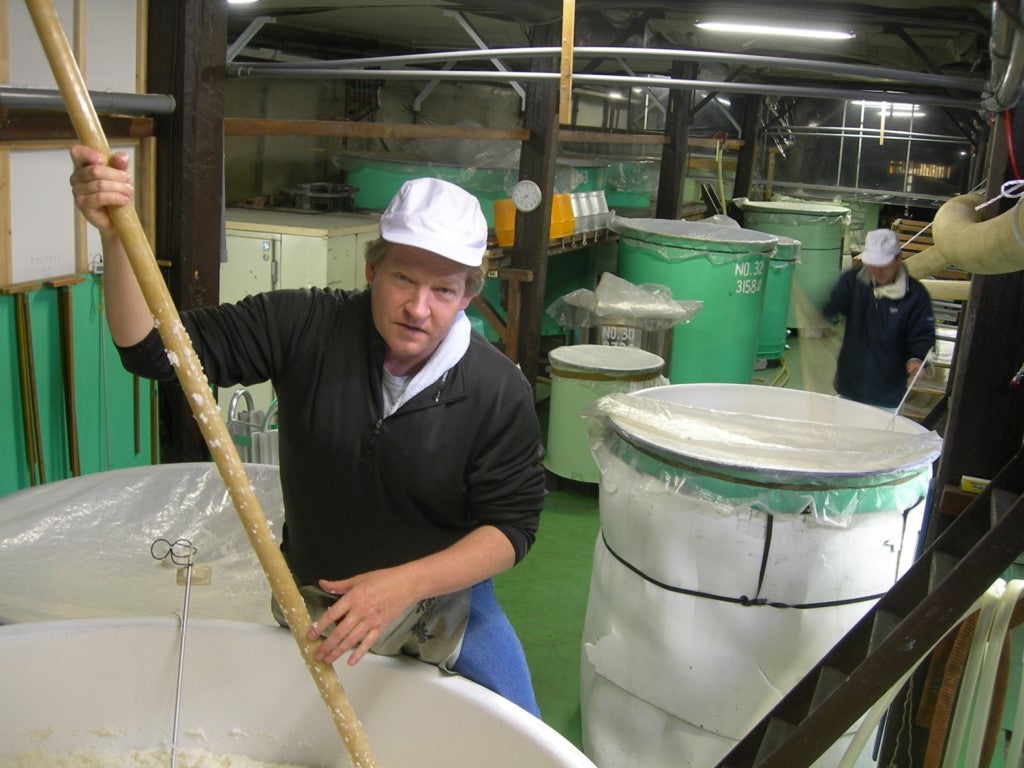 SAKE DAY – International Sake Soul of the Year 2023 Marcus V. Pakiser
It is with tremendous honor and awesomeness to award Mr. Marcus V. Pakiser this year's International Sake Soul of the Year for 2023. Both Mei Ho (Director of SAKE DAY) and I are totally stoked to share this prestigious trophy with such a deserving sake soul. We have both interacted with Marcus for the past two decades, and have taken note of the incredible impact that he has had on the International Sake scene for all this time. 
In a word, Marcus made a sake market in the Pacific Northwest. His fingerprint and stamp on the history of sake is both indelible and profound, and the entire international sake market has benefited from his presence. Marcus has made such an impact, that undoubtedly, there are thousands of sake peeps that owe their understanding and passion for sake to this incredible sake educator, promoter, and lover. 
We are very pumped to add Marcus to our growing list of ISS winners including Kazu Yamazaki and Tamiko Ishidate, who personally informed Marcus that he had won the award (a new tradition).  
In this light, we have asked Marcus to introduce himself and document his very extensive history in the international sake market. So Marcus, please take it away: 
Thank you – I am humbled by this amazing honor.
Here is my journey….
This year marks 30 years I have been working in the Sake Industry.
I lived in Noto Peninsula of Ishikawa 1988 – 1990  
I learned how to speak Japanese while living there
Moved back to Colorado and in 1993 I was hired by Hakushika USA.  They were looking for an American that knew sake and could speak Japanese…that person did not exist state-side in the early 1990s….
I did not know much about sake but could speak Japanese.  The Hakushika brewmaster did not speak much English, so I started there in 1993, brewing sake everyday learning about sake in Japanese.
This was when the only English Sake book that existed was "Sake, A Drinkers Guide" by Kondo.  The book was still talking about 1ku, 2ku etc.  the current taxation system of total koku had just started….
I remember in 1994, I did my first Sake training at a restaurant in Denver called Tsunami.  I vividly remember as I was talking about sake to the staff, they became very excited and could see my passion for sake infused into that group.  I decided that day that I would be in Sake for the rest of my life.
In 1996 I started selling sake across the US – doing seminars / while maintaining my brewing status.  It was TOUGH back then.  Being a non-Japanese guy selling sake when it WAS NOT POPULAR was an up-hill battle but I kept going.
In 1998 I moved to Oregon and became the National Sales Manager at SakeOne.  I advised the brewing team and when in Japan at Momokawa Brewing, translated for the SakeOne brewers.
In 2005 I worked as the Director of US Sake Sales for Momokawa Brewing Japan in Aomori. 
In 2006 I joined what is now RNDC Oregon as the Sake Manager.  I taught our team in Oregon "how to sell sake" and we built a very strong sake market.  Later I was promoted to Director of Sake and worked with several western states.
At every opportunity I would travel to Japan and spend a week at a time as a Kurabito at several breweries across Japan….to learn their stories and how each brewery brews their sake.
In 2015 I was honored with the title of Sake Samurai by Japan's Sake and Shochu Brewer's Association.  Important to note:  Beau Timken was the FIRST EVER Sake Samurai!!!!!!!!!!
Also in 2015 I started teaching WSET Sake Level 3
In 2022 I became the Director of Sake for RNDC across the country.
2023 marks 30 years in the sake business.  I don't have a job but rather get paid for my passion everyday!
It has been my goal for the past 30 years to see sake grow in the US and be on every wine list at every restaurant in the country.  The second part of that goal has not yet been achieved but I will continue promoting sake for the rest of my life.
Happy Sake Day!
Kanpai
Respectfully,
Marcus V Pakiser